If you blinked, you missed it. We peaked at 60 in town today thanks to some dim sunshine and a busy southwest wind. Once the showers moved in, it was over – we plummeted to the 40s and 50s in 1-2 hours.
Welcome to spring, where in the matter of a few minutes you could go from t-shirts to sweaters. Won't be anywhere near t-shirt weather over the weekend, however, as the warmth is snuffed out by a lively storm system that inches in…then inches out.
We're using terms like washout and Flood Watch (in dark green) for this weekend's rain.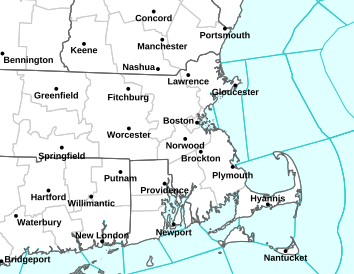 A huge plume of water is in the Southeast right now, and it's linked up with the current shower activity by way of a front. This front will try to hold the 50s in SE Mass. tomorrow and early Sunday, but I have my doubts whether you'll feel like taking a stroll outside. Once the storm takes hold, the chill will come rushing back down from the north.
The rain returns tomorrow afternoon as this front kicks off the 1st round of rain. More water comes overnight and throughout Sunday as its parent low pressure system arrives just off Long Island. Amidst a steady rain, a few downpours are possible as well.
Sunday afternoon and night sees the wind turn to the north and while the temperatures will hold in the upper 30s during the day, we're just buying time. As the upper levels of the atmosphere cool, it's likely we see the flakes start mixing in after midnight on Sunday (or Monday morning). This is because of an upper low forming just to our southeast. Not only are these types of upper level storms not to be trusted, but they can also be blamed for "where did this snow come from?" accumulations. It's the perfect recipe: slow-moving weather system, quick jab of cold air and already chilled temps.
We'll come out of it on Monday afternoon and night, and no, there's no REAL cold air pushing in behind. In fact, we'll see temps recover into the early part of the week as we flirt with 60 again by hump day.
At last we can say it: the stinging cold of winter is over.
Enjoy the soggy weekend as best you can.
Pete