Yesterday evening kicked off what will be an active stretch of weather here in southern New England. In this case "active" weather doesn't always means storms… while there will be severe storm potential to talk about, there's also a lot of heat inbound as well.
Yesterday afternoon and evening storms fired up and were strongest, and in some cases repetitive, over the Mass Pike from Springfield all the way to Boston. At one point yesterday both Springfield and Boston were under flash flood warnings. Radar estimates that some areas saw 2-3″ of rain in yesterday's storms.
While parts of Worcester, and around Worcester saw a couple inches of rain, the airport itself recorded 0.38″. That was enough to pull July 2023 into 2nd place for wettest July on record for the city. We still have six days to go and a few more chances of storms before the month wraps up.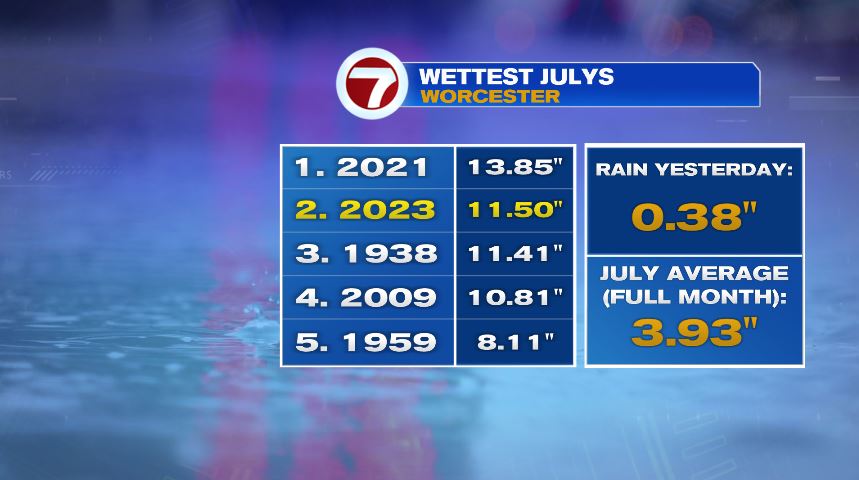 We will bring storm chances back to the area Thursday evening and through the day on Saturday. With the heat and humidity in place, both days have the potential to be severe storm days for the area. More on that a little later.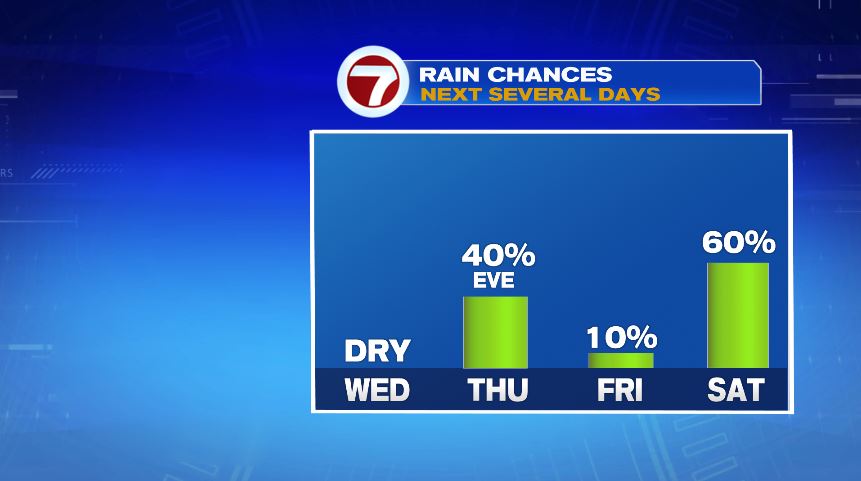 Today is a dry day. It's also a pretty hot/warm day, but it's not quite to the extreme heat and humidity that we'll finish the week with on Thursday and Friday. For many of us, the potential heat wave will hinge on today — whether or not we can get to 90°. I'm thinking Boston will be able to get to 90° as the wind is juuuust strong enough to hold off the sea breeze. But I will also say, it's not a guarantee. With the humidity in place, it will feel like the low to middle 90s this afternoon.
The heat will build Thursday and Friday and most towns away from the Cape will reach the 90s for Thursday and Friday. Now, if we don't hit 90° today, we'll technically have a chance on Saturday too, but I don't think the chance Saturday is any better or worse than today. So basically for that potential heat wave you'll have to get to 90° either today or Saturday (both will be borderline) with the heat on Thursday and Friday in between.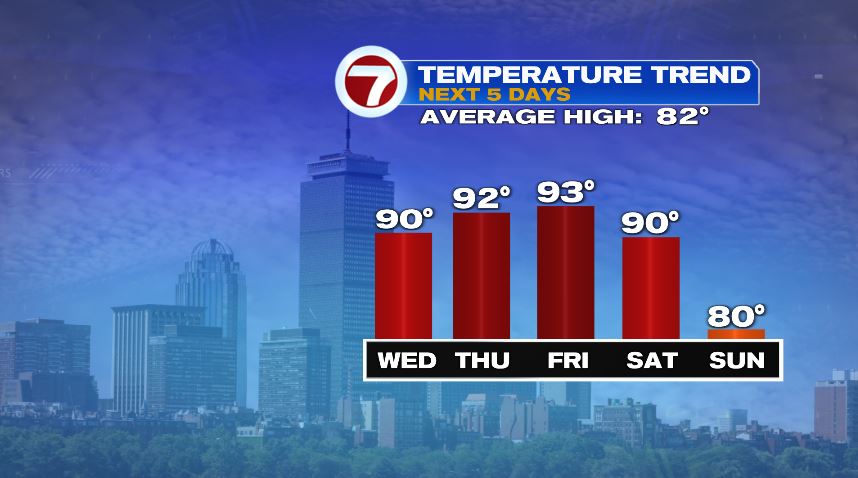 While today is hot, it's not the peak of the heat and it's not quite to heat advisory levels. While feels like temperatures today will climb into the 90s, it's Thursday and Friday that are more concerning. Feels like temperatures those days will be near 100°, so there's a heat advisory in effect for the end of the week. In this stretch of heat, especially Thursday and Friday, be sure to drink plenty of water, find shade, take breaks, and slow down if you need to be outside.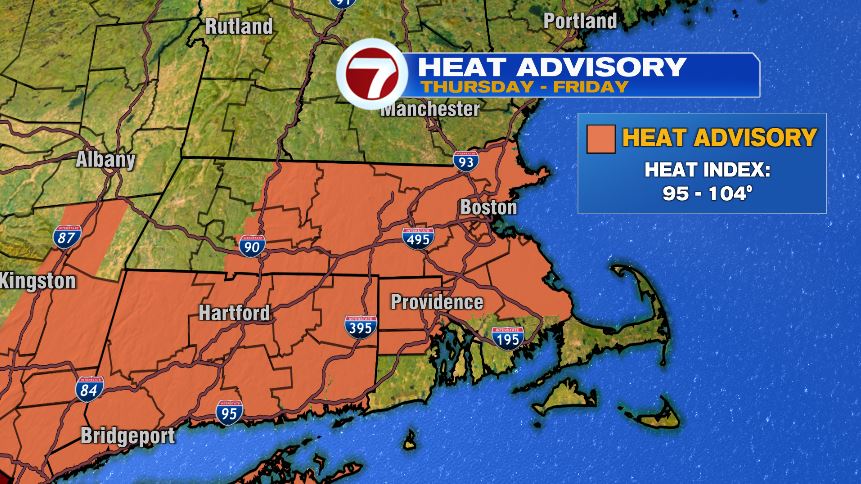 As I mentioned earlier, while temperatures will get close to 90° today and it's not a guarantee, it is almost a guarantee for most of us tomorrow. The temperatures will go up, the humidity will go up, and the wind will pick up as well. Tomorrow will be a pretty gusty day. Those southwest winds, that will kick out the sea breeze Thursday, are ahead of a cold front that will bring storms back to the area on Thursday evening.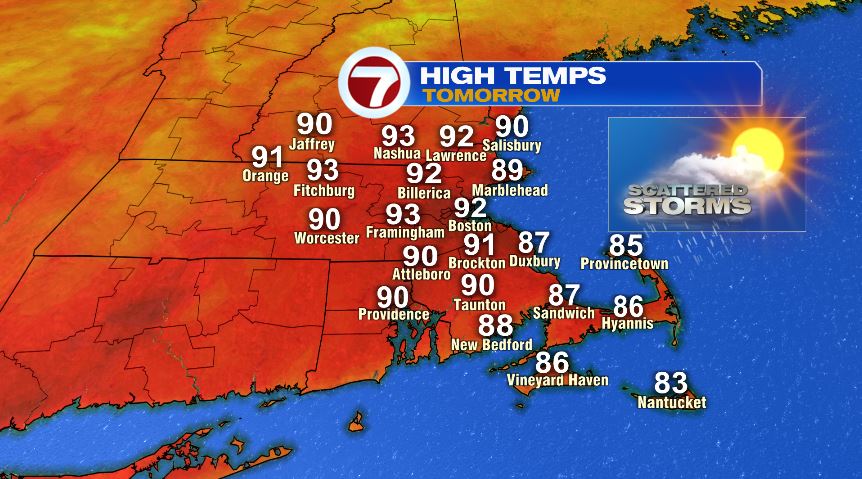 With the heat and humidity in place, there's a lot of energy for the storms to tap into tomorrow. We're currently under a "slight" risk of severe weather for Thursday evening. Honestly, I'm not a fan of the "slight" naming because "slight" gives the impression very low. But on the severe weather scale, that's a 2/5. For perspective, we were under a 1/5 for yesterday's storms that did produce a few severe thunderstorm warnings and damage across the area. So tomorrow evening is a day to to be weather aware.
Like yesterday, the storms that do develop tomorrow evening will produce a ton of lightning, downpours, and strong wind gusts. Downpours and lightning are not technically qualifiers for a storm to be severe, but wind is. I have future radar shots a little farther down to show the line of storms that will be inbound tomorrow evening. Typically when we get lines of storms to develop, our biggest threat for severe weather will be strong wind gusts — in this case over 60 mph. HOWEVER, it is not out of the question that a few of those storms show a little spin or rotation. So while the tornado risk tomorrow is lower than the wind risk, it is not a zero risk. Again, tomorrow is a day to be weather aware — both the heat during the day and the storms in the evening.
Tomorrow will start dry in the morning, but storms will start to pop up in the afternoon. Initially, the storms will pop up as a few cells in the afternoon. Those will be more isolated/scattered, but the risk of them being severe is not any less. While they will be lower in coverage area, the possibility of them being strong or severe is just as likely.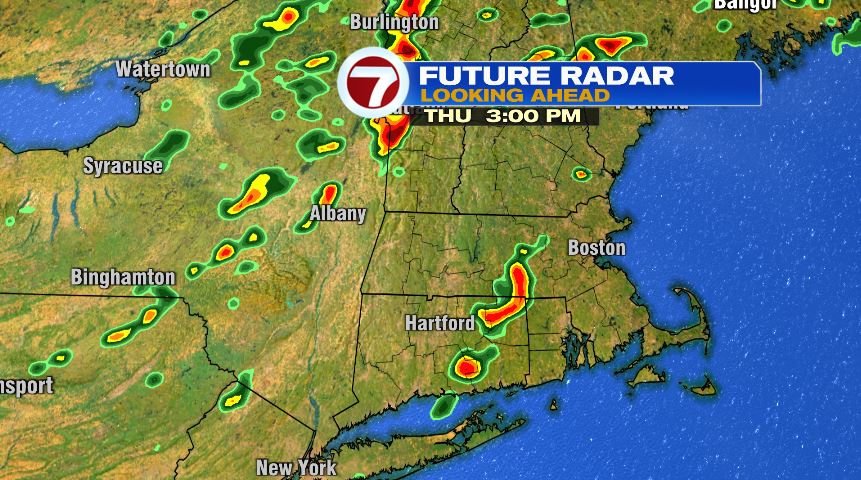 As we go deeper into the evening, the cells back near Albany and Vermont will become more linear. And that line will progress eastward as the evening rolls on. Below are timestamps every couple of hours TOMORROW EVENING (just to reiterate that it's tomorrow and today is dry), starting at 6pm through 10pm.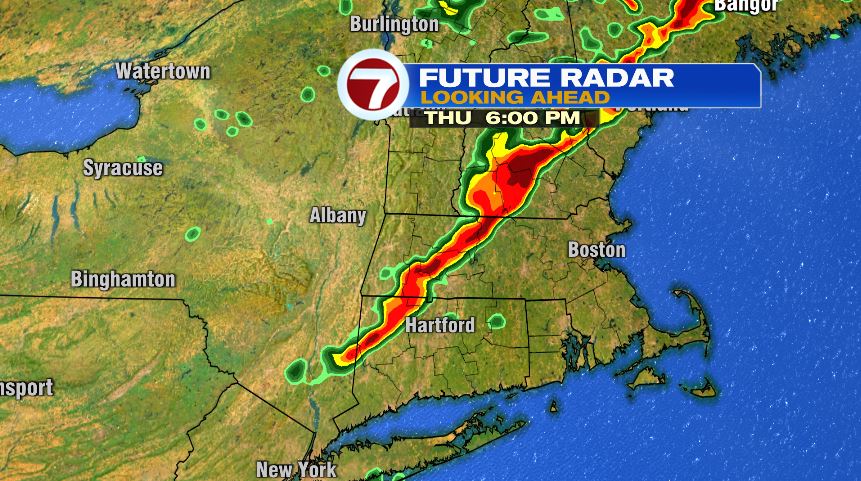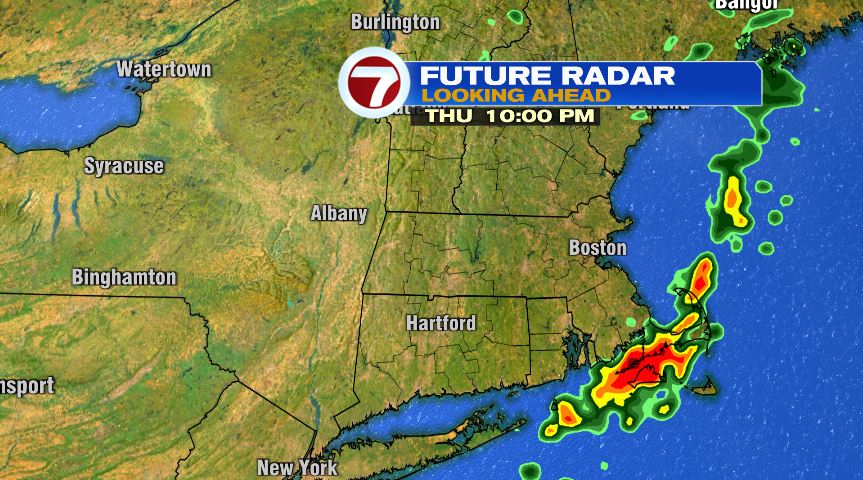 Of course with the heat in place the rest of the week, beaches come to mind. While most will be good days to sit on the sand or wade in, today looks to be one of the nicer beach days. We'll have a lot of sunshine, we're dry, waters are pretty calm with seas only around 2 feet and a low rip current risk.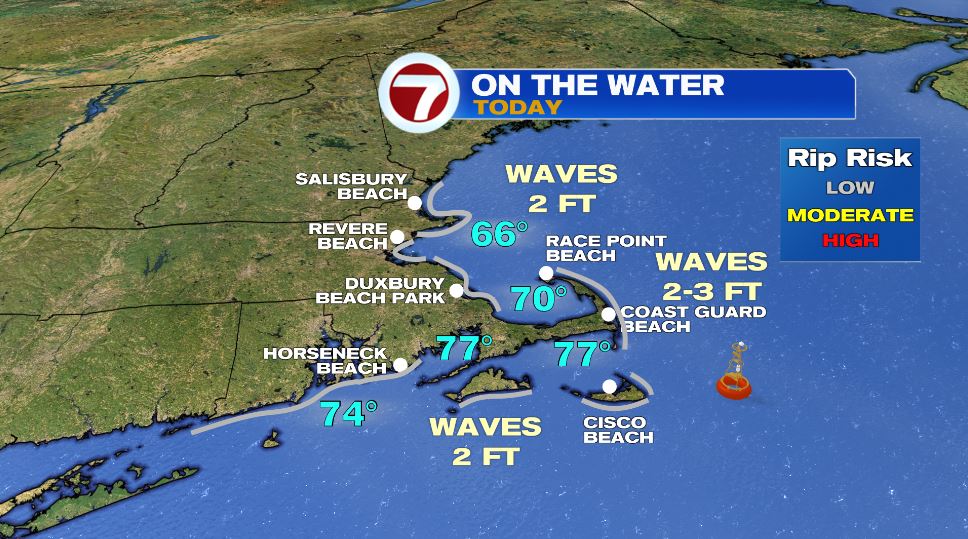 Thursday will be warm and while most of the day will be dry, that won't be the case later in the afternoon. We talked about the storm risk above, but those should favor later afternoon and evening hours. The other problem is Thursday is a pretty windy day. Those southwest winds ahead of the storms will really churn up the seas. Seas Thursday could be up to six feet in spots and the rip current risk will be elevated on the south-facing beaches.