NORTON, MASS. (WHDH) - Authorities in Norton are investigating after two men armed with knives robbed a convenience store Tuesday night.
The Norton Police Department said it was around 8:40 p.m. when officers were called to Michelle's Corner Store on West Main Street for a reported armed robbery.
Speaking with the store clerk, police learned that two suspects described as white males "wielding large knives" entered the store and demanded cash from the employee.
According to authorities, no injuries were reported, but the two suspects were able to flee the store on foot with a small amount of cash and cigarettes.
Norton PD shared two images of the suspects on their Facebook page and described one as a male wearing black sweatpants, black sneakers with white soles, and a blue hooded sweatshirt.
The other suspect was described as wearing camo-style pants with a gray hooded sweatshirt and black backpack.
Both men were said to have been wearing "half-face masks" at the time of the robbery.
Anyone with information on the incident or suspects is asked to contact Norton Police Detectives. The police department can be reached at 508-285-3300.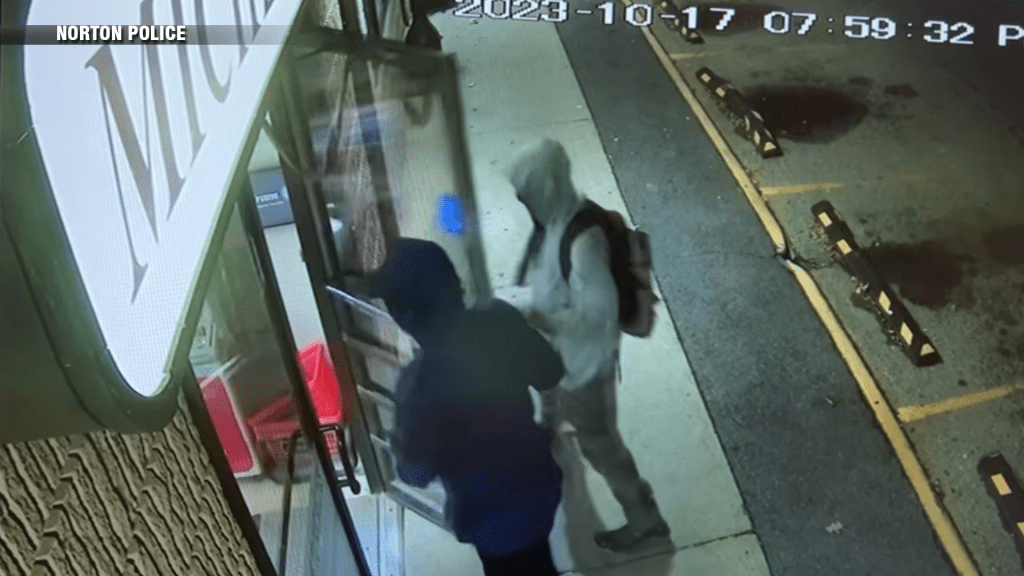 (Copyright (c) 2023 Sunbeam Television. All Rights Reserved. This material may not be published, broadcast, rewritten, or redistributed.)