CAMBRIDGE, MASS. (WHDH) - Parts of Harvard Square remain closed to both vehicle and foot traffic after multiple manhole explosions sent flames shooting into the air on Wednesday and crews continue to work to fix the issue.
Crews could still be seen in the area on Thursday morning and several area businesses remained closed.
The Cambridge Fire Department said crews were originally called to the area of 27 Brattle Street before 8:45 a.m. for reports of a structure fire, only to soon discover heavy smoke billowing from the ground.
By 9 a.m., firefighters were checking for exposure to surrounding buildings, with both Cambridge police officers and Transit Police Department personnel also responding. A short time later on X, the Cambridge Police Department said Harvard Square was shut down to pedestrians and vehicles as crews continued to monitor the situation.
Cambridge Fire Chief Thomas Cahill said that after the fire was put out, crews remained on scene throughout the afternoon to ventilate carbon monoxide. As of 10 p.m., crews were still working outside businesses, such as the Coop, which are still danger of carbon monoxide leaks.
"There's not a timeline for businesses reopening at this time," Cahill said. "We can't fully control the CO levels in a lot of these businesses right now. We do have a third manhole that's active. Eversource is working diligently to secure the power to that but until that power is secure and we know it's secure it's going to generate carbon monoxide."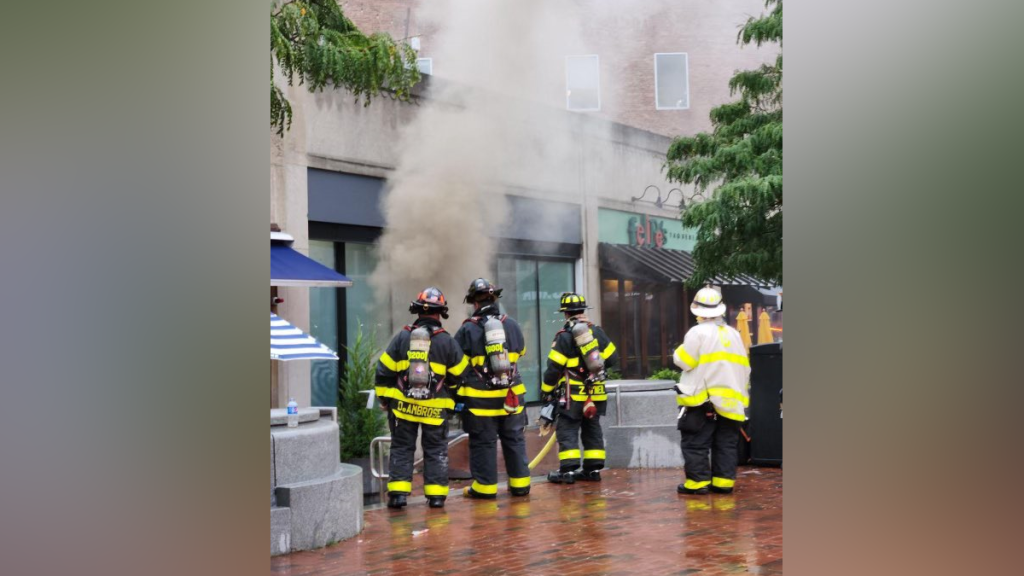 In a citywide alert, the police department referred to the incident as a "manhole explosion" while noting that no injuries had been reported. Authorities later said in a news conference that two explosions were confirmed, with a third manhole being monitored as of 4 p.m.
Those who were in the area at the time of the explosion told 7NEWS that they felt the impact and described the sound as that of a cannon, followed by crackling noises as smoke poured out of the manhole.
"We're working in a building on the side of it and, yeah, we saw the manhole cover blow up and just shoot ten feet in the air, all of the brick – and then it just started smoking and the fire started," said Joe Gagne. "The smoke – I can't even breathe that. I told [someone] 'I gotta go, it's burning my throat.' So it's electrical, it's rubber, it's whatever – it's toxic."
"[The smoke] got so thick to the point you couldn't breathe, couldn't see," said Lucas Ilges, noting that the smoke changed colors as the fire continued to burn.
"First it was black smoke, then it turned white," another witness told 7NEWS.
Eversource crews were also on scene as firefighters worked to ventilate the area of carbon monoxide and evacuate neighboring buildings,
Officials with the energy provider told 7NEWS they were able to isolate a damaged electrical cable and were working to make repairs. They also noted there were no reported outages.
Later in the day, authorities said a firefighter was taken to a hospital for non-life-threatening injuries believed to be related to smoke inhalation. Cahill said the cause of the explosions is under investigation.
(Copyright (c) 2023 Sunbeam Television. All Rights Reserved. This material may not be published, broadcast, rewritten, or redistributed.)