COHASSET, MASS. (WHDH) - A dog is expected to recover after it survived a semi-truck slamming into the vehicle it was in on Friday in Cohasset.
The Cohasset Police Department said the crash happened just before 10:30 a.m. on Route 3A/King Street when a Mack dump truck appeared to rear-end a Toyota 4Runner that had stopped in the northbound lane, waiting with a 2021 Land Rover for another vehicle to turn.
According to the police department, the semi-truck driver hit the 4Runner at a high rate of speed, crushing the SUV's cargo area while pushing the vehicle into the Land Rover.
While the humans involved in the crash appeared to suffer minor injuries, police said a German Shepherd inside a travel crate in the 4Runner was cut and bruised as a result.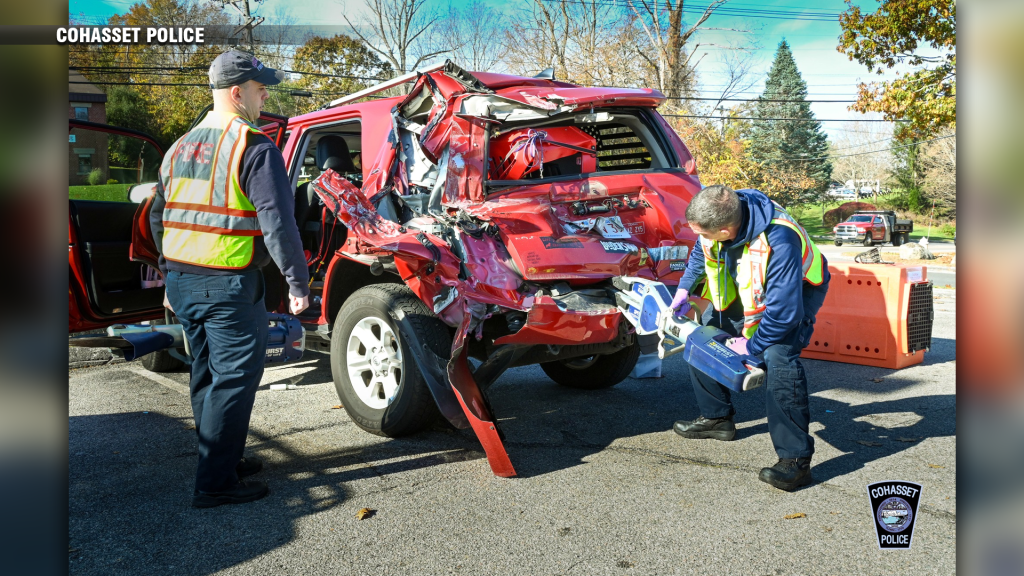 Authorities said firefighters and paramedics were able to free the dog from the wreckage, including the steel cage it was in, which was left with a large dent impacting its side.
Cohasset PD said the dog was expected to fully recover and that the truck driver, a 65-year-old man from Weymouth, was cited for multiple offenses, including:
Negligent operation of a motor vehicle

Failure to drive within marked lanes

Failure to wear a seatbelt

Failure to have flares in a commercial vehicle
"The owner of the truck, a Cohasset landscaping contractor, received a citation for allowing an uninspected commercial vehicle on a public way," the police department said in a Facebook post.
The scene was reportedly cleared around noon, after the northbound side of King Street was closed for about 45 minutes.
(Copyright (c) 2023 Sunbeam Television. All Rights Reserved. This material may not be published, broadcast, rewritten, or redistributed.)