BOSTON (WHDH) - Heavy snow ensured an already hectic evening commute was snarled even further as a storm system brought bursts of snow to eastern Mass. Monday afternoon, after inundating the rest of the state and New England.
From Worcester to the North Shore to Boston and beyond, wet, heavy snow flakes created low visibility and slushy roads just as commuters started to fill the highways.
The storm that already left up to 4″ in northern Worcester County and 7-8″ in parts of southern New Hampshire was expected to bring 1-3″ inches to Boston after crossing into the metro area around noontime.
Some spots saw an-inch-per-hour as the storm system that ventured from the other side of the state made it to the coast.
Even the South Coast, which saw mostly rain during last week's storm system, was expected get anywhere from a coating to 1″ through Monday evening.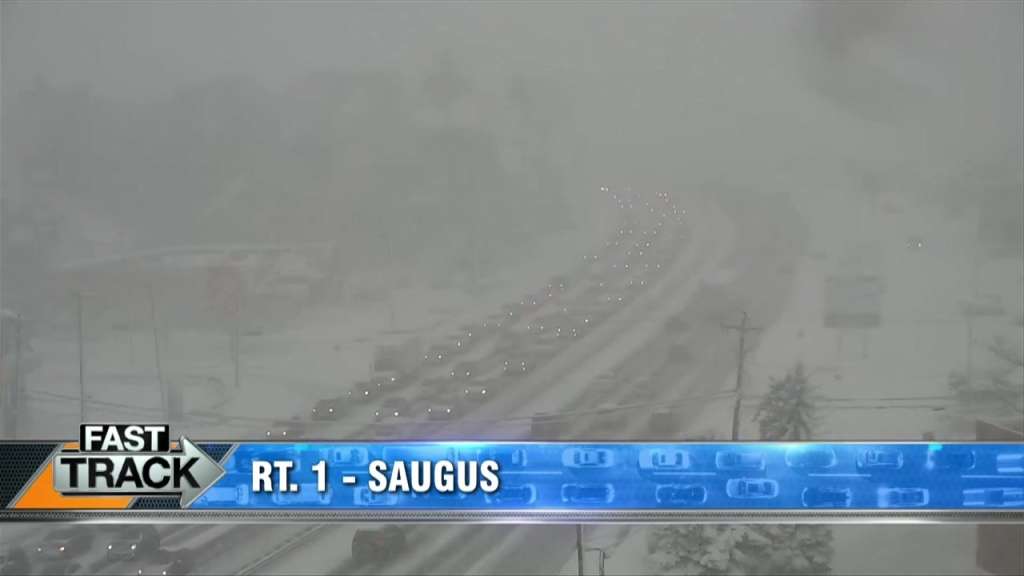 The current storm system started to drop its heaviest snow around 1 p.m. and was slated to continue through 5-6 p.m., with areas like Worcester seeing the most flakes during the start of the timeframe and Boston impacted more towards the latter half.
The bulk of Boston's snow came in the form of bursts, hitting the area just as the evening commute kicked off, with conditions worsening especially around 4 p.m., making for slick roads and slow going travel.
Even historically congested areas like the Zakim Bridge or further north on Route 1 in Saugus were made worse with snow bringing travel to a near-halt.
The consistent snowfall is expected to start tapering off around 7 p.m., leaving in the order it came with western Mass. and Worcester County seeing less and less flakes before the eastern side of the state is largely clear around 9 p.m.
—
WATCH: Slick streets, downed lines and off-road crashes keep crews busy in Fitchburg
—
While the wallop of snow meant hectic evening commutes in the Boston area, drivers out west and to the north already had their fair share of challenges Monday morning, with state police in New Hampshire responding to over 25 crashes reported between 5-9 a.m. in the Granite State, according to their Twitter account.
By 2 p.m., that figure increased to 90 incidents.
Speeds on I-93 were lowered to 45 mph for a time as crews continued to respond to cases of vehicles going off the road, including a rollover crash near Exit 5 in Londonderry, roughly near the spot where a similar rollover happened during the previous storm system.
In Massachusetts, a similar speed restriction of 40 mph was placed on the Mass Pike from the New York state line to Palmer, Mass.
Meanwhile, in central Mass., downed trees and electrical lines were a reoccurring issue for communities like Westminster, where more than one fallen tree blocked traffic on Bolton Road around 5 a.m.
Hours later, just off of Route 2, emergency crews responded to Hagar Park Road and Narrows Road where a utility post caught fire, causing outages for the area, according to the police department.
By 1:30 p.m., some 14,000 customers were without power across the state, including 374 in Westminster per the Massachusetts Emergency Management Agency's outage map. In New Hampshire, Eversource indicated at least 35,000 customers were affected by the storms.
In Fitchburg, heavy, wet snow translated to trees cracking apart and onto the road in neighborhoods like Hope Street, toppling onto wires during the morning as crews responded to calls throughout the day.
With the storm's slushy leftovers expected to freeze later in the evening, residents were out and shoveling, with some telling 7NEWS they were taking the latest storm in stride.
"(It's) winter in New England – like nothing else," said Dan Sevigny. "I haven't got bit by a bug yet. If you don't like the weather, go to Florida, I don't care – I'm staying here!"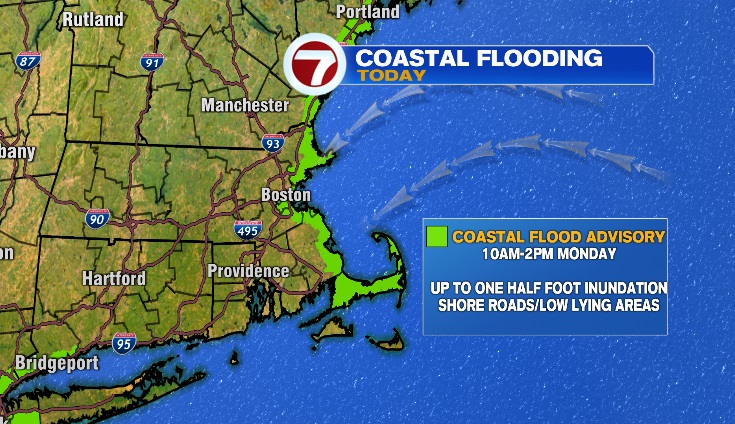 A coastal flooding advisory was also issued for Monday between 10 a.m. and 2 p.m., with up to half-a-foot of inundation likely to affect shore roads and low-lying areas.
By noon, officials in Duxbury were asking drivers to avoid the area of Gurnet Road as water covered the roadway.
In Boston, both sides of Morrissey Boulevard and the Route 93 ramp in Dorchester were closed due to flooding around noon, according to Massachusetts State Police. The area later reopened around 2 p.m.
Further north in Salisbury, Route 1A, both north and southbound, was reportedly flooded, with the MassDOT stating that the road was closed in both directions between Beach Road & Reservation Road due to coastal flooding.
—
WATCH: Waves crash on homes in Scituate as storm system brings Coastal Flood Advisory
—
For more information and the latest forecast, check out the 7WEATHER Weather Blog here.
—
Notable NWS Reported Snow Totals (as of 12 p.m.)*
Massachusetts
Franklin County
Montague 5.0 in
Rowe 4.0 in
Colrain 3.5 in
Rowe 3.0 in
Buckland 2.4 in
Greenfield 2.2 in
Bernardston 2.0 in
Conway 2.0 in
Hampshire County
Hadley 3.7 in
Plainfield 2.6 in
Middlesex County
Ashby 3.0 in
Pepperell 2.0 in
Worcester County
Westminster 3.5 in
Ashburnham 3.0 in
Gardner 2.8 in
Ashburnham 2.8 in
Lunenburg 1.5 in
Fitchburg 1.4 in
New Hampshire
Belknap County
Belmont 4.5 in
North Laconia 4.5 in
Meredith 4.4 in
Carroll County
Madison 6.0 in
Freedom 5.6 in
Ossipee 5.3 in
Wolfeboro 4.5 in
East Sandwich 4.1 in
Center Sandwich 4.1 in
Tamworth 4.0 in
Center Sandwich 3.5 in
Cheshire County
Marlow 7.5 in
Surry 6.8 in
Keene 6.7 in
Coos County
Whitefield 8.0 in
Carroll 8.0 in
Jefferson 7.8 in
Berlin 7.5 in
Northumberland 5.0 in
Lancaster 4.5 in
Pinkham Notch 4.0 in
Grafton County
Bristol 4.0 in
Lyme 3.4 in
Campton 3.3 in
Hanover 3.2 in
Plymouth 3.0 in
Hillsborough County
Francestown 8.0 in
Hillsborough 7.1 in
New Boston 7.0 in
Peterborough 6.0 in
Mont Vernon 4.1 in
Greenville 3.5 in
Manchester Airport 3.2 in
Merrimack County
Bow 8.3 in
Dunbarton 7.5 in
Concord Municipal Airport 7.2 in
Northfield 7.2 in
Concord 7.0 in
Pittsfield 6.5 in
Canterbury 6.4 in
South Sutton 6.3 in
Henniker 6.0 in
Pittsfield 6.0 in
Sutton Mills 5.7 in
Canterbury 5.0 in
Contoocook 4.3 in
Danbury 4.3 in
Chichester 4.0 in
New London 4.0 in
South Hooksett 2.6 in
Rockingham County
Northwood 7.0 in
Deerfield 5.0 in
Derry 3.0 in
Auburn 2.5 in
Hampstead 1.7 in
Sandown 1.5 in
Portsmouth Airport 1.4 in
Stratham 1.0 in
Strafford County
Strafford 6.5 in
Barrington 5.0 in
Northwood 3.7 in
Rochester 3.0 in
Durham 2.0 in
Sullivan County
Newport 5.8 in
*Per the National Weather Service: "Observations are collected from a variety of sources with varying equipment and exposures. We thank all volunteer weather observers for their dedication. Not all data listed are considered official."
(Copyright (c) 2022 Sunbeam Television. All Rights Reserved. This material may not be published, broadcast, rewritten, or redistributed.)