Accumulating, plowable snow is headed for southern New England, prompting closures and cancellations ahead of a snowstorm that is expected to last late into Tuesday, keeping road crews across Massachusetts busy.
The entire state is expected to see some degree of snow, which started falling in western Mass. in the early evening Monday.
An early morning burst of snow may affect Tuesday morning's commute before the snowfall returns to a slower pace later in the day, with the storm departing Tuesday evening.
Current estimates show anywhere from 5-8 inches of snow accumulating in Worcester County between tonight and tomorrow night, as well as in parts of northeastern Connecticut and northwestern Rhode Island.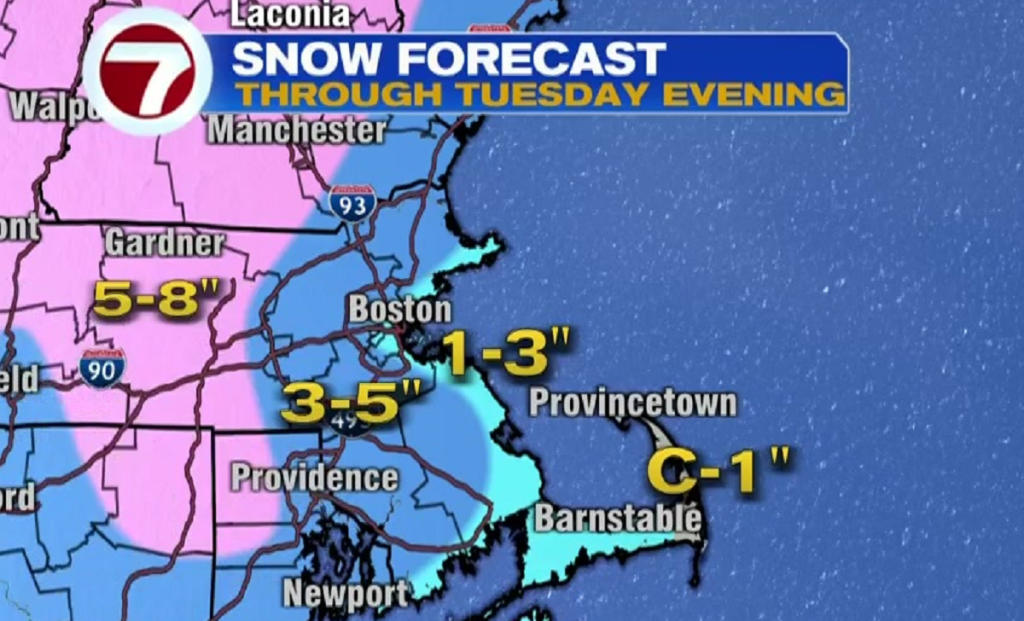 Parts of southern New Hampshire will see similar totals, while along I-495 and eastward, possible totals are closer to 3-5 inches.
Shoreline communities are likely to be on the lower end of snow estimates, while the far reaches of the Cape might see anywhere from a coating to an inch.
With road conditions likely to be slick at times, a Winter Storm Warning is in effect for Monday night heading into Tuesday for much of state west of 495, while a Winter Weather Advisory has been issued for the coast.
View our latest weather blog for further updates. To view the list of school closures and delays, click here.
(Copyright (c) 2022 Sunbeam Television. All Rights Reserved. This material may not be published, broadcast, rewritten, or redistributed.)