As JR mentioned in his blog last night, winter is half over (meteorological winter, anyway)… and we're changing up the pattern from the BITTER COLD and snow we've been experiencing to some above-average temps and some rain (but we'll hold off on the rain until after the weekend).  First things first, let's talk about our weekend warm-up (see graphic at top of blog post).
Clouds have been stubborn throughout the day today – and the cloud cover will stick around overnight, helping to keep temps from falling much.  Plus, our wind direction (albeit light, currently) will change from the W to more SW, ushering in the milder air.  Lows tonight range from 23-30°, and highs tomorrow in the mid to upper 40s!  Often times, this time of year, when you get a warm up it will come along with some wet weather – but NOT this weekend.  We get the boost in temps and still keep things quiet and dry.  Saturday is breezy (SW 10-20mph), but the breeze will relax for Sunday.  How's the AFC Championship Game forecast looking?  See for yourself: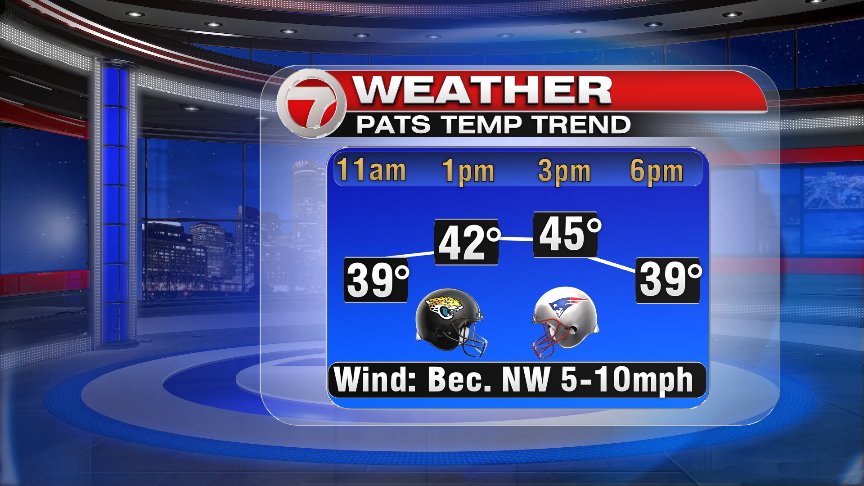 All in all, a nice and "above average" weekend.  Great for hitting the slopes too!  But we could use some more snow on those slopes… which may happen Monday – Tuesday… for central and N. New England, anyway.  Here's the set up: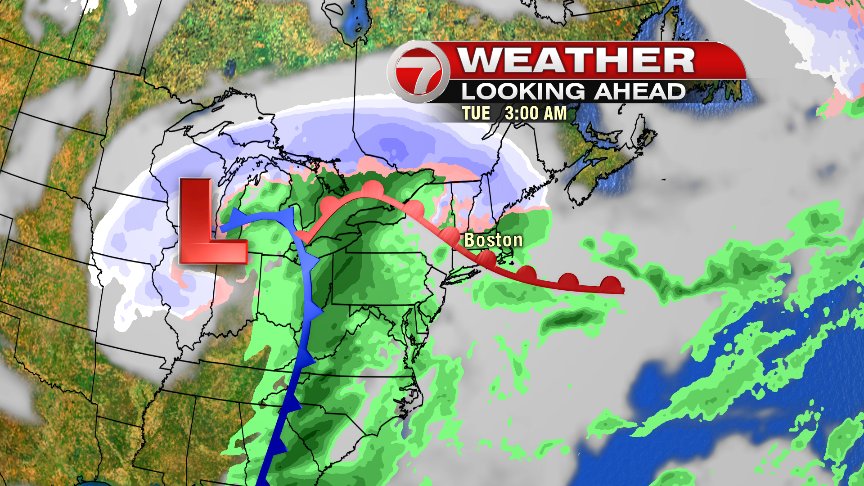 The mild air comes along with the next round of inclement weather – but the cold (more dense than warm air) may try to stay put in the interior at the onset of precip late Monday – early Tuesday AM.  We'll be watching for some spots inland to get a wintry-mix or even light snow accumulation before turning to all rain on Tuesday.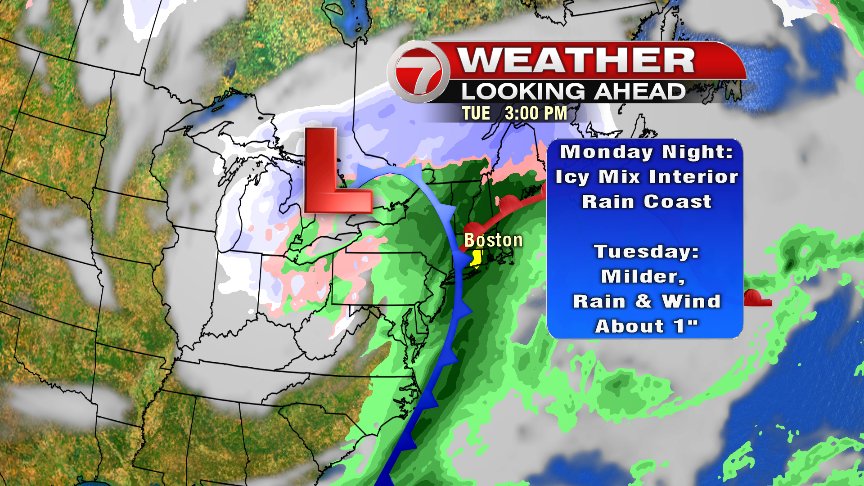 Tuesday looks MILD (near 50°) and wet and windy (especially along the coast) with around 1″ of rain expected for most.
Have a wonderful weekend and of course, GOOOOO PATS!