That long streak of heat and humidity almost seems like a distant memory, after this fantastic, top-10 weather weekend!  Highs today were right were they should be for this time of year (81° for Boston) and we've been enjoying cool nights with the windows open and the AC's off.  If only it could just stay this way…
Well, 90s are back in the forecast to start the work-week – but it's nothing like that stifling heat and humidity many of us endured throughout last week.  It looks like the humidity still stays in check, even though the heat is getting turned up.  Not much of a seabreeze expected for the coastline tomorrow, but the South Coast and Cape will benefit from a light SW wind – keeping things cooler there.  Here's a look at forecast highs for Monday: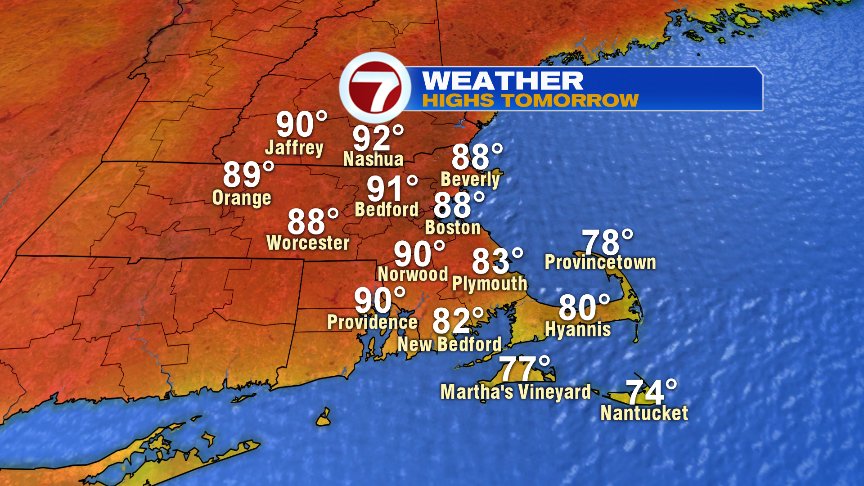 It's even hotter into Tuesday, when I expect highs inland to be between 90-95°.
Check out the dew point trend: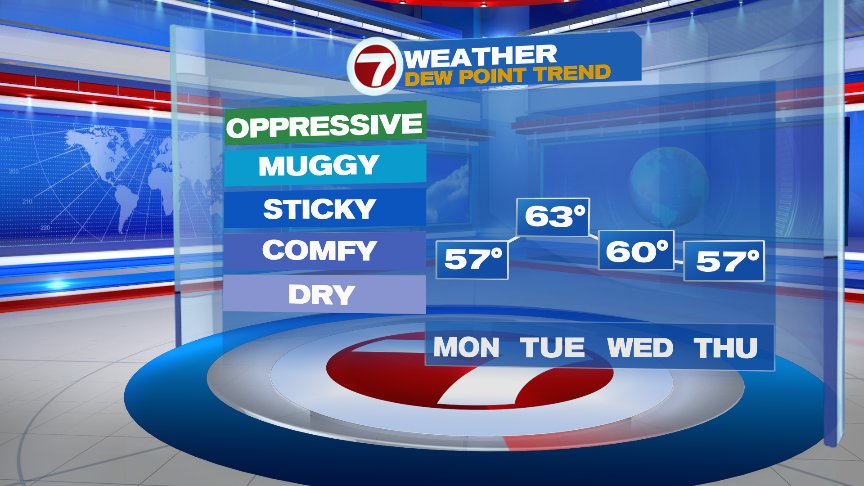 We're still tracking Tropical Storm Chris off the coast of the Carolina's.  The storm hasn't moved much through the last day or so – and it's not expected to move much in the next day or so – but it is expected to strengthen into a hurricane sometime mid-week.  Eventually, it will make a move NE – but is expected to remain WELL off-shore.  Nevertheless, we have a string of great beach days ahead of us here in New England, and Chris could send some rough surf and dangerous rip currents toward our beaches Wed-Friday.  We'll be keeping a close eye on this one.
Good luck with the work week ahead!  – Breezy