I suppose wet weather is never well-timed when it takes away an entire weekend day.  It wasn't a lot of rain, with most totals coming in between 0.1-0.25″, but it was persistently damp and dreary throughout the entire day.  Remember though, when we get some wet weather like we saw today, it does provide a little relief in the allergy department (though I didn't notice… did you?).  It also is good to get some of these "spring shower" days here and there to green up the flowerbeds, gardens and lawns.
If we had to lose a weekend day to rain, better that it was today – rather than tomorrow.  Anyone remember Mother's Day last year??  Boy, that was a tough forecast to give – and generally ended with "here's the 7-day forecast.  Sorry, Mom."  Tomorrow looks MUCH better!!  We'll start with some patchy fog and cloud cover, especially near the coastline.  Eventually though, we'll break out the sunshine for the afternoon and warm inland temps into the low and mid 60s (mid to upper 50s for the coast with a sea breeze).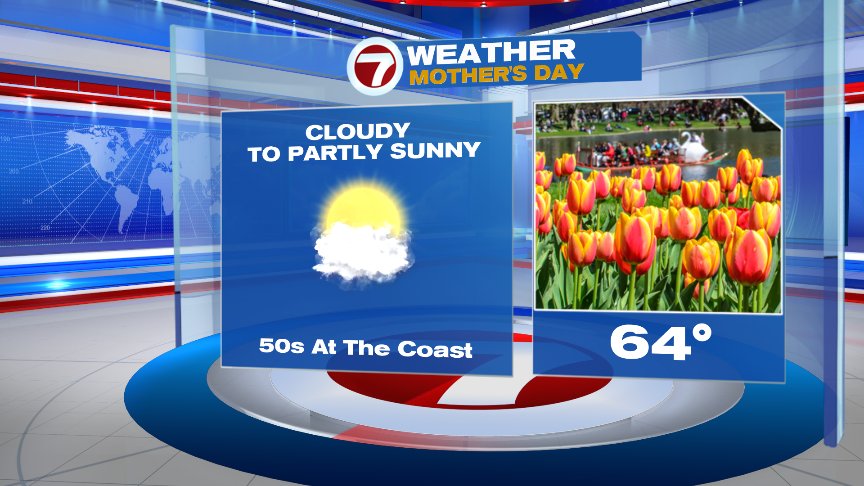 Tomorrow is also Duckling Day!!  For the most adorable event of the spring, head on down to the Common/Public Garden tomorrow morning/midday.  For more information and a schedule of events, click HERE.
We're in for a bit of a warm-up for the beginning of the week.  Tuesday looks to be quite "beachy," if you can swing it.  Though temps will be around 80 for the afternoon, there is still a chance for showers/storms late in the day on Tuesday before we cool down with more unsettled weather for the middle of the week.  As I mentioned earlier tonight on Twitter, "Things are lookin' very 'springy' this week (ups & downs, sea breezes, sneezes, and spring showers).  Have a WONDERFUL MOTHER'S DAY!!  – Sneezy Breezy