Editor's note: tonight's blog was written by 7Weather intern Tyler Hughes.
Today was an active weather day across New England: flooding in many areas, wind damage and even a tornado that touched down in Mattapoisett. The folks over at the National Weather Service confirmed this afternoon that the tornado was on the ground for three minutes and traveled 0.9 miles. The tornado had maximum winds of 95 miles per hour, which puts it as a mid-range EF-1 Tornado on the Enhanced Fujita scale (goes from EF-0 to EF-5). Thankfully, although the storm caused some tree damage, there were no injuries reported.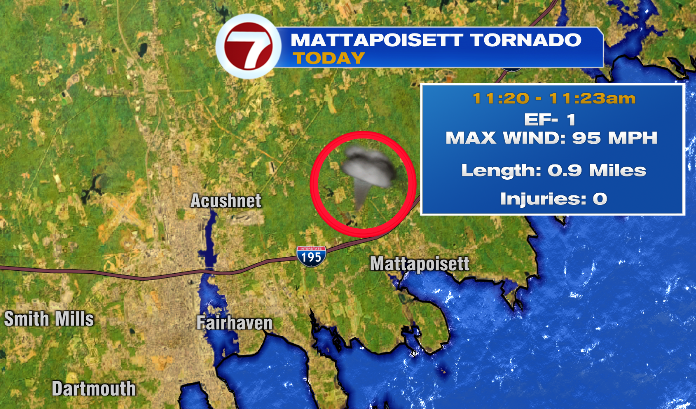 As Josh, JR and AJ were on the air covering this tornado, it was clear to us in the weather office that it had reached the ground, thanks to some pretty nifty radar tools. The first one is velocity mode – think of it as X-Ray vision for the doppler radar, telling us the wind direction and speed. The radar is located in Taunton – greens indicate wind blowing toward the radar and red indicated wind blowing away from the radar. The brighter the color, the faster the wind speed. When these colors are bright and close to each other, this indicates that the thunderstorm is rotating – just as we saw this morning. Here's a screenshot of the velocity scan: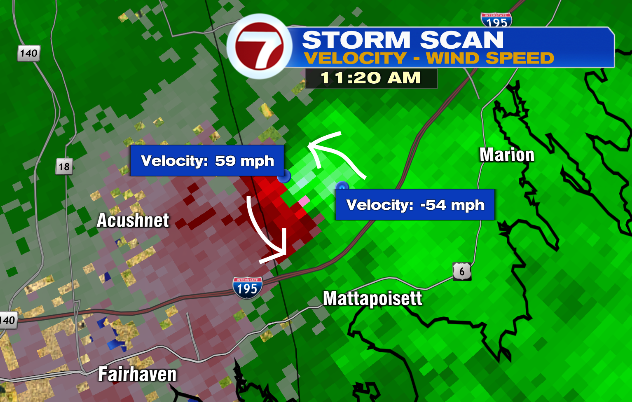 There's another mode to us that's helpful to see if a tornado has reached the ground. When a radar scans out into the atmosphere, it can roughly calculate the size and shape of whatever the beam is bouncing off of – usually that's raindrops. In essence, this product takes all the sizes and shapes and compares them to see how similar they are. In the reds and purples, those shapes are pretty similar, meaning they're all raindrops. But in the yellows, greens, and blues, those shapes aren't similar – indicating that debris from the ground such as tree branches, leaves, dirt, etc. is being lofted into the atmosphere, in this case by a tornado.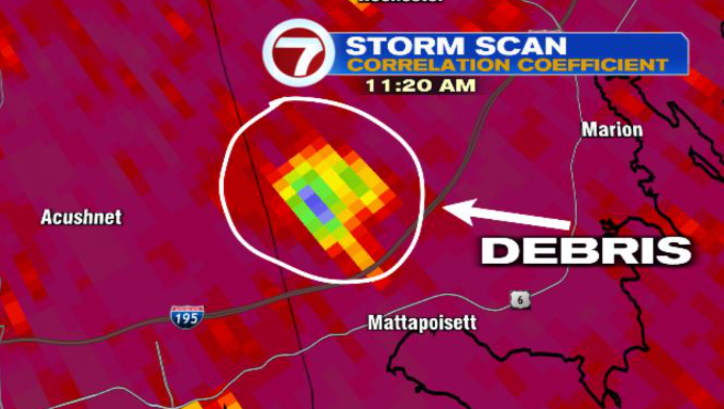 It's worth noting that, although the storm threat has diminished, there may still be some damage in areas that could take a day or two to clean up. As of 5:15pm, there's a little over 3,000 power outages in Mass. Remember to never touch downed power lines and alert your utility provider immediately if you come across them.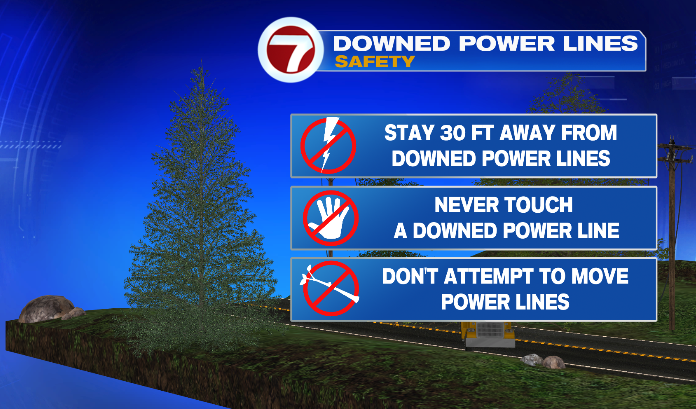 If you think this has been an active summer for tornadic activity in Massachusetts, it has. We had two tornados in July – one in North Brookfield and one in Mansfield/Foxboro. On average, we only see about two tornados every year (this is based on a 30-year average from 1990-2020).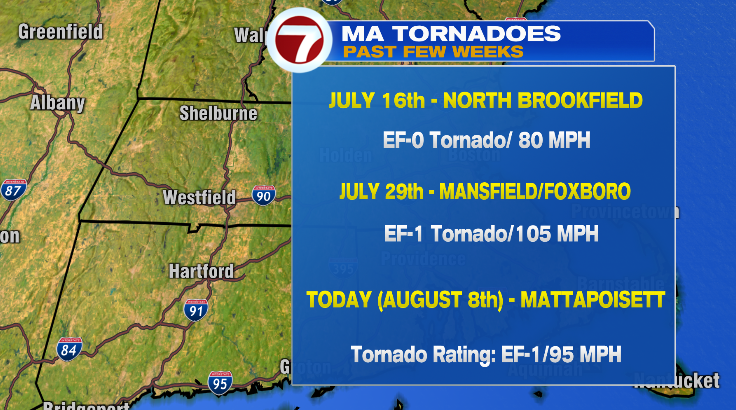 Another impact of the storms today was flooding. The Merrimack Valley saw the brunt of the heavy rainfall and flooding from this system – with Lawrence picking up over 6″ of rain in the past 24 hours. These numbers are extremely high by themselves – but are even more concerning given the ground is extremely saturated with rainfall already. This summer has been a wet pattern. The seasonal data gets updated once a day, but at 3:00am this morning, before the bulk of this rain fell, we were already 5.92″ above average for rainfall so far this summer at Logan Airport.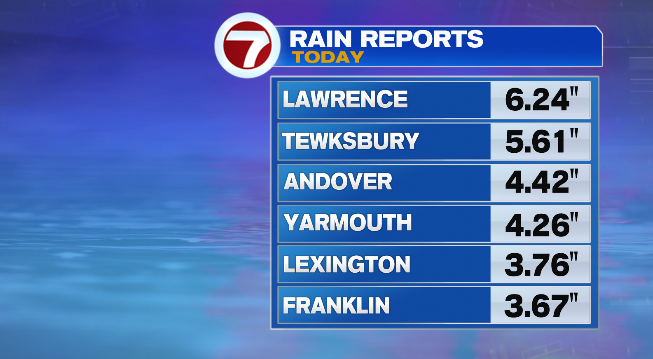 Switching gears, tomorrow looks to be a great day, with mostly sunny skies and temperatures climbing into the low 80s. It will also be much less humid than the muggy weather that served as storm fuel today. If you're looking to hit the beach, it will be comfortable with a light breeze along the coast.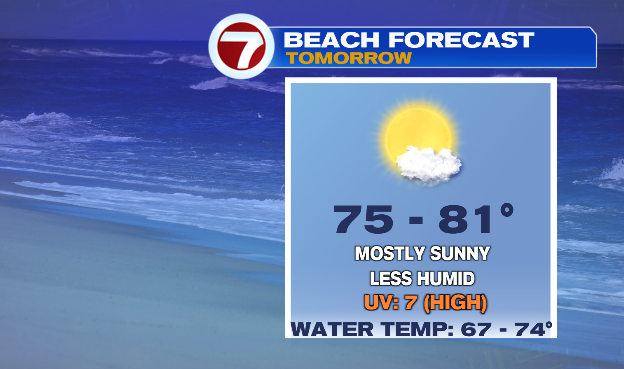 Our next shot at some storms will come Thursday, but I don't think these storms will pack as big of a punch as today. Friday looks to be a great day – if you have a long weekend, count me jealous.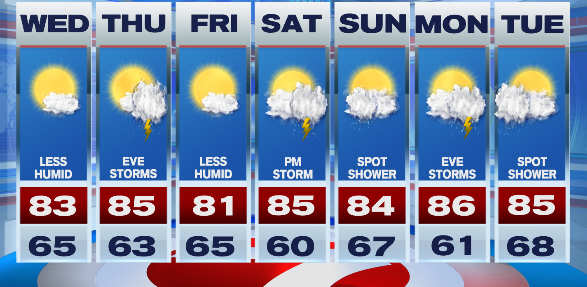 Have a great night.
-Tyler