Anyone choose to sleep with the windows open last night and then get up to close them early this morning?  That's the beauty of having a dry air-mass in place; large range of daily temp… from the 40s this morning to near 80 this afternoon.  Nice!  Honestly, if I could copy and paste this day across the 7-day forecast, I would definitely do it.  However, we all know that's not possible – so how long will the pleasant conditions stick around?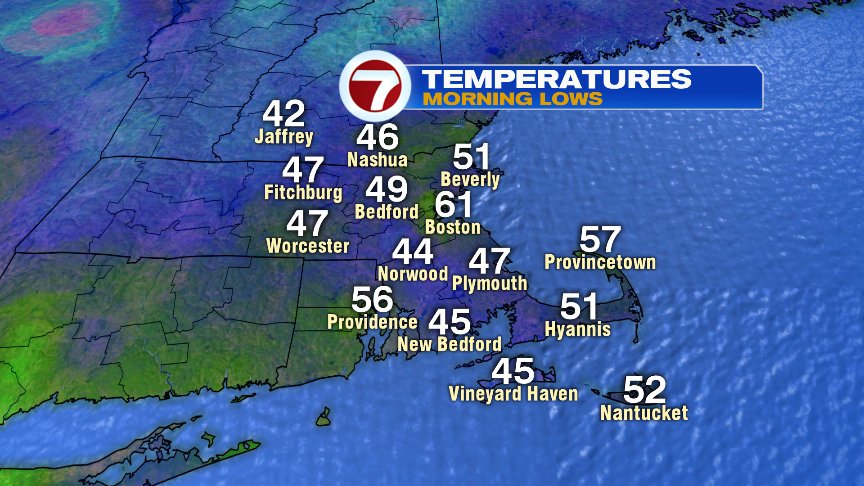 Tonight is not as cool as last night with some high level clouds moving in.  Lows will range in the mid 50s to low 60s.  Tomorrow is another dry, low humidity, warm day – and even a bit breezy.  A breeze out of the SW will keep a sea breeze away from the coastline, so even Boston will make a run for around 80° tomorrow afternoon.  Clouds will gradually move in throughout the day ahead of our next shot at some much-needed rain.  The wet weather and rumbles of thunder arrive overnight Wednesday and stick around, on & off, throughout the day on Thursday: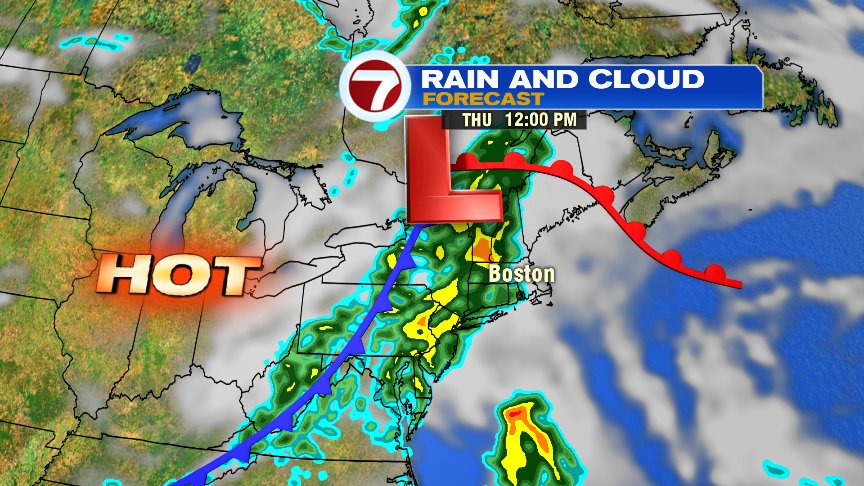 Thursday is also a warm and muggy day – so again, avoid the "personal greenhouse effect" by not choosing the rain jacket… but you will want the umbrella handy.  There's potential to squeeze out 0.50-1.00″ of rain for many on Thursday, especially in thunderstorms.  Rain is a good thing.
Then the heat builds in for a beach weekend ahead.  I've mentioned it several times in my blogs in the last few days, but just in case you're not a religious Bri-blog reader, a heat wave in this part of the world is any stretch of at least 3 days with 90° or above.  While it's likely many towns and locations will see a "heat wave," it may not verify for Boston… as we will have a sea breeze to keep the coastline a touch cooler throughout the weekend.  Free A.C.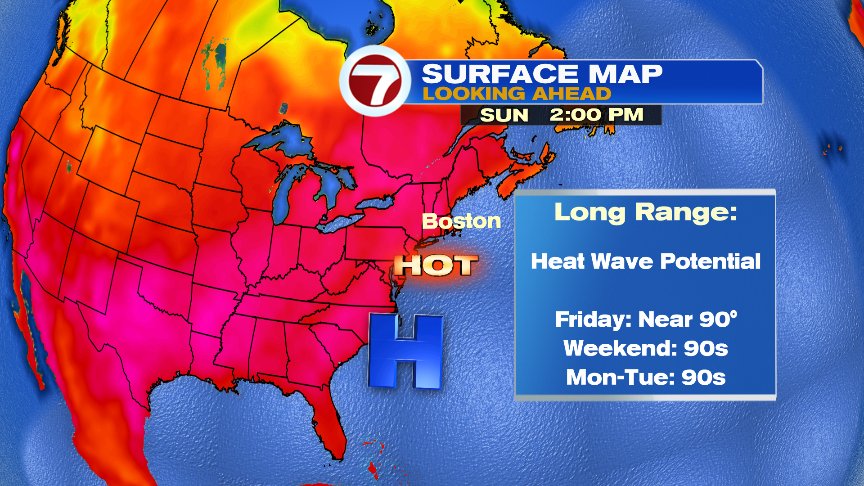 It's possible that the heat holds through Tuesday… and the humidity too.  We're looking at the potential for inland areas to top out betwen 90-96° Saturday through Monday.  Factor in the humidity, and it could bring heat indices (real feel) up to around 100°.  We'll keep you posted (of course) if the National Weather Service issues any heat headlines.
In the meantime, get those Otter Pops in the freezer to be ready for the weekend!  (We knew them as "Otter Pops" when I was a kid – but I understand in this part of the world it's a "flavor ice" or a "Freeze Pop?"  I'm still learning.)  I'm talking about these bad boys: