Well that was quite the day!  Started out with some sunshine – wearing shades and shorts – but brought the umbrella along… because, well, we needed it.  It's tricky to dress properly on days like today, because you really need it all, except for an extra layer.  The skies opened up and the lightning was IMPRESSIVE (more than 300 strikes detected by radar within 15 minutes during the noon hour)!  Generally speaking, many areas tapped into a good 0.25 – 0.50″+ of rain – and some of those downpours brought more than an inch to some isolated locations.  Much needed.  Much appreciated, Ma Nature.
Now we move on from that wild weather, and we move on from our streak of HEAT AND HUMIDITY!  It's taking some time, but dewpoints are dropping this evening – and we're finally in for a more comfortable night.  I have a personal threshold for "comfortable" when it comes to dewpoints and I always say that a good middle ground is 60°.  Anything > 60° is getting muggy/uncomfortable… and anything at 60° or < 60° is comfy, dry, even snappy (40s and low 50s).  Because of this drier air working in for us and dewpy dewps lowering, tonight is finally the night we can throw the windows open and let the fresh air in.  Low temps tonight (air temps) will be in the low to mid 50s for most (and maybe even a few upper 40s)!  What a change.
Check out that sweet lookin' weekend forecast at the top of this post!  Cooler for the coast with a sea breeze both days.  Enjoy!
Things do start to heat up for the beginning of next week, but the humidity should not be as oppressive as it has been.  Tuesday dewps in the mid 60s could be a "bit muggy," which is what I have indicated on the all important 7-day forecast.
I mentioned last night that the Tropics are heating up.  We've got a couple of areas to keep an eye on. First, our first hurricane of the 2018 Atlantic Season, Beryl.  Currently a Cat 1 hurricane out in the Atlantic, tracking WNW toward the Lesser Antilles.
A lot closer to home though, we're now tracking TD Three – which is expected to become Tropical Storm Chris: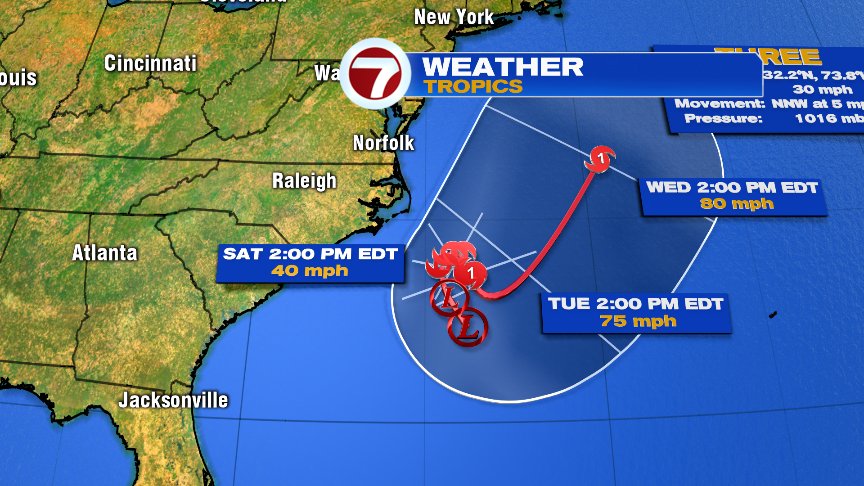 With high pressure to the north, what will likely become "Chris" will continue to meander well off the coast of North Carolina through the weekend, and then maybe gain some strength.  "Chris" could become a hurricane at the beginning of next week and then begin to track more NE.  Currently, we're not expecting any direct impact here in New England – but it may send some swells in our direction, making for rough surf at the beach.  Still, it certainly bears watching closely – and we'll be doing just that – and keeping you posted along the way.
Enjoy the weekend awesome weather this weekend.  – Breezy