If you don't know what the title of this blog is in reference to, here you go (one of the best moments from "The Office" ever, #IMHO):
Yes it was "hot, hot, hot" today – and it's going to get even hotter.  Take a look at our highs from today: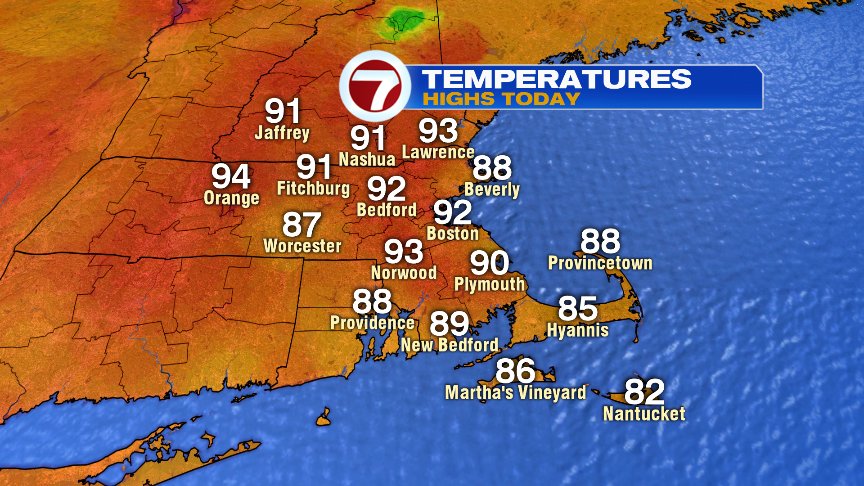 Notice Boston at 92° for a high temperature.  That happened at 6:21pm this evening, just for a brief moment as the wind changed direction, to make it day TWO at 90°+ for Boston… which means if we get to 90° tomorrow (I think we will), it will be an official "heat wave" for the city.  It always amazes me how we can have a persistent, but albeit weak, sea breeze in the city all day long (official temps are taken out at Logan, surrounded by water), and then the wind shifts for a moment and our temp pops by 5-10°!  It happened yesterday too, at 6:02pm.  Only for a moment, but still counts.
My tweet from tonight while I was putting together the 7on7 Forecast (which you can find at the top of this blog):
Another Michael Scott reference.  What can I say?  I like his style.  Though, I still maintain that overall, "Parks and Rec" was a better TV series.
Back to weather…  Tomorrow the heat gets a bump up, as does the humidity.  Air temps will be in the 90s and dewpoints in the low 70s (more like dEWpoints… yuck).  Put them together and you get potentially dangerous conditions.  That's why the National Weather Service has issued heat headlines for heat indices (or "real feel" temps) that could get to 105°+.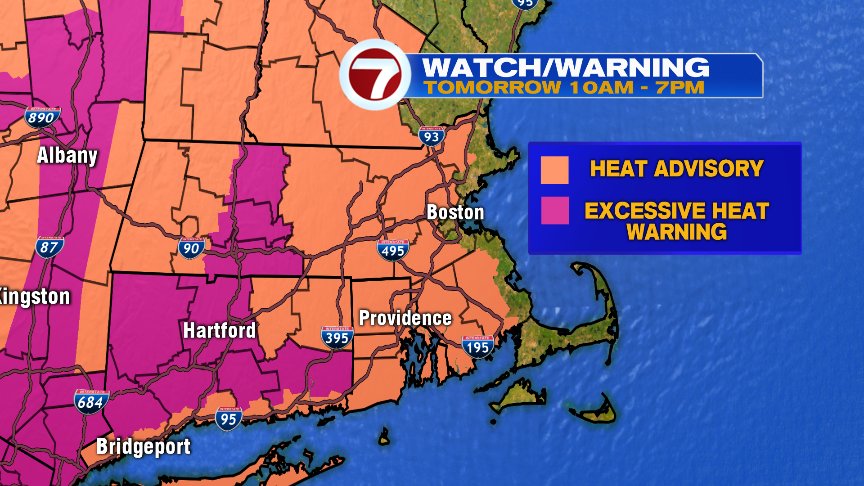 I had a great question on Twitter:  "What's the difference between the Heat Advisory and the Excessive Heat Warning?"  Excessive Heat Warning is > Heat Advisory (there's more forecast confidence for a warning to be issued, as well as likely higher heat indices in the area covered by the warning – possibly as high as 108°).
Notice that the Heat Advisory does not include the coastline.  If you're looking for some relief in the next several days, anywhere near the water is a good place to be with ocean water temps between 64-70°.  We'll also have a weak sea breeze develop through the next couple of afternoons that should keep afternoon temps for the coastline in the mid to upper 80s – but again, still could change wind direction late in the day to hit 90°!
Monday will be hot and humid again, and will likely feature heat headlines once again.  We'll keep you posted.
Very slight chance of an isolated storm (10%) late Tuesday… and again on Wednesday (20%) – but it doesn't look likely to rain on our 4th of July parade/plans.  So, for now the weather looks great for Pops on the Esplanade!  I'm jealous of you if you're going – I've never been!  I'll be here.  Someone's gotta do the forecast (thought I sometimes wonder, "if a tree falls in the woods and no one is around to hear it…")…
Possibly some relief from the heat in the humidity is on the way for next weekend after a stormy Friday evening.
Enjoy the rest of your weekend!  – Breezy