Here we go.  Round 3.  I kept saying it last night, and I personally hope it rings true that "bad things come in threes," and this is the last round in the series.  Three-strikes and we're OUT of the stormy pattern.
But for now – we have to get ready for this next one.  Tomorrow is unaffected – as both Monday commutes look to be just fine.  It's Tuesday that is the big concern, and we're talking all day long – both commutes and everything in between.  Snow starts to move in around 11pm-midnight tomorrow night and will fall fast and furiously at times throughout Tuesday (until about 8pm).  It's not just the snow we're expecting (and a lot of it – see graphic at top of post) – but the wind that will blow that snow around and create blizzard conditions, reducing visibility.  If you recall, "blizzard criteria" is falling or blowing snow, winds of 35mph or stronger and visibility reduced to 1/4 mile or less for 3 consecutive hours or longer.  Oddly enough, the last time a location in Massachusetts met "blizzard criteria" was almost exactly a year ago during our "Pi Day" storm on 3/14.  That spot that verified was Lawrence, by the way.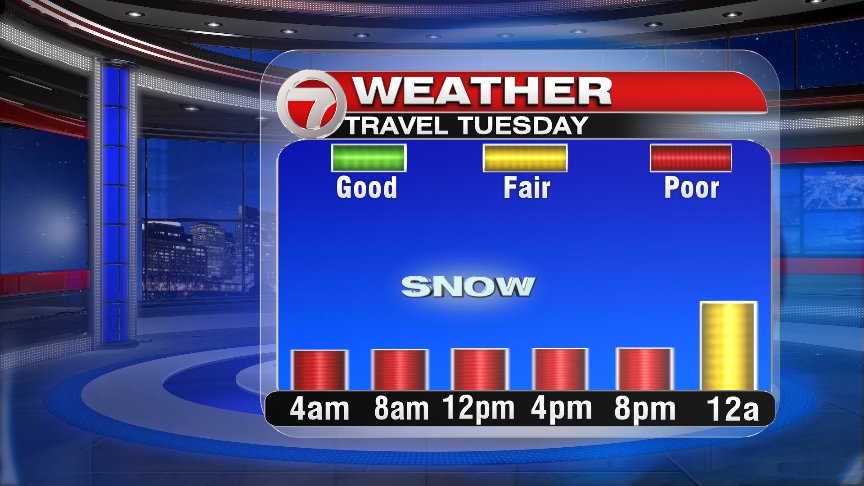 Another note on the snowfall map at the top of this post:  As always, it's still subject to change.  Obviously we don't have a crystal ball (or I would've won the lottery a few times by now).  We can only do our best based on what we're seeing from forecast models and the picture gets clearer the closer we are to the event.  This afternoon/evening a few solutions have been trending a little farther east, which would take some of the heaviest snow out over the fish.  But it could also track closer to home – and set up some heavy bands/coastal front and those numbers could still go up as well.  Stay tuned to the forecast and bear with us as we try to bring you the most accurate and up-to-date information.
Here's the wind forecast below.  Expecting the strongest gusts for the coastline, Cape and islands.  Because of this wind, there will likely be some scattered power outages in these areas.  That's especially true for the mid & outer Cape, Nantucket, Martha's Vineyard where some heavier/wetter snow will fall due to a bit of mixing.  The strongest wind is expected Tuesday morning.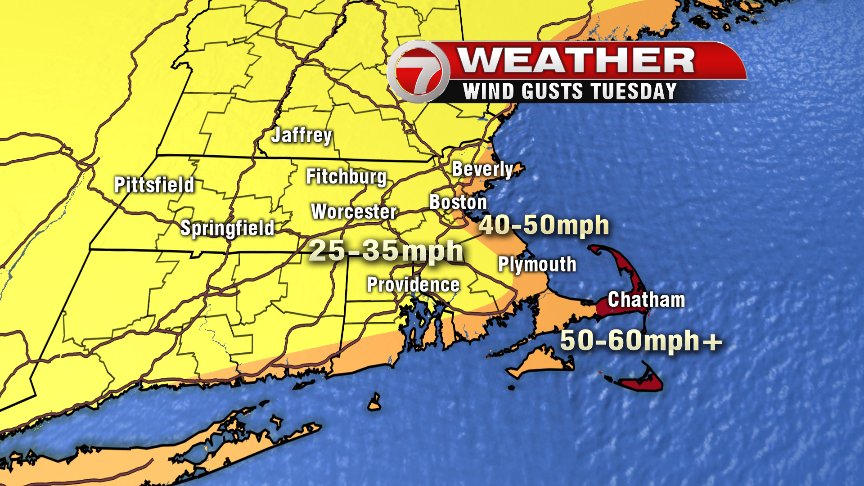 This time around, tides are about as low as they will be all month long.  This helps to keep the concern for coastal flooding at a minimum.  However, there's no need to remind anyone of the battering the coastline has endured over the past two storms.  There is certainly some vulnerability there, and we could still see some pockets of minor coastal flooding because of this.  The high tide times for Tuesday for Boston are 9:13am (the tide cycle to watch) and 9:50pm (when winds will actually change direction to push the water AWAY from the coastline… making this high tide cycle less of a concern than in the morning).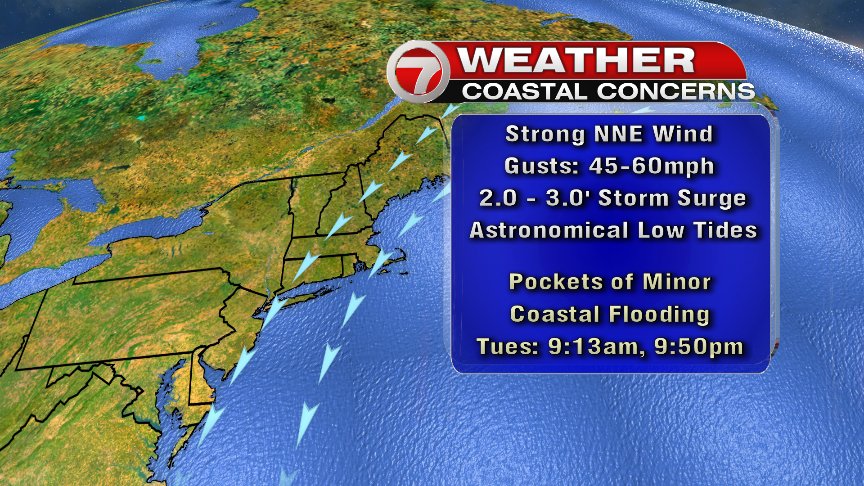 As I tweeted earlier tonight, my mother always reminds me that "this too shall pass."  I do believe after we get past Tuesday, we're in for a longer break in the stormy pattern – and perhaps even a bit of a temperature boost for next weekend.  So, keep your eye on that pot o' gold at the end of the rainbow.  Spring really is not too far off.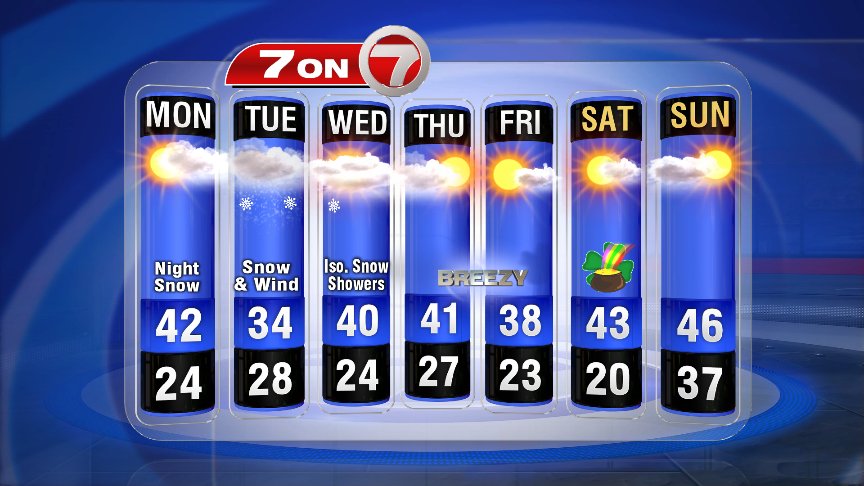 And just for a little levity tonight (because I sure as heck could use some myself!) in case you missed Dawn Lazarus on SNL last night… here you go:
-Breezy