7Weather – 7Weather- Good morning! Today and most of tomorrow are quiet, before a nor'easter disrupts travel late Monday through Wednesday morning. 
Before we get into the timing and impacts of that storm, here's what the QUIET next 24 hours or so will be like. Today it's all about location. We start off in the 30s. Inland spots rebound to the mid/upper 40s with partly sunny skies and light wind. Plymouth County, the Cape and the Islands stay cooler with a lot of low clouds and more of a NE breeze. Later today, more mid and high level clouds build in, and we're socked into the clouds for the next few days. Monday starts off chilly in the 30s. Temperatures rebound to the mid 40s. A southeast breeze picks up tomorrow afternoon. Your evening commute will mostly be ok. There might be a few showers around.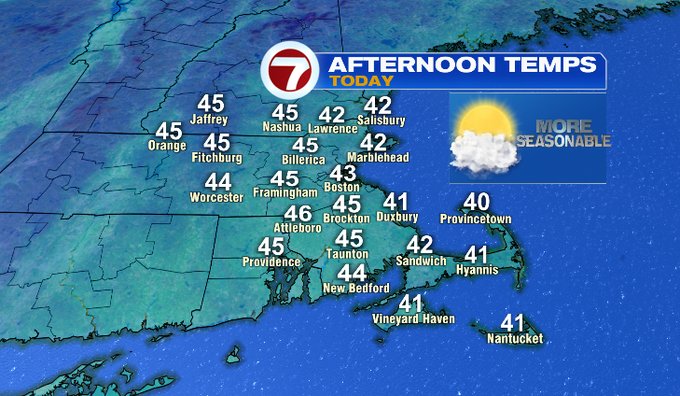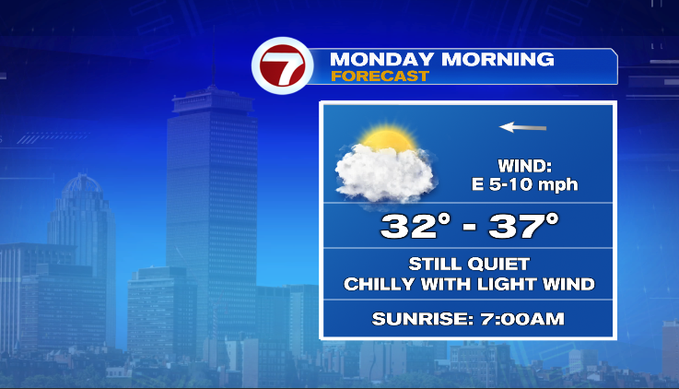 Your travel will be impacted all day Tuesday and at least through the Wednesday morning commute.  The big impacts with this storm: heavy wet snow accumulation and strong wind. We'll watch for coastal flooding too, although we expect it to be minor.
A Winter Storm Watch is in place late Monday night through Wednesday morning. Heavy wet snow combined with gusty wind could bring down tree branches causing power outages. Travel will be difficult, especially for highest elevations.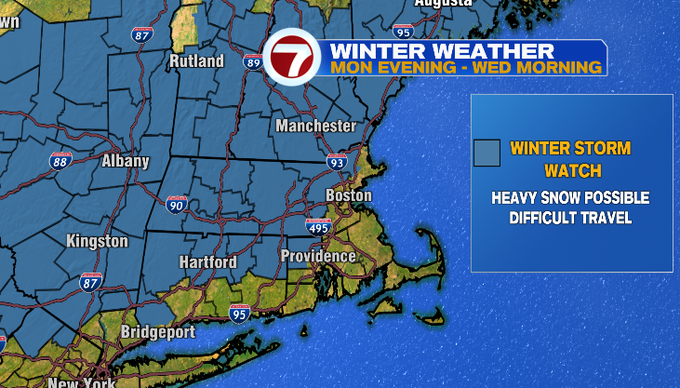 Let's start with the storm's arrival and snow amounts. The system is now in two pieces. Cold energy through the northern states and a low out of the southeast. The low will track up the coast, strengthening on Tuesday. This will start out as a mix of rain and snow late Monday. Rain for the coast and southeast Mass, while it's snowing for higher elevations (near/above 1,000 feet). Precipitation intensity picks up late Monday into early Tuesday. Tuesday, any rain showers will transition to a mix. Still during this time, it's snowing north and west of the city. It's a long duration event as the storm lingers through Wednesday, wrapping in colder air as the wind transitions northwest while exiting. Wednesday everyone will see snow. Although for the Cape and Islands, this likely won't stick to paved surfaces as temperatures will be marginal.
Here's the snow map…
The wind will be other big component. There's a High Wind Watch for Tuesday morning through Wednesday morning. Gusts could get 50-60 mph on the coast. Although not highlighted on the map below, it'll be windy through Worcester County, with gusts near 40mph.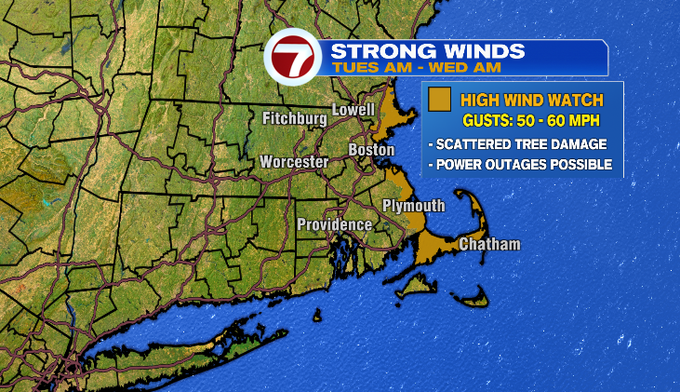 Also along the coast, there could be minor coastal flooding. It won't be an astronomically high tide, but the wind will be strong enough for 2-3′ storm urge. This would be something to especially eye for the tide cycles Tuesday afternoon and Wednesday morning, as the storm will have been with us for some time at that point. 
Once the storm moves out, Thursday and Friday will be dry and quiet. Models trending warmer. Another system brings rain showers Saturday, drying out Sunday.
-Meteorologist Melanie Black