Yesterday was quite the active weather day across southern New England. With several rounds of downpours that added up to several inches of rain, flooding was a common sight across the area. For the most part it was urban and street flooding, flooding cars and parking lots, but unfortunately we saw some flooded houses and properties as well. Of course the other headline grabber was the tornado warnings yesterday. We had three warnings yesterday morning which ended up producing two tornadoes. The first was near Mattapoisett, the second in Barnstable near Marstons Mills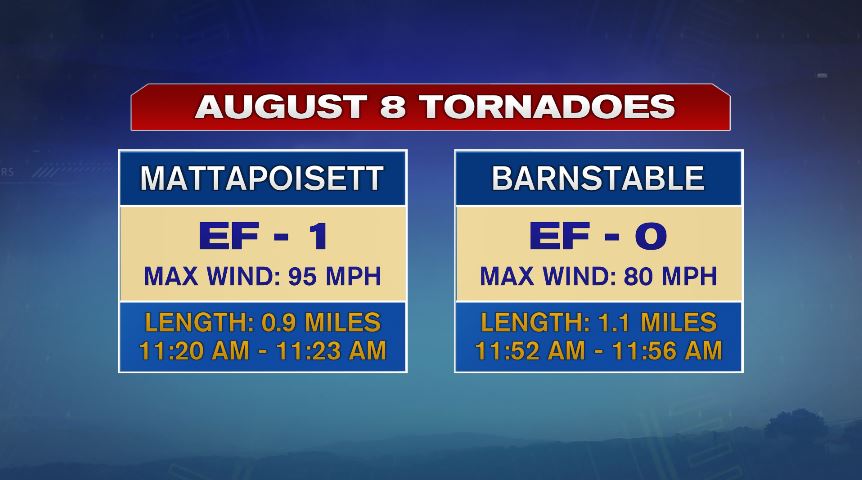 As that storm system exits, it is taking the clouds, rain, and humidity with it. As the dry air punches in, it will be a bit breezy this morning, but it's a refreshing drier breeze than the tropical air we had yesterday. Dew points in Boston over the last 24 hours have really fallen off — really in the last 12 hours. From tropical, juicy air yesterday afternoon to a much more comfortable feeling this morning. Dew points will come down even more for the afternoon today.
Today will end up being a very nice afternoon. We have clouds overhead this morning but those will decrease as yesterday's storm system continues to move eastward. In general, today's forecast is decreasing clouds, decreasing humidity, and decreasing wind. Wind that is near 20 mph now will settle back closer to 10 mph this afternoon. And our mostly cloudy skies this morning will become mostly sunny. Temperatures will climb to the lower 80s today.
Today is a dry day, tomorrow is mostly dry as rain chances return late tomorrow. And that's really the theme with our storm chances going forward through the 7 day forecast. There's a lot of overnight rain chances with many of the days being dry. Starting with tomorrow, rain chances will hold off until dinner/commute time and continue through the late evening and overnight. They'll exit by Friday morning.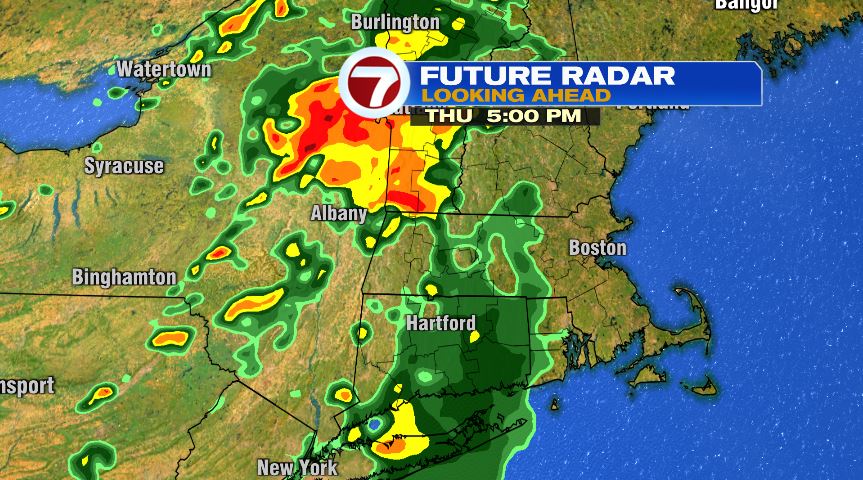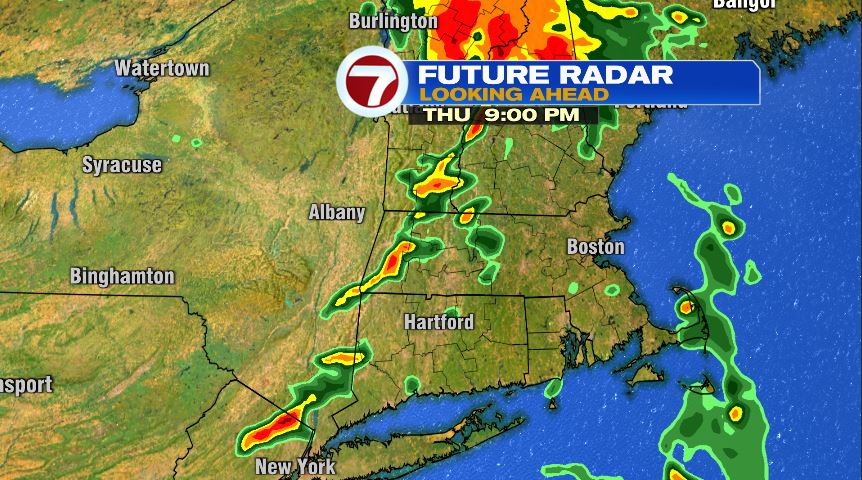 Now, not to panic but there is a risk that some of the storms late Thursday could again be strong or severe. Parts of Massachusetts are under a marginal risk of severe weather. It's a level 1/5 on the severe weather scale, so it's not a high risk, but would mean that a couple storms could be severe. It's the same level we had for the storms yesterday which ended up producing those two tornadoes. So the takeaway is to prepare, not panic. Just stay up to date with us, we'll of course keep you updated with the latest information, forecast trends, and storms as they develop.
Rain chances are as follow this week/weekend:
– Thursday evening/Thursday night
– Friday and most of Saturday are dry
– Rain returns late Saturday evening and continues on-and-off through Sunday
– Most of Monday is dry
– Showers and storms are back Monday night and Tuesday