7Weather- Good morning! A weak area of low pressure brought us some rain and snow showers overnight. Amounts were minimal. Higher elevations picked up a couple inches. That system will continue to slide south and east with drier air working in. We'll keep the chance for some ocean enhanced showers across eastern Mass this afternoon/evening. You might see some flurries, but it won't impact the roads. Temperatures will be in the upper 30s/near 40°. A lot of clouds around today and it'll feel chillier as the northeast breeze picks up this afternoon. It'll feel closer to 30° this afternoon, so you might want to grab any winter accessories you tossed aside yesterday after the 50s!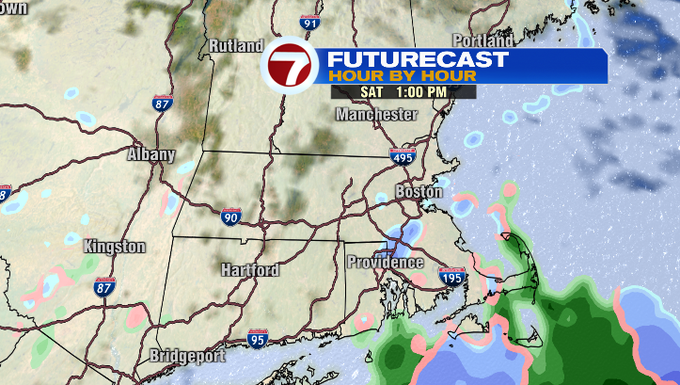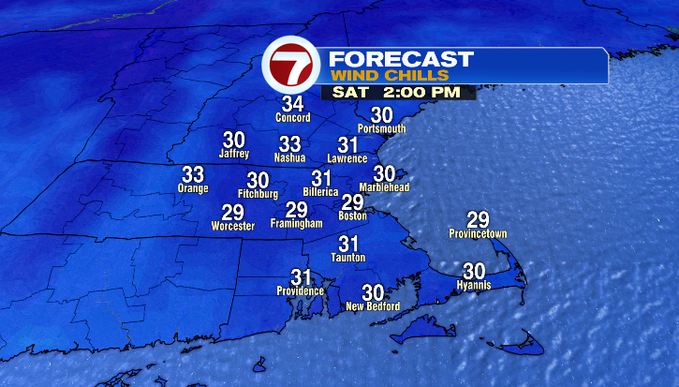 Overnight, some clouds clear inland and temperatures will drop to the mid/upper 20s. Along the coast, low clouds will hang on and it'll stay a bit breezy with temperatures near 30°. Tomorrow will be the better day of the weekend! High temps inland rebound to the mid/upper 40s with some sun and not as much wind. The coast will be a different story. It'll be cooler near 40°, breezy and likely mostly cloudy. Dry for everyone though!
All eyes are on a nor'easter next week! It'll be a long-duration event arriving late Monday and lingering through Wednesday. The biggest impacts will be as the storm intensifies on Tuesday. There won't be any arctic air ahead of the storm, so the heaviest snow accumulation will be for the highest elevations. Through the Berkshires, Monadnock region, Worcester Hills and Litchfield Hills, that's where we're expecting more snowfall accumulation. The coast will see mostly rain with snow showers as the system exits. The bigger impact there will likely be the strong wind. There's a strong signal for gusts 50mph+ along the coast, near 60mph for Cape Ann and the Lower Cape. The storm comes when it's not an astronomically high tide, but with the strong wind there could still be minor coastal flooding. As the the system exits Wednesday, any rain showers likely flip to snow as colder air works in on the backside of the system.
Beyond that strong system, the rest of the week looks nice- dry, some sun and 40s.
Stay with us this weekend for updates on next week's storm.
-Meteorologist Melanie Black