7Weather – Our next winter storm is inbound! If you're reading this before 9-10 pm, you're waiting its arrival. If it's after, flakes have already started to fly. Let's talk the impacts and timing of this system. Travel disruption will be the biggest impact. Poor travel can be expected north of Route 2 into southern New Hampshire. Winds will be strong especially along the coast and could potentially be damaging and cause isolated power outages.
Take a look below and you can see the strongest wind shaded in orange and red. It'll be gusty and with us for a good chunk of the day. Also of note, the wind's direction. It'll be easterly. Right now, the ocean water temperature is in the low 40s. The onshore wind will pull that mild air to the coastline and inland keeping temperatures more marginal. That will cut into our snow totals. The farther north and west you go, temperatures will be more supportive of snow, and thus snow totals are expected to be higher.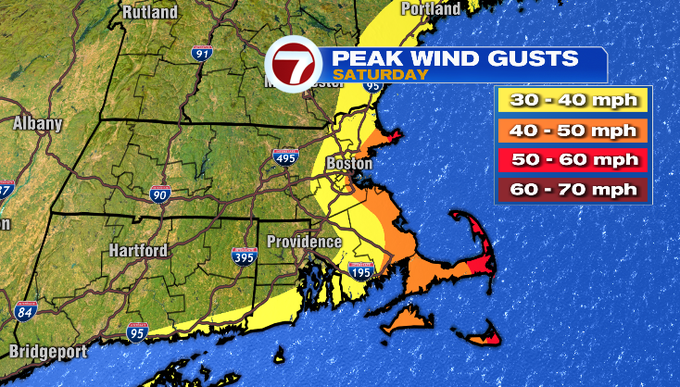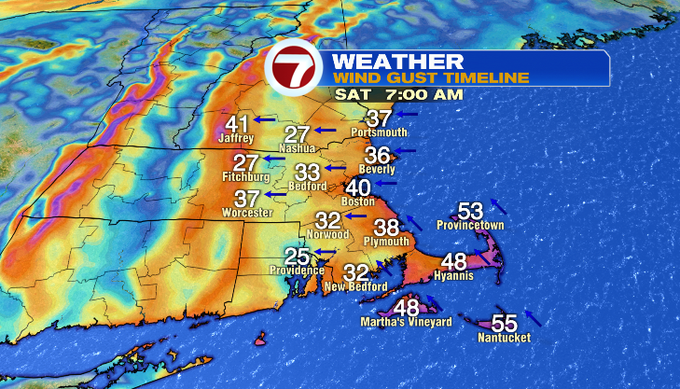 Let's time it out. The snow shield arrives west to east between 10pm to midnight. Overnight, the temperatures in the clouds will warm, so snow will flip to sleet through southern Worcester County to Boston. We'll wake up tomorrow to a mix of snow, sleet and rain. Merrimack Valley and far northern Mass/southern New Hampshire you're still getting mostly snow. There is a period from Friday night through sunrise, when we will accumulate the most snow. Once we get past sunrise, the March sun angle will overpower the light snow and temperatures in the low 30s. Any snow around the city and south likely won't stick to the roads. As the center of the storm, pushes farther away, light snow showers will wrap in behind it. Any lingering showers will taper through the evening/night.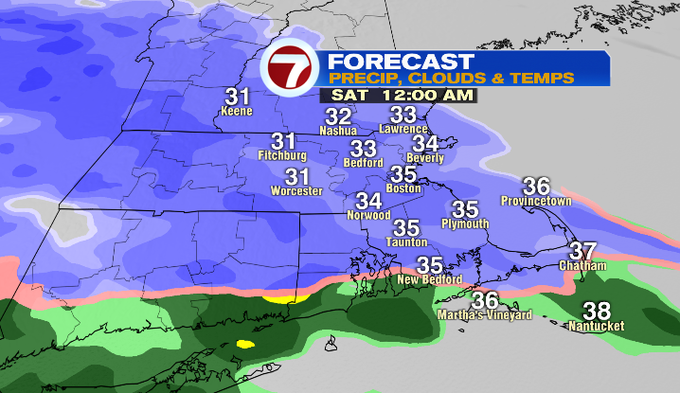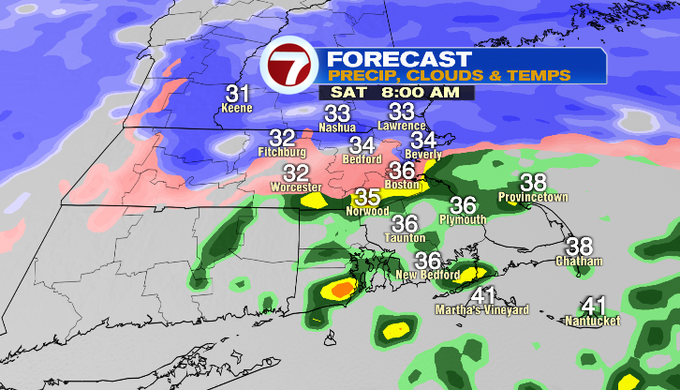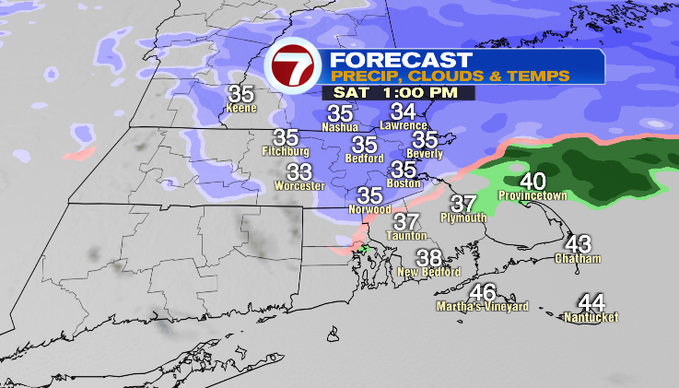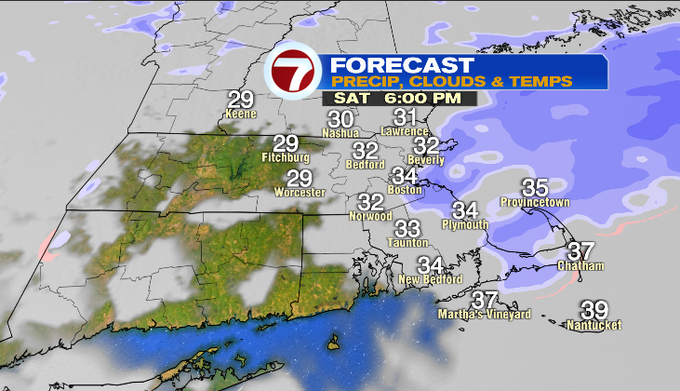 Here's the snow map. Jackpot zone will be north of Route 2 into southern New Hampshire. The greatest gradient will be for Essex County. The farther away from the coast you are, the more snow you'll accumulate. We'll get two bursts of snow. After the first burst (just after sunrise) will be the best time to shovel any slushy snow around Boston and south. Areas around Worcester County and along/north of I-495, you can shovel most of your snow after sunrise. You'll want to move any lingering snow that falls with the second burst before the evening. Temperatures will fall at/below freezing overnight into Sunday, and there will be areas of refreeze.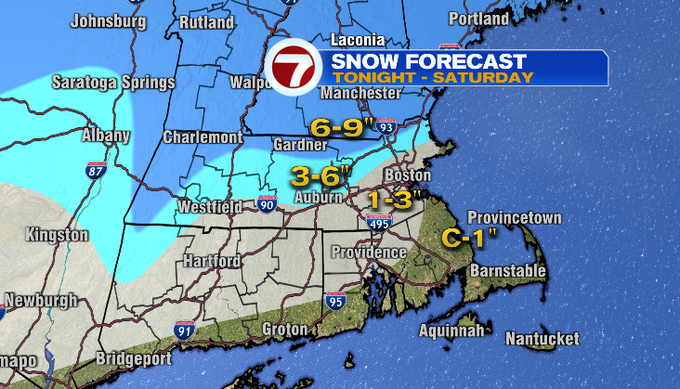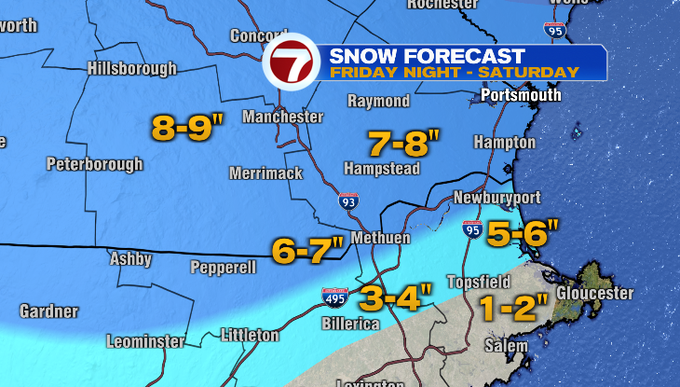 Luckily, most of us catch a break in terms of coastal flooding. Boston is coming off an astronomically low tide. We will watch for minor coastal flooding for the islands around tomorrow morning's high tide. There could be splashover and minor inundation on shore roads.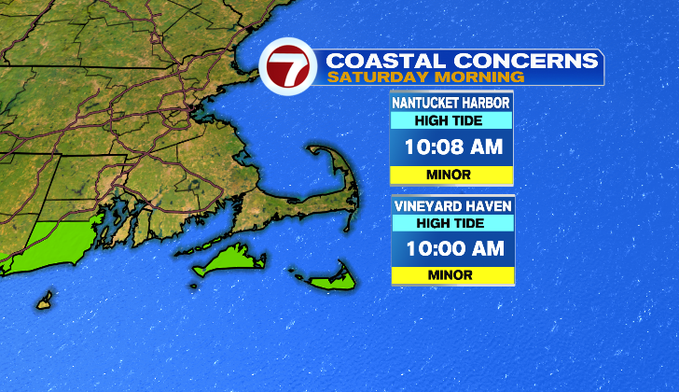 You can spend Saturday cozy indoors watching the snow. Then Sunday, play in it! Forecast will look and feel great for sledding or skiing. Expect less wind, a mix of sun and clouds and afternoon temperatures in the 40s.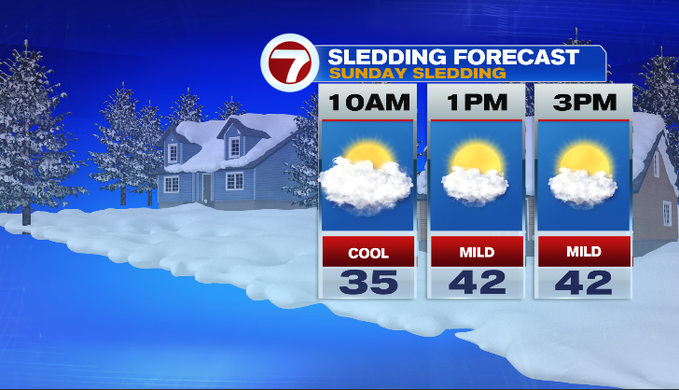 Most of next week looks uneventful at this point. We'll watch for a system to bring rain and snow showers Tuesday.
-Have a great weekend!
Meteorologist Melanie Black