Well, Daylight Saving Time begins again tonight.  We lose an hour of sleep but we gain an hour of daylight in the evenings… and we gain a bit more confidence that spring is closer than we think – despite the looks of that 7on7 Forecast.  Most of our phones and other devices will change the clock accordingly, without any human effort.  However, it's always that car clock or oven clock that catches me off guard in the week ahead.  Don't be late for church/brunch – and don't leave Kevin alone at home.  #HomeAlone
It's quiet and seasonably cool tomorrow, with partly to mostly sunny skies and highs in the low to mid 40s.  A nice Sunday for that long run, if you're training for the Boston Marathon (only 35 training days left).  Monday is a mainly dry day as well, as our next storm system shouldn't start to move in until around midnight.
Yes, we are indeed talking about "Round 3."  It's times like this I really hate to be the messenger.  Trust me, I'm suffering from winter fatigue right along with you!  But as someone reminded me on Twitter tonight, "bad things come in threes"… I think this is the last storm loaded up and ready to go.  We'll get some quieter weather for a longer stretch of time after this one.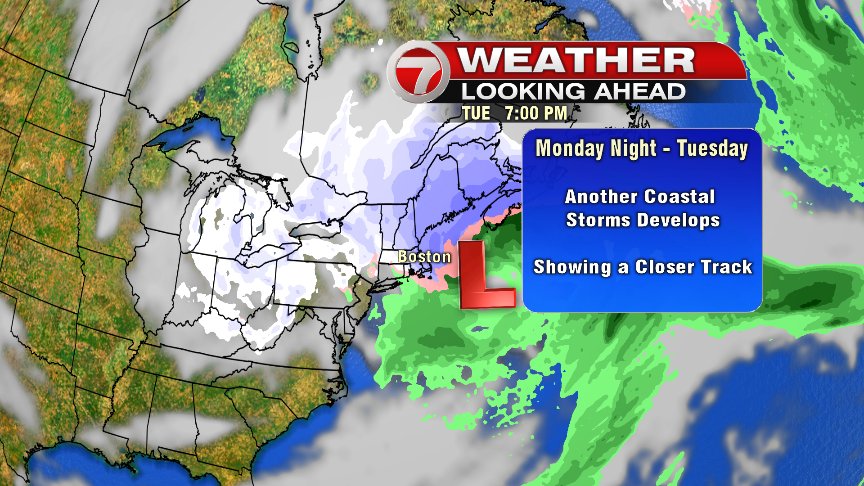 Models have been trending closer to New England today, which does lead to more confidence on snow and wind impacts.  Even though models have been coming into more agreement – we need to see some consistency in those solutions to have more confidence on the finer details ("exactly how much snow will I get on my back patio??").  For now, I'm drawing out our impacts like this:  (but it should be noted that I do believe the snow and travel disruption bars will go up to a "high" impact tomorrow.  We'll just have to wait and see…)  Luckily this time around, tides are astronomically low.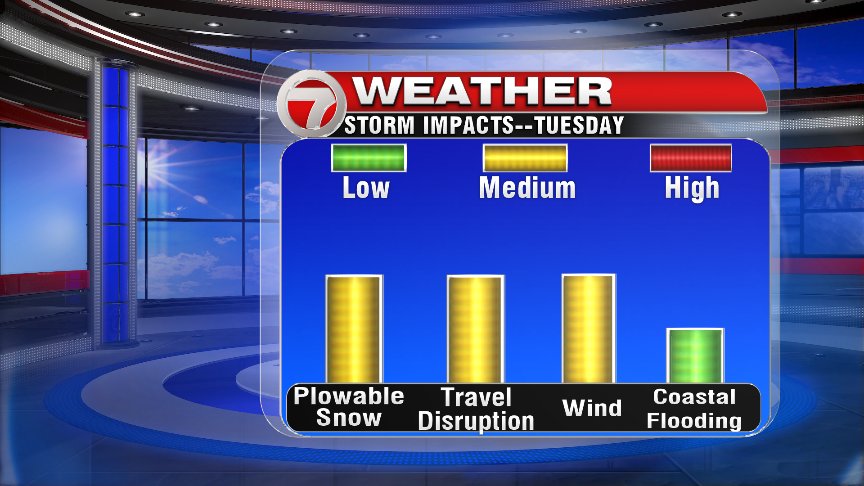 As always, "stay tuned."  I don't know about you, but I'm keeping my eye on that pot o' gold at the end of the 7-day forecast.  Maybe that's when spring starts and we can leave winter behind us.  – Breezy