Editor's Note: This blog post was written by 7Weather intern Tyler Hughes. ~JR
Another hot, humid day in the books today, where temperatures climbed well into the upper 80s to around 90 in most locations. We'll look to continue the trend tomorrow, with temperatures climbing into the 90s inland, remaining in the 80s along the coast, Cape and Islands. A mostly cloudy, but dry morning will give way to a line of scattered storms in the afternoon/evening – more on that later.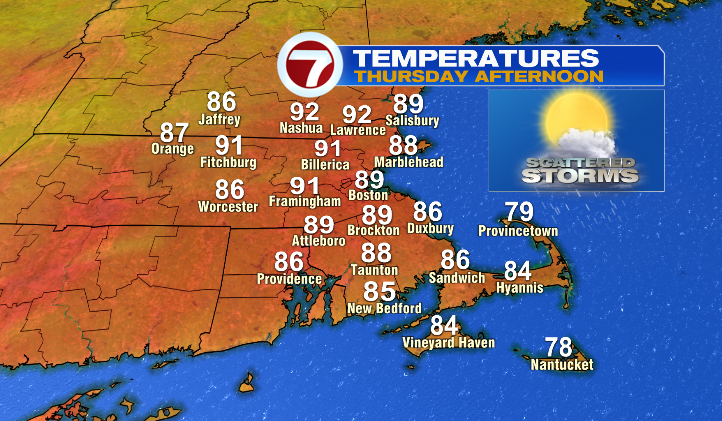 A heat advisory is in effect tomorrow through Friday for much of the state – a result of the combination of high heat and humidity. This will drive the heat index, a measure of how hot it "feels" to us, to drive well into the 90s, approaching triple digits. Tomorrow and Friday are the most oppressive heat days of this week.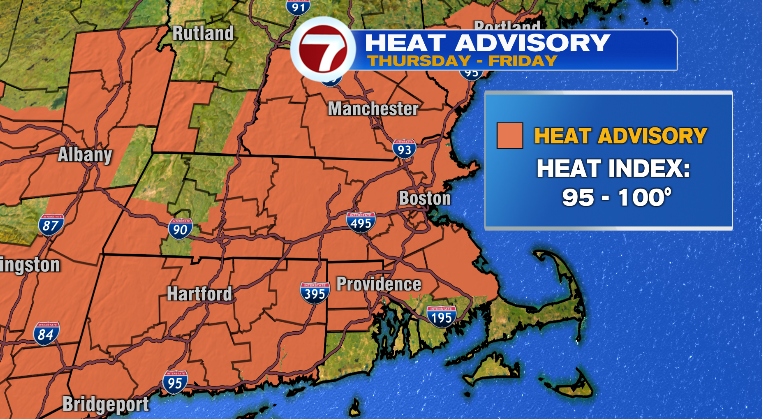 This combination of heat and humidity will be the fuel for a line of storms tomorrow afternoon as a boundary traverses Southern New England. I think the first batch of storms will arrive after lunchtime – around 2pm or so in Western Mass. Expect on-and-off thunderstorms to continue throughout much of the afternoon and into the early evening.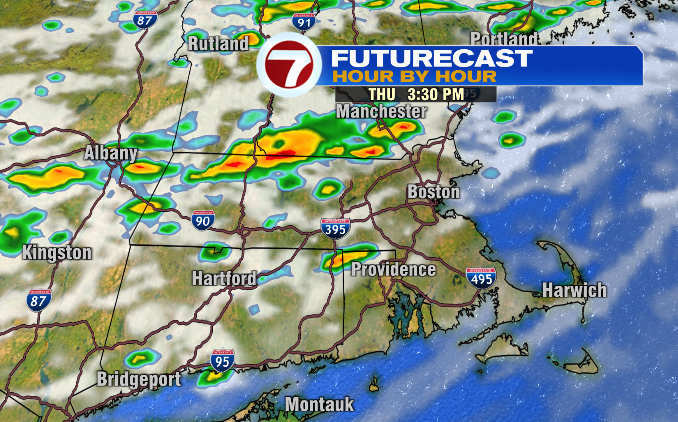 Some of these storms could be strong-to-severe, with the primary threats being damaging wind, small hail, localized downpours and frequent lightning. The risk of a tornado isn't out of the question here – the atmosphere has a good amount of "spin" potential that we'll have to watch closely throughout the afternoon. The severe storm threat should die down by 9-10pm or so at the latest.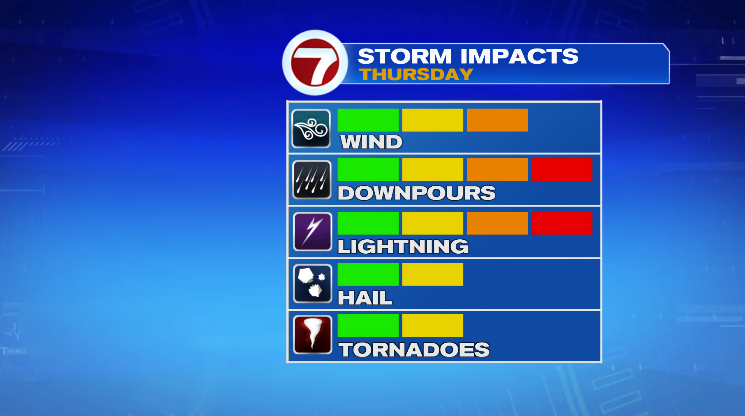 The risk for localized flooding is also a concern here – a flood watch is in effect tomorrow afternoon for much of the area. The issue here is that rivers and streams are already so high from the well above-average amount of rainfall we've had so far this July. Any localized downpour could cause some ponding or minor flooding. Luckily, the heavy rain event should be short-lived. Nonetheless, it's always a good reminder to never drive through a flooded roadway.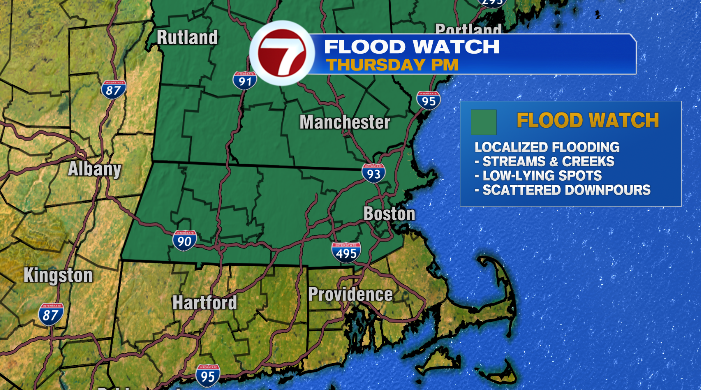 Friday looks to continue the hot, muggy trend, remaining dry throughout the day. Temperatures will climb into the 90s inland while remaining cooler with a seabreeze along the coast. Saturday, a cold front will bring another risk of storms, while dropping the heat and humidity. If you're heading out to Revere for the Sand Sculpting Festival this weekend, Friday and Sunday are your best days for it – and if I had to pick a better day, Sunday will feel much more comfortable, with lower temperatures and less humidity.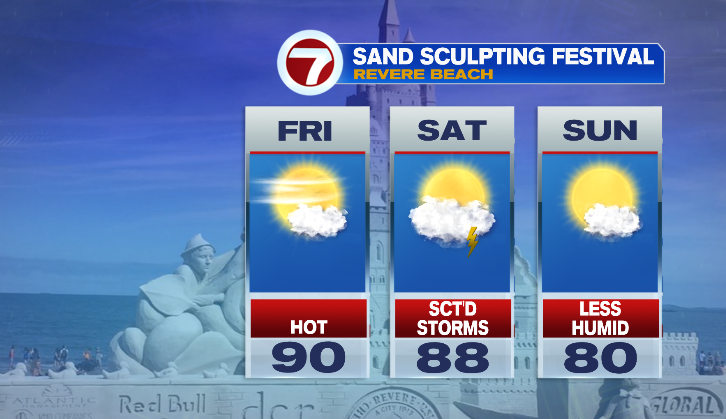 On that note, once the cold front passes through Saturday, it will usher in a much more comfortable feel for the beginning of next week – with high temperatures around 80.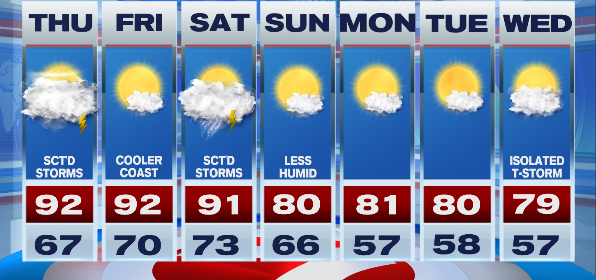 Be sure to stay weather-aware tomorrow, and have a way to get weather warnings throughout the day should the need arise (shameless plug: the 7Weather app is a great way to get notified about any severe weather heading for your area). If you have any loose patio furniture that is easy to take in tonight or tomorrow morning, I would ere on the side of caution and do that, as well.
Have a great night!
-Tyler