A day late and a dollar short with the arrival of summer weather.  What gives, Tuesday?  Usually Tuesday is my least favorite day of the week, which I commonly refer to as "Tuesday Loseday."  That wasn't the case today, because for summah lovahs, this was a winner of a Tuesday… aside from that whole "going back to work after a 3-day weekend" thing.  The high in Boston made it to 85° around midday, and our spotter in Millis (thanks, Bob) reports the temp made it to 90° there for the 4th time this month.  These are the days when we can be excited about a sea breeze; no longer skunking temps along the coastline, but rather making the coastline the place to be!  As I type this blog, a breeze out of the east at 16mph has Boston sitting at 73° under warm sunshine.  Well done, Tuesday.  Well done.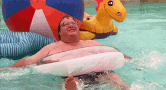 It was not only hot today, but also fairly humid (especially earlier today when dewpoints were in the upper 60s for some).  Tomorrow will feature drier air (lower humidity) and "cooler" temperatures – but it really is a stunnah of a day.  Mid to upper 70s inland, and mid 60s to around 70 at the coast.
We'll be dry tomorrow and Thursday before some tropical moisture from what is currently "Subtropical Depression Alberto" works the way into our forecast.  I realize that NO ONE wants to hear about any more wet weather during the weekend… but alas, it does seem like that's the continuing streak.  I mentioned earlier this weekend in a blog that throughout April and May, we've only had ONE completely dry weekend (Sat/Sun) and that was back in April when it was still too cold to enjoy, really.  At least the weekend does not look like it will be a washout.  "Spotty showers" is something we can deal with – the "splash and dash" kind.  We'll track a chance of showers and storms on Friday – and then light scattered showers on Saturday.  For now, my favorite weather model (Euro)'s most recent run keeps Sunday dry.  Crossing my fingers for that trend to continue.
Hey, by the way – our AMAZING weather producer, meteorologist extraordinaire, and overall great dude, David made the graphic at the top of this blog post.  I saw it when I got into work this morning and my first thought was, "WOW!  That looks AWESOME!"  and then my second thought was, "Wow, I'm super hungry" (that happens a lot these days)… and then I said to myself, "Holy moly!  The 4th of July is only 36 days away?!"  Yup.  Summer is upon us.  This Friday is June 1st which marks the beginning of the Atlantic Hurricane Season – and the beginning of meteorological summer (June 1st – August 31).  Maybe we've had some weekend weather bummers as of late… but summer is just getting started and there are plenty of great beach days ahead.  Have a great week!  – Breezy