What a day!  Albeit, breezy/windy… sure… but WARM and DRY and SUNNY.  I'll take it!  Can we do it again?  Sure!  Just not tomorrow…
Last night and today we had a very dry air-mass in place and it made it so many of us started the day in the mid 40s (Martha's Vineyard had a low of 36°!)… unseasonably cool.  But when the air is dry, it makes it so we can warm and cool more quickly – so we were able to climb into the 70s early on and closer to 80 for this afternoon.  The dry air prevails through the rest of this evening, but the humidity is not far off.
Tomorrow morning will not be as cool as this morning – but the afternoon will be just about as warm as today.  It's a muggy day ahead of us, with clouds moving in mid-morning and threatening with showers from time to time.  There could be an isolated downpour/rumble of thunder, but it doesn't look like the right set up for anything strong or severe.  Some towns may go the entire day without a drop of rain, but you'll still notice the humidity.  My advice is to keep the umbrella handy tomorrow – because if you don't have it, you're sure to need it (Murphy's Law).  The rain jacket is not advised tomorrow, as you'll likely cook inside of it ("personal greenhouse effect").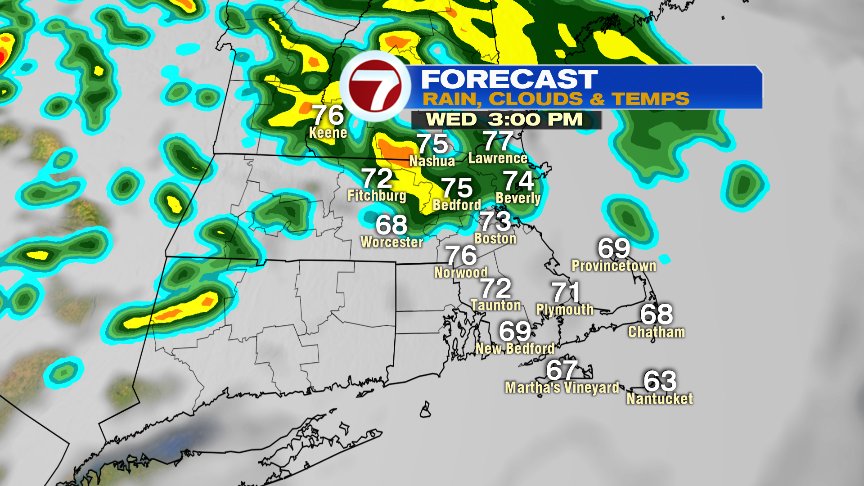 Luckily, it's "one and done" with the muggies tomorrow and then we're back to drier air for the rest of the week.  Next weekend looks HOT and likely DRY again (two in a row?  Have we broken the curse?) with 90° possible for some of us Sunday/Monday.  Stay cool.  – Breezy