7Weather – A lot happening this afternoon with tornado warnings. We'll focus the blog's attention with the latest on Hurricane Lee. A Tropical Storm Watch is issued for the coast shaded in yellow. Cape Cod and Nantucket both fall under the Tropical Storm Watch but are also included under a Storm Surge Watch.
The Tropical Storm Watch means we will watch for the potential of tropical storm force winds. Preparations should be taken now to secure property before the wind becomes hazardous. Wind at this level could mean any unsecured objects could be blown about, tree limbs snapped off, trees uprooted and debris blocking roads.
The Storm Surge Watch is in place for the potential of peak storm surge inundation 1-3 feet Friday evening until Saturday afternoon. The localized inundation will mainly occur along shorelines and low-lying spots. Moderate beach erosion, elevated surf and dangerous rip currents are also concerns.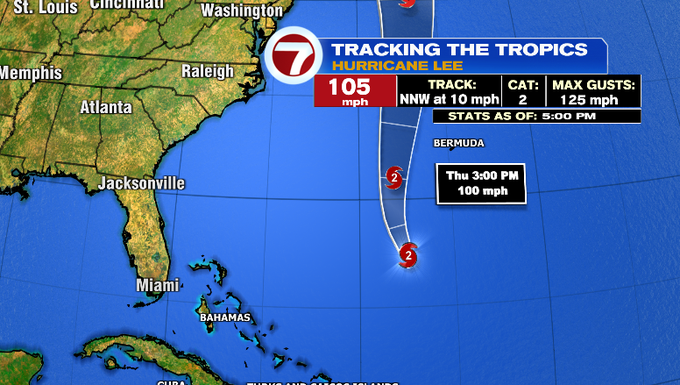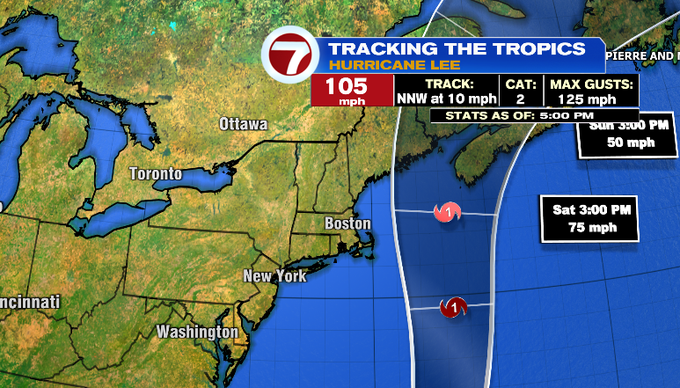 As of the National Hurricane Center's 5:00 pm update, Lee was a category 2 storm still with a NNW track. It's maximum sustained winds have decreased and is still moving relatively slow at about 10 mph. It's expected to turn more northerly by tomorrow. It'll continue to the north, with the core of the storm staying west of Bermuda. Lee will make the closest pass to Southern New England Saturday. While Southern New England is out of the cone of uncertainty above, the impacts can extend beyond the cone, also noted by the watches that are up for the region.
Below is the probability of experiencing 60 mph or higher wind gusts. That's the threshold for damaging wind. Right now it's most likely for the Mid and Lower Cape and Nantucket. It's possible along the coast. Wind gusts in that range are not as likely inland, but towns could still experience gusty wind. The same goes for the chance of heavy rain.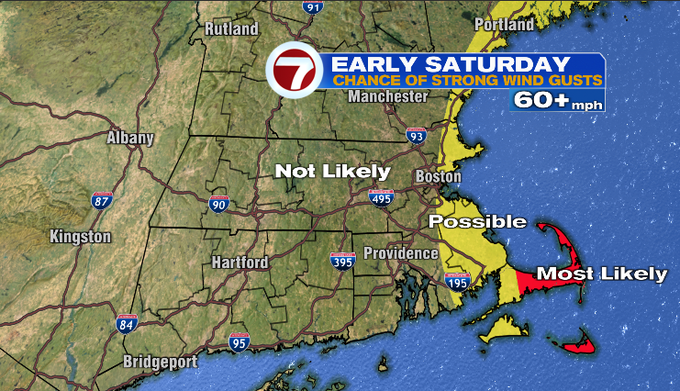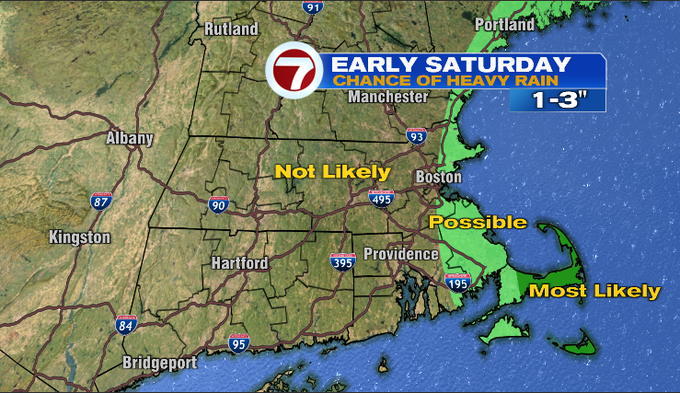 Here are a couple snapshots of the elevated rip current risk on Nantucket and the east side of Cape Cod. You can see the elevated risk Saturday.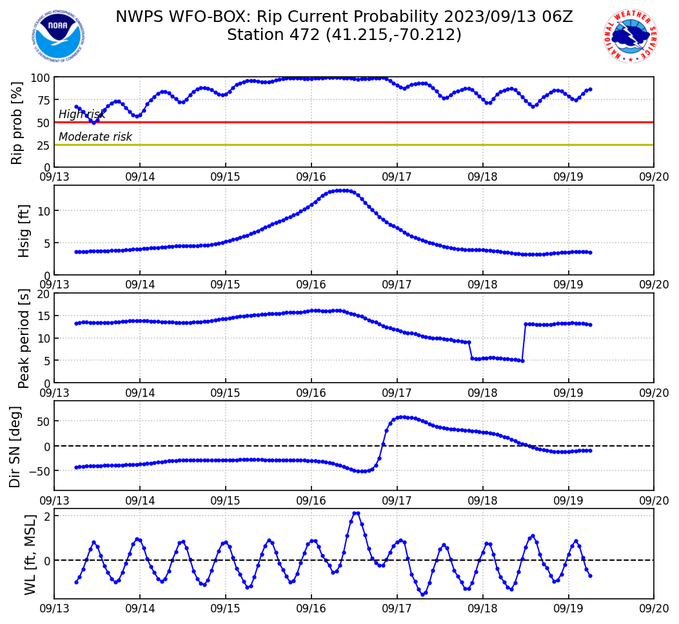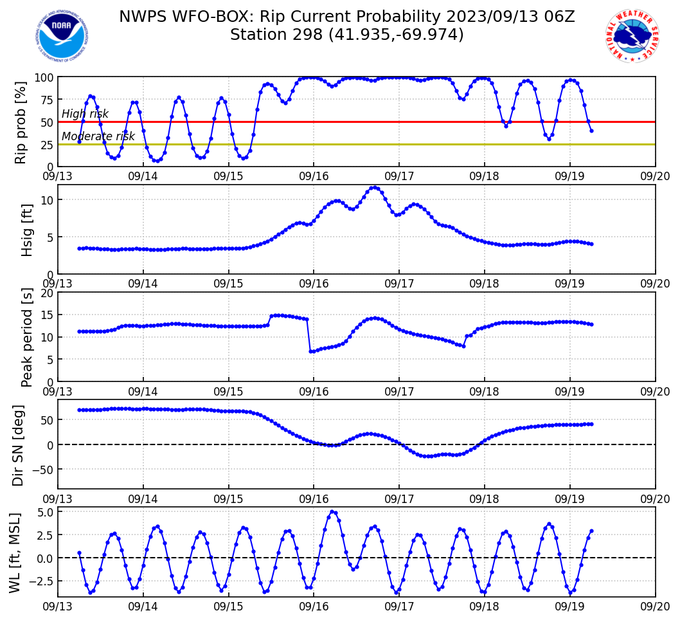 That being said, tomorrow and Friday will be drier and more comfortable. A cold front is pushing the humidity out of our area but in doing so sparked today's storms. Tomorrow morning there will be leftover showers on the Cape.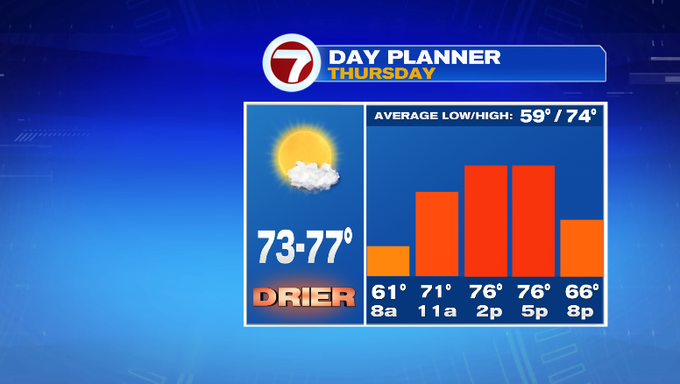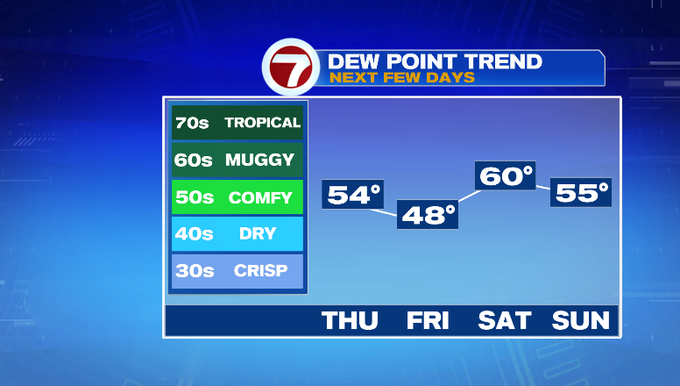 Dew points come up Saturday, because of Lee but then fall Sunday. Stay with us as we continue to monitor Lee and the impacts it's expected to bring to our area.
-Meteorologist Melanie Black