7Weather – Finally we had a beautiful September day! Hope you got a chance to get outside and enjoy temperatures in the 70s, dew points in the 50s and a lot of sunshine. Tomorrow will be an OK day before Lee makes a pass to our east late Friday night into Saturday. Wind and coastal flooding will be our primary concerns, especially for Cape Cod and Nantucket.
But first – tomorrow. Friday will be breezy, especially on the Cape, with clouds thickening up. The clouds and a northeast wind will keep temperatures slightly below average in the upper 60s/near 70°.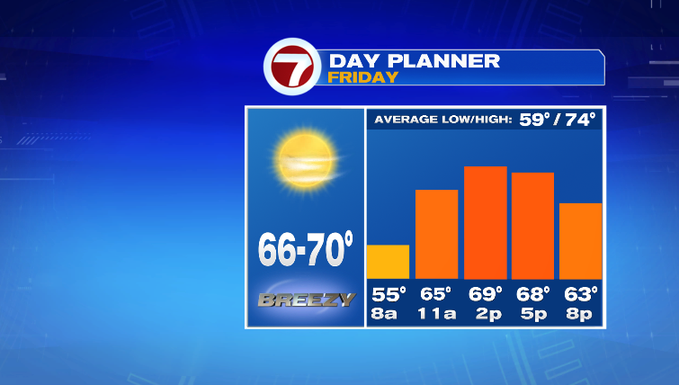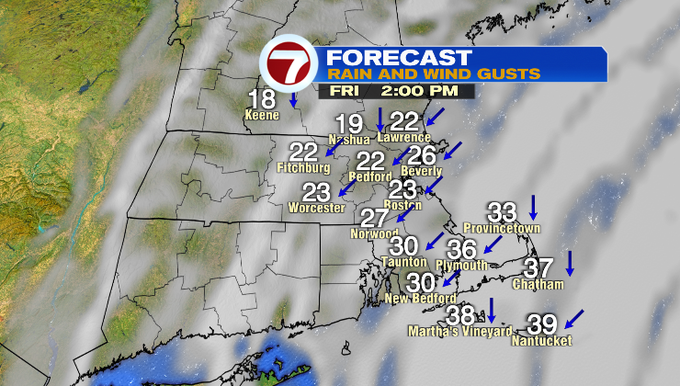 Moving on to Lee… The center of the storm will stay offshore. The highest impacts will be felt across Cape Cod and Nantucket. We're looking at a time frame of greatest impact from late Friday into Saturday.

Lee became a category 1 storm this afternoon. Below is the update as of 2 p.m. At that time it was 230 miles west/southwest of Bermuda and 710 miles south of Nantucket. The storm is weakening as it encounters relatively cooler water temperatures and shear. The center of Lee will pass west of Bermuda through this evening. It will pass to our east late Friday into Saturday morning, and then veer northeast toward the Canadian Maritimes as a post-tropical storm. The cone below shows the possible path of the storm's center. The storm's track will stay offshore. As the the storm continues northward, its wind field expands and thus the impacts will be felt outside the cone and around Southern New England.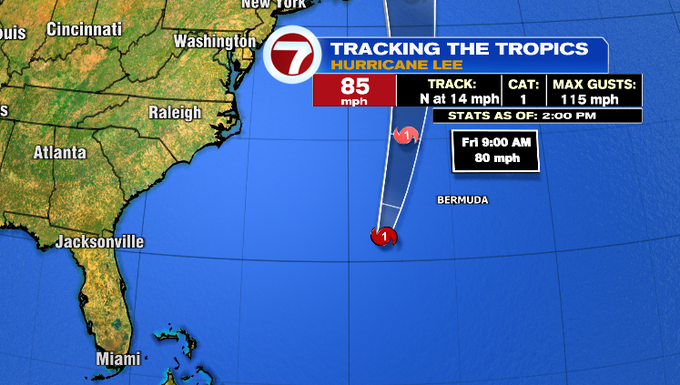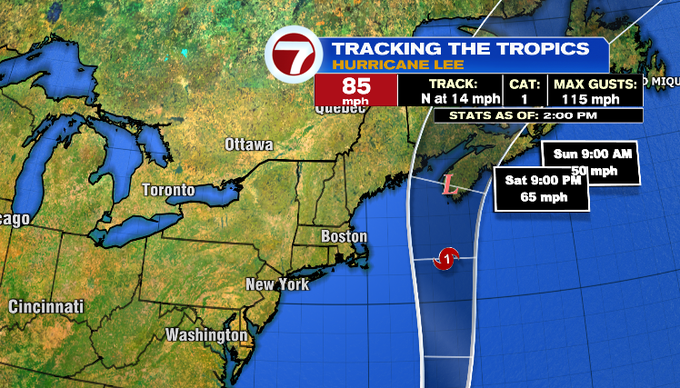 WATCHES AND WARNINGS
A Tropical Storm Warning is in place for areas shaded in blue. This means tropical storm force winds are likely. This includes locations like Nantucket, Chatham, Falmouth and Provincetown.
A Tropical Storm Watch is in place for areas in yellow around the North Shore to South Shore, South Coast and Buzzard's Bay. These locations may experience tropical storm conditions.
Also a Storm Surge Watch is up for Cape Cod Bay and Nantucket.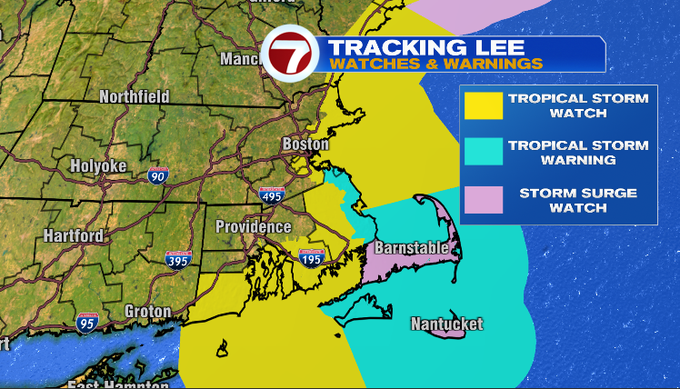 WAVES AND RIP CURRENTS
The swells from Lee will create dangerous surf conditions even before the storm passes to our east. Tomorrow, the highest waves and rip risk will be on the east side of Cape Cod and south-facing beaches.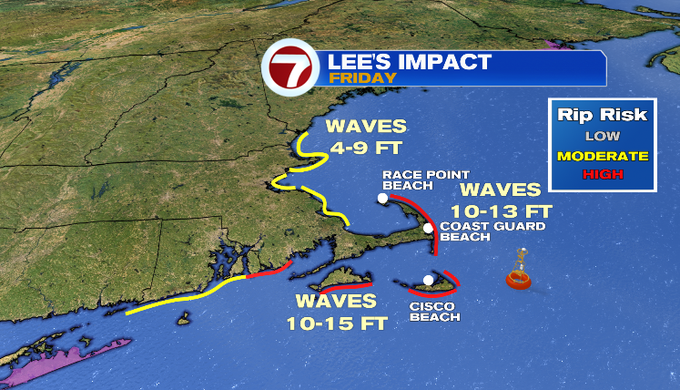 WIND
The strongest wind will be Saturday morning. The area shaded in red below highlights where we'll get the strongest wind gusts from the Lower to Mid Cape. Within that region of the Cape, some towns could get isolated gusts near 70 mph. Cape Ann through Boston down to the Upper Cape could experience gusts 40-50 mph. Elsewhere farther inland, you can expect occasional gusts 20-40 mph. Inland it'll stay breezy into the afternoon.
Take a look at the wind threat graphic below to get an idea of what winds at those speeds mean for your area. The wind could cause tree limbs to come down leading to power outages. Inland any power outages would be more isolated. The ground is saturated from recent rains. That unfortunately, makes trees more susceptible to being uprooted. Scattered power outages are possible on the coast. Outages will be more isolated the farther inland you are.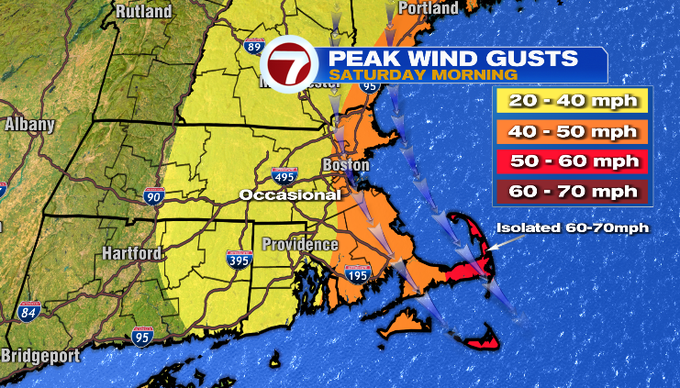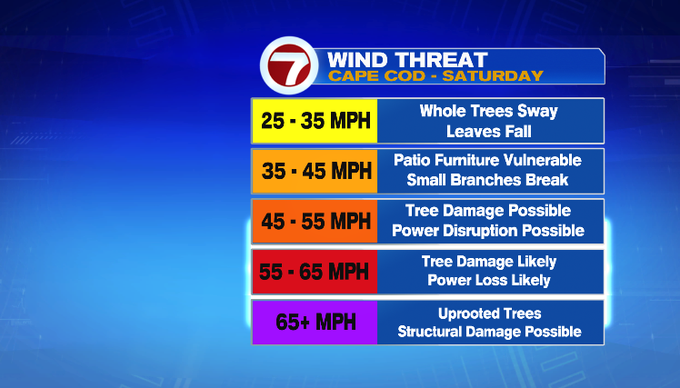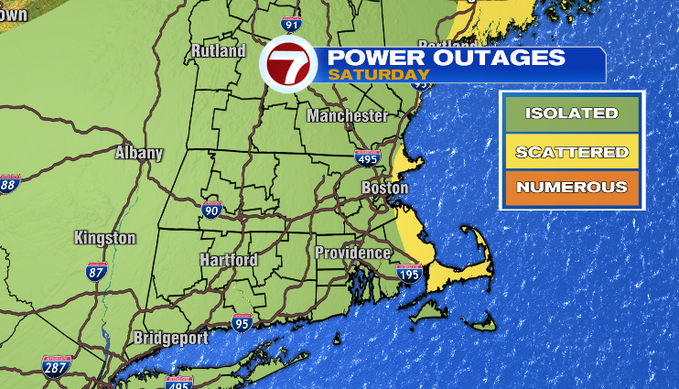 STORM SURGE
The wind peaks Saturday morning. We'll catch a bit of a break from flooding with high tides around midnight Saturday and again around noon to early afternoon. Still on the backside of the storm, the wind will become north/northwest. That'll cause water to pile up in Cape Cod Bay with nowhere to go. Storm surge is expected to be the highest within Cape Cod Bay and Nantucket from 2-4 feet, leading to the potential for moderate flooding. Elsewhere along the coast, 1-3 feet inundation is expected.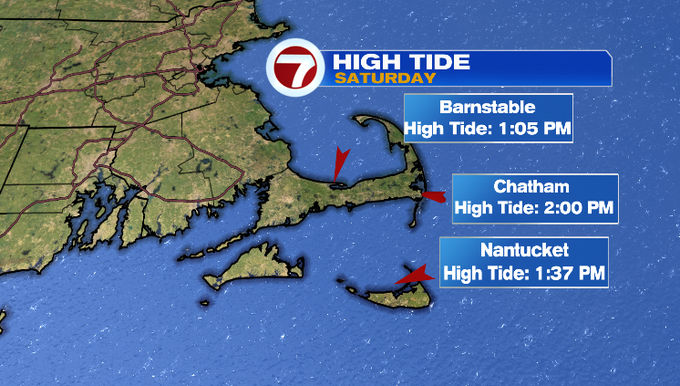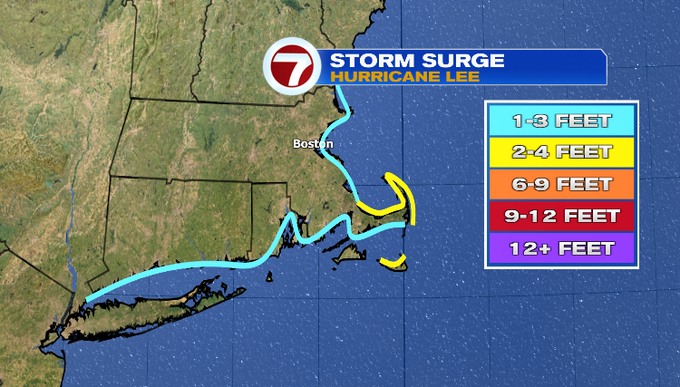 RAIN
The closer to the coast you are, the more likely you are to get heavy rain. The highest amount is 1-3″ on Cape Cod. You're less likely to get rain inland. This will likely come as a relief if you're in Leominster and still recovering from flooding earlier this week.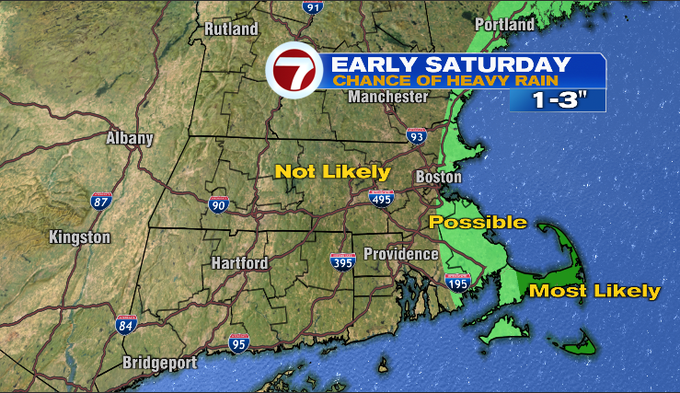 Sunday is dry. We'll see a lot of sun and a westerly wind will push temperatures near 80°. A disturbance will bring the chance for a few showers Monday. Then high pressure builds aloft, and it's time to get into the fall spirit!
-Meteorologist Melanie Black