I'm sure all of us had our own unique and colorful way of finishing this sentence today:  "It's hotter than ______ out here!"  (You don't have to share with me.  I'm just acknowledging that we were all sharing these same thoughts on this "triple-H" day).  Here's a look at the high temps throughout S. New England today. If you're looking at these numbers and thinking, "It sure felt hotter!" It sure did. The humidity helped boost the heat index above 105° for many today.  Yesterday we had that nice, refreshing sea breeze to help the coast out a bit.  Today, not so much: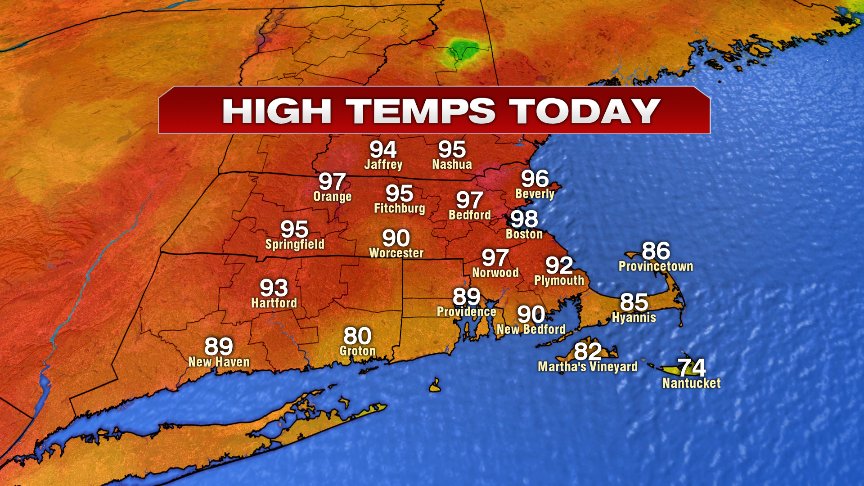 No record high for Boston today.  The record for 7/3 is 102° set back in 1911.  Then on 7/4/1911 it was 104°… Luckily we won't give that record a run for its money either.
Tonight is a mild and muggy night.  As I type this blog, dewpoints are in the mid and UPPER 70s.  That's just icky stuff.  So, no relief from cool air coming through the windows tonight.  Lows will be in the low to mid 70s.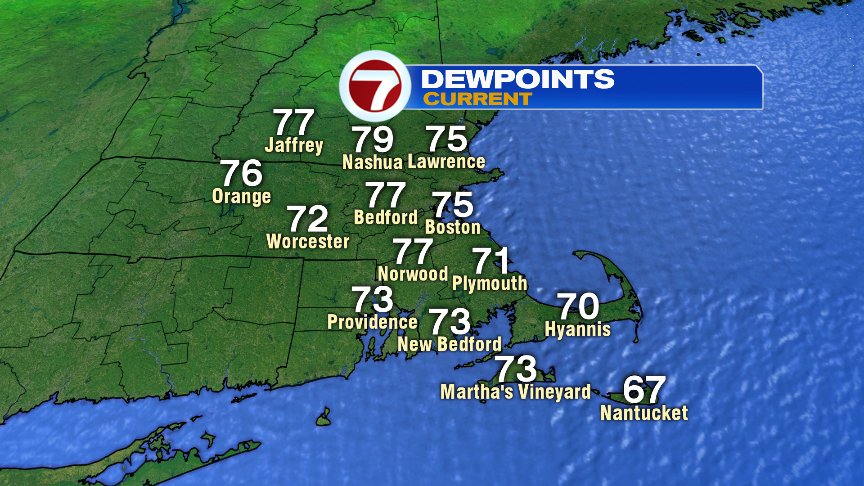 Tomorrow will not be as hot as today… but it will still be hot.  Count on highs away from the coastline in the low 90s and closer to the upper 80s to near 90 for the coast.  YES!  That means we DO get a sea breeze to help us out a bit tomorrow!  Still, humidity is high again too.  The Heat Advisory is once again in effect for another day – through 8pm tomorrow (see top of this blog post) for heat indices ("feels like" temps) between 95-100°.  So, again, not as hot as today… but still hot.
There's a slight chance for a spot storm tomorrow, but that chance should diminish in time for fireworks.  Headed to the Esplanade?  Looks like fun!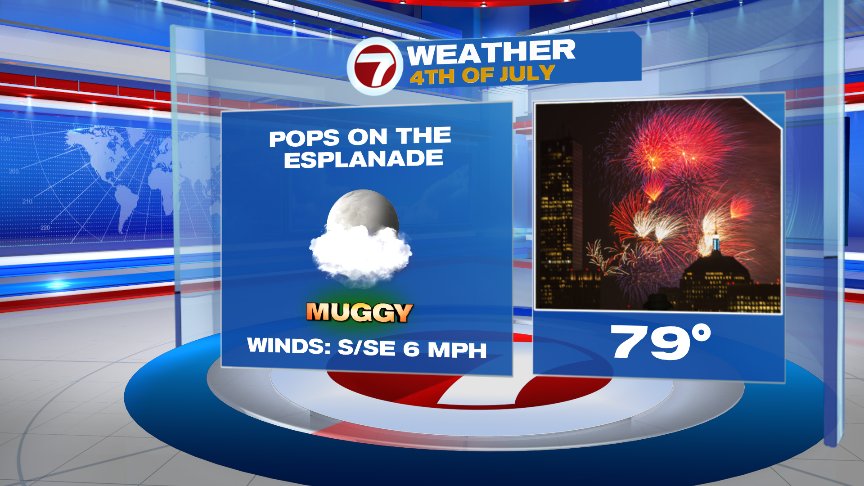 Two more days to go of heat and humidity… then Friday will bring rain and storms into the area.  Some of these storms could be strong/severe – and we could get some good rain out of this line.  As we get closer to Friday we'll have a better idea of timing, but currently it looks possible that things could quiet down in time for evening activities.  We'll keep you posted.
Have a happy and SAFE 4th of July!  – Breezy