Editor's Note: Tonight's blog was written by 7Weather intern Tyler Hughes.
After a refreshing weekend with temperatures around average for most of us, Mother Nature will turn up the thermostat big-time later this week. The story of this workweek is hot, humid, and with scattered chances of storms here and there. Tomorrow will likely be the coolest day we have until the weekend – with temperatures climbing into the middle and upper 80s. A light breeze will keep things cooler along the Cape and Islands.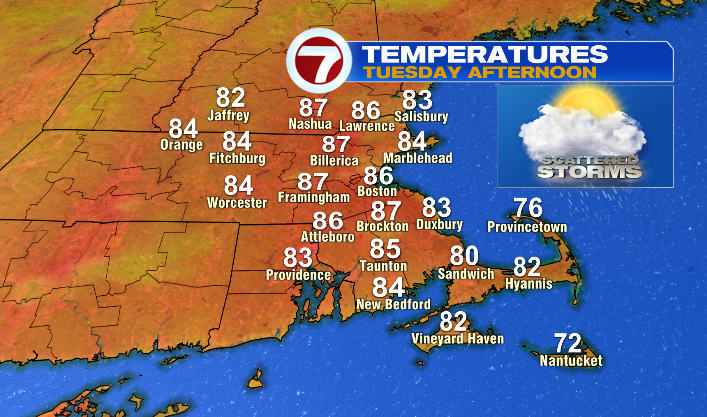 Tomorrow starts off dry in the morning, with a chance for scattered thunderstorms throughout the afternoon. I think storms will be most likely in and around Metro Boston and down the 495 corridor through Worcester County. Shower/storm activity in Western NH, the Berkshires, Cape and Islands will be more isolated, but nonetheless still possible. Keep in mind that strong winds, isolated downpours and small hail are possible here. By bedtime, the majority of these storms will fizzle out (they'll lose their energy source… the sun!)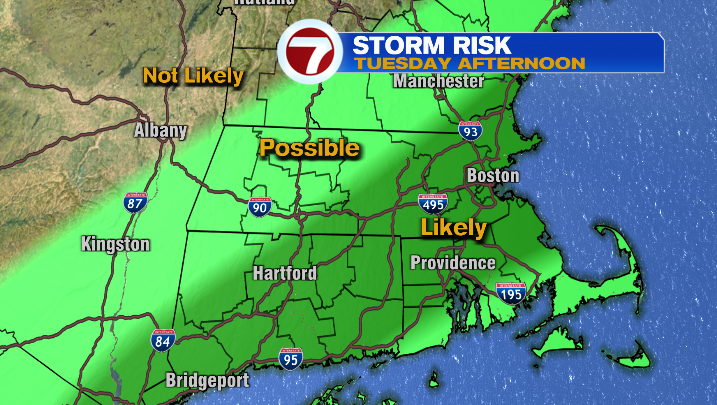 Wednesday, a southwesterly flow will bring hot, humid air with it. High temperatures will remain in the low 90s for most, with dewpoints in the upper 60s to low 70s (yes… another muggy week). We'll have our first real shot this summer at an official "Heat Wave" in Boston (three consecutive 90+ degree days). In fact, the cold front parked up to our North won't really make its way to us until Saturday, so we may be in for a 4th day of heat.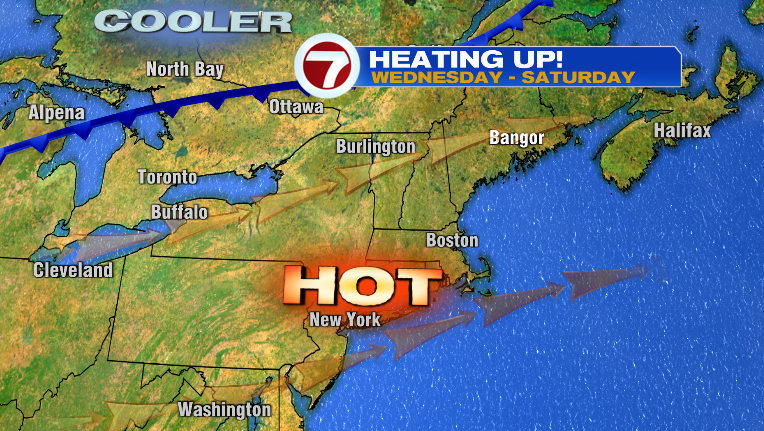 We're well overdue for some heat here in Boston – as a matter of fact, we've only had two 90+ degree days at Logan airport so far this year – on average, we have 15 the whole year. We'll definitely bump these numbers up a bit over the next few days.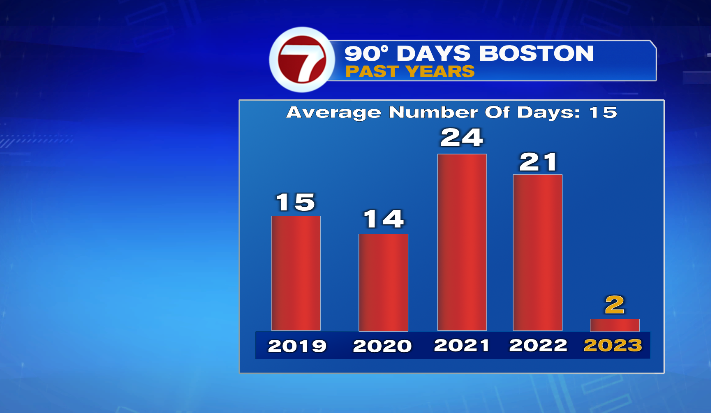 Our next chance for some evening storms will be Thursday, where model guidance increasingly suggests these storms could be strong-to-severe. Wednesday and Friday look relatively dry, and with a light seabreeze will be great beach days! Saturday, the aforementioned cold front drops through, knocking temperatures down and bringing another chance for scattered storms with it.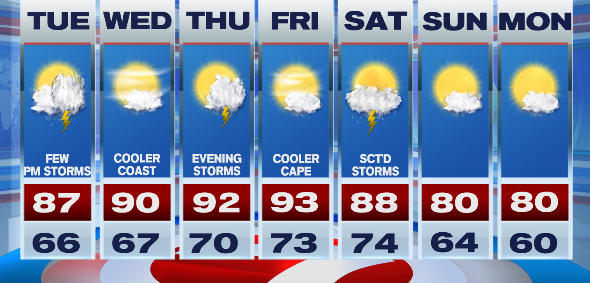 Fill up your water bottles, crank your air conditioning, and stay cool any way you can this week. Have a great night!
-Tyler