The "unofficial start of summer" really felt like a reality on Friday and Saturday… but then today felt like a blast of "spring's past!"  We saw a dramatic and quick drop in temperatures yesterday evening, and once temps fell to near 50°, the numbers didn't go far from there all day.  Luckily, it wasn't a washout of a day – but most of us still had some light showers move through from time to time.  For me, it was more about that NE breeze… making me trade in my flip flops for my maternity sweater and jacket that no longer zips up…  but I digress.
There's some improvement on the way for us tomorrow.  It's still a "cool" day (cooler than average), but it should be mainly dry.  We'll start with cloudy skies and patchy fog with temps in the upper 40s and low 50s.  By afternoon, we have some peeks of sunshine in store and temps for the interior warming to around 70°.  At the coast though, it's still a cool 60° for a high tomorrow.  Not yet feeling like we're back to summah.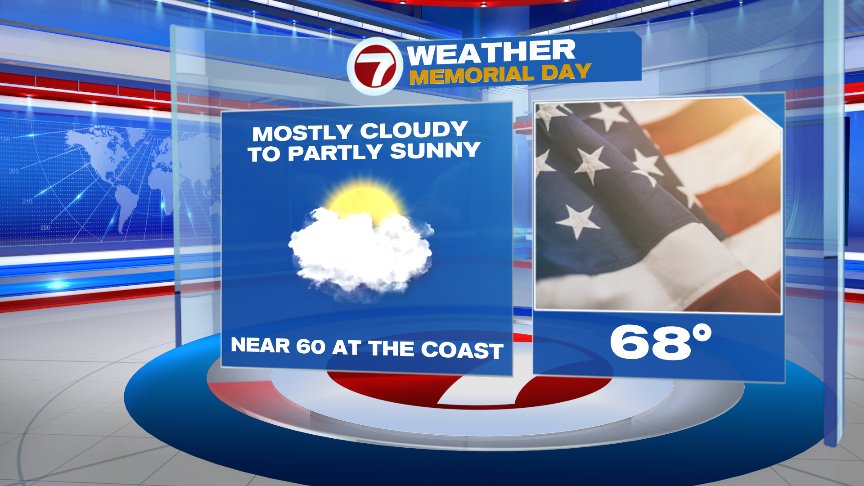 Where is summer currently?  Out through the Midwest and Great Lakes: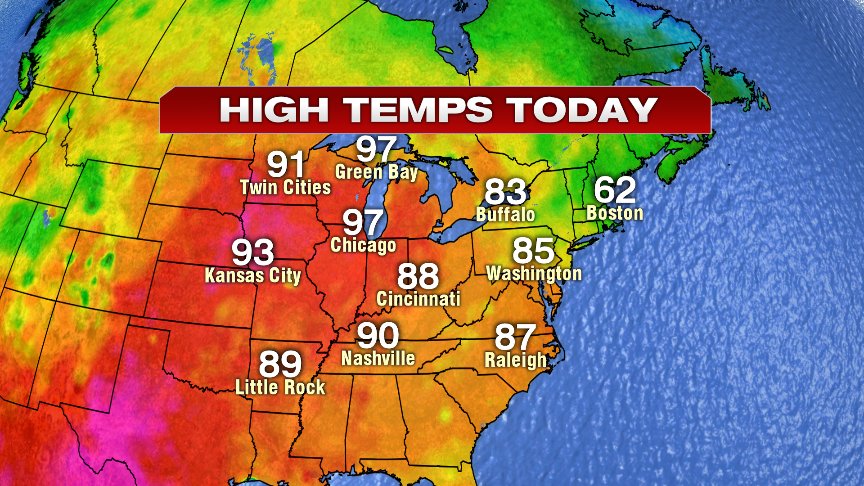 That heat will move in our direction to take us into the 80s again on Tuesday.  More beach days ahead… it's just, most of us will be back to work by then.
The rest of the week looks like it will stay dry.  There's a slight chance for some showers as early as late Thursday (20%), but wet weather could hold off until late Friday into Saturday.  Can we catch a break with a dry weekend for a change?  Throughout the months of April and May, only ONE complete weekend (Sat & Sun) was dry… and that was April 21 & 22nd.  I guess the good news to getting "spring showers" whenever they fall is that our lawns and gardens need the water – and it can help lower the pollen levels for a time.
Have a safe and happy holiday with friends and family tomorrow, and be sure to pause and reflect for a moment on why we get to enjoy a "Memorial Day."  #thankyouforyourservice