Boston, Massachusetts (CNN) — Though home to the Boston Red Sox, Fenway Park is known for being green. It's hard not to associate the two, considering the "Green Monster," the stadium's massive outfield wall that has towered over the field since it opened in 1912. The ballpark and its famed wall are painted in a unique shade of green that was even offered to the public by US paint company Benjamin Moore.
But perhaps surprising to most is another green aspect of the iconic baseball venue. Spanning a section of what was once an empty black rubber roof, a farm is making Fenway green in a completely different way.
On any given day, farmers from Green City Growers plant harvest and maintain the roughly 5,000-square-foot rooftop garden area called Fenway Farms, tucked up on the third floor behind the third baseline.
With 2,400 total square feet of growing space, the beds can cultivate anything from A to Z – "asparagus to zucchini," says Chris Grallert, president of Green City Growers, and a local farmer who grew up going to Red Sox games as a kid.
"Local is not new. In 1920, this area [in downtown Boston] ranked fifth in the nation for values of crops or fruits and vegetables. And all the communities around Boston had local markets and local gardens," Grallert says. "Having a rooftop farm at Fenway Park is an amazing way to be a part of reinvigorating a local food production system."
A bountiful harvest
In 2014, the Red Sox organization enlisted the help of Recover Green Roofs, which designed and installed the rooftop garden using a modular growing system with soil-filled lined milk crates. Green City Growers then came in to maintain the farm, which was operational by Major League Baseball's Opening Day in 2015.
"What we're doing here has been done for 10,000 years or more. We're not flying to the moon," Grallert adds. "What we need is sunlight and water and soil and drainage and fertility and basic things that any agricultural system needs. … You can really grow anything that could grow on a garden on the ground. We're just taking that system and putting it up on a roof."
As a seasonal garden, farmers start prepping at Fenway in March and can go as long as December, depending on the weather.
In late August, near the end of the summer season, the farm was flush with eggplant, cherry tomatoes, carrots, onions, multiple varieties of peppers, beets, greens such as kale and arugula, and herbs like basil. Once the peppers are harvested, for example, another fall crop will be planted in their place.
"We can produce anywhere from 4,000 to 6,000 pounds of fresh produce a year, depending on what we're growing," Grallert says. To maximize the yield with the available space, the team avoids planting larger crops such as sweet corn, pumpkins, or watermelon, he adds.
Read more: Why we should build cities that are kind to nature
The farm is all organic, without harsh chemicals; instead, white mesh cloths are draped over some fruit and vegetable beds to keep pests at bay. Meanwhile, a highly efficient irrigation system, Grallert says, runs through each row of planters into every individual milk crate, ensuring "a precise amount of water for the kind of plants we're growing."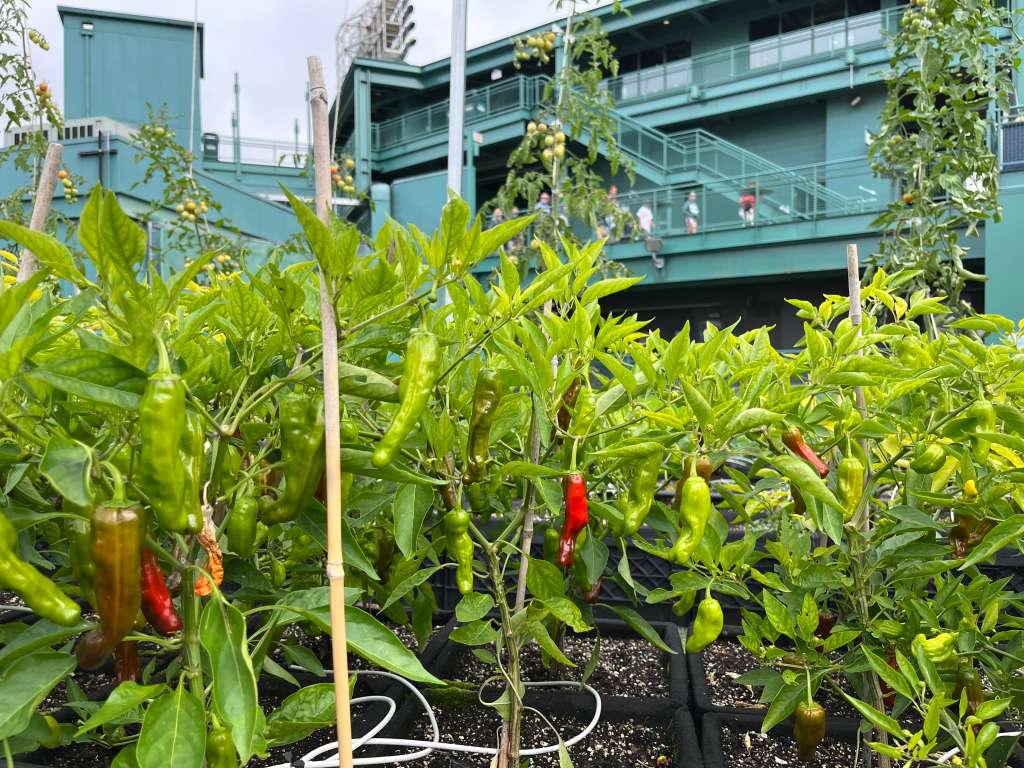 Farm to kitchen in 100 feet
All that produce doesn't have to travel far. Just down the walkway running parallel to the farm, Chef Ron Abell and his staff across multiple restaurants and concessions at Fenway use the fruits, vegetables and herbs in dishes served at the ballpark.
When it comes to freshness, you can't beat it, because it doesn't even have to load onto a truck, says Abell, the senior executive chef at Fenway Park, where he's worked for 17 years.
There are three main growing seasons (spring, with radishes, baby lettuces, and strawberries; summer, with heirloom squash, zucchinis, tomatoes, and peppers; and fall – his favorite season, because it hopefully means the Red Sox are in the playoffs, he adds), and offerings on the menu for the ballpark restaurants, luxury boxes and concession stands adapt as the year goes on.
"A lot of the product that we use from the farm, we keep it simple," Abell says. "We kind of leave it on its own and don't manipulate it too much … we just let it shine for what it is."
Over the years, Fenway Farms has experienced some "growing pains," Abell adds, mainly around quantity. One year there were way too many radishes, he concedes, but eight seasons in, they've continued to learn from the process, using the winter off-season to help plot out the plan for the following year.
According to Grallert, the harvest from Fenway Farms reduces the amount of produce the ballpark needs to buy by roughly 20% every year. "The chef and the people in the food service concessions here are intimately involved with selecting what crops are grown and how much of the crops are grown," he adds. "They even are coming down here and harvesting fresh produce for the kitchen themselves."
But the harvest timeline doesn't always adhere to the baseball schedule, so Chef Abell's staff get creative with ways to make it last. "We can't predict what Mother Nature's going to give us, (or) the team's on the road, the team's off the road, we've got catering events – so it's just kind of balancing how we're using that product," Abell says. "We'll pickle stuff, (or) we can make a puree out of this, we can freeze that, but naturally there's going to be some that's extra."
Read more: Seaweed is nutritious, not slimy. Eating it could save the world
Anything extra, along with produce from a designated smaller section of growing space at the neighboring Vineyard Vines deck, gets donated to a local charity called Lovin' Spoonfuls. The food rescue, which saves fresh food from being wasted and donates it to local meal programs and social service entities, estimates nearly 20% of households in Massachusetts face food insecurity.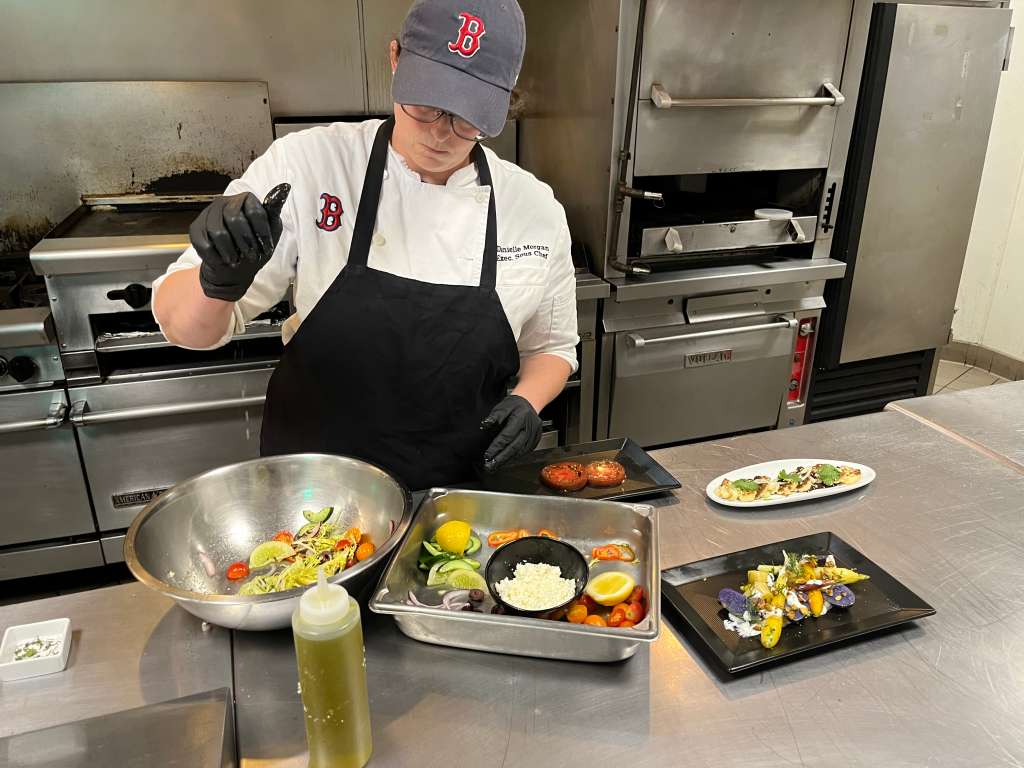 An education in urban farming
As it turns out, this is not Fenway's first foray into farming; in 2000, Red Sox pitching coach John Cumberland famously planted 18 beefsteak tomato plants and basil in the bullpen, to try and reverse the team's World Series drought that had lasted since 1918; they would go on to win four years later in 2004.
Other MLB stadiums boast gardens, too, including Coors Field in Colorado, Petco Park in San Diego, and Oracle Park in San Francisco, though none are as large as Fenway's. And while certainly among its most high-profile, Fenway Farms is just one of some 200 gardens and farms (including at 40 Boston public schools) run by a staff of 30 at Green City Growers, in operation since 2008. A little replica of Fenway Farms also opened at the Boston Children's Museum last year.
"What I love about farming is that there is a magic in the process that I see happen for people when they get involved. I know that it happened for me," says Grallert. "So it's a great example here to be able to show off that it's possible to grow food anywhere."
The addition of Fenway Farms has also provided benefits to the ballpark itself by cooling the building as much as 15 degrees Fahrenheit in the summer, he estimates, and insulating it during cold Boston winters.
Visitors to Fenway Park, either on tours, attending baseball games or other events such as concerts, can see the farm for themselves from a walkway overlooking the garden. That prime real estate is what helps set it apart. Green City estimates roughly 500,000 children and adults encounter Fenway Farms every year.
"There's a desire for people to have more locally grown fresh produce and interact with the people who are growing and distributing that fresh produce," Grallert says. "And I think when you have such high visibility like you do at a garden like this, people start to see that it's possible and it can really be the seed to start the new revolution towards food system transformation."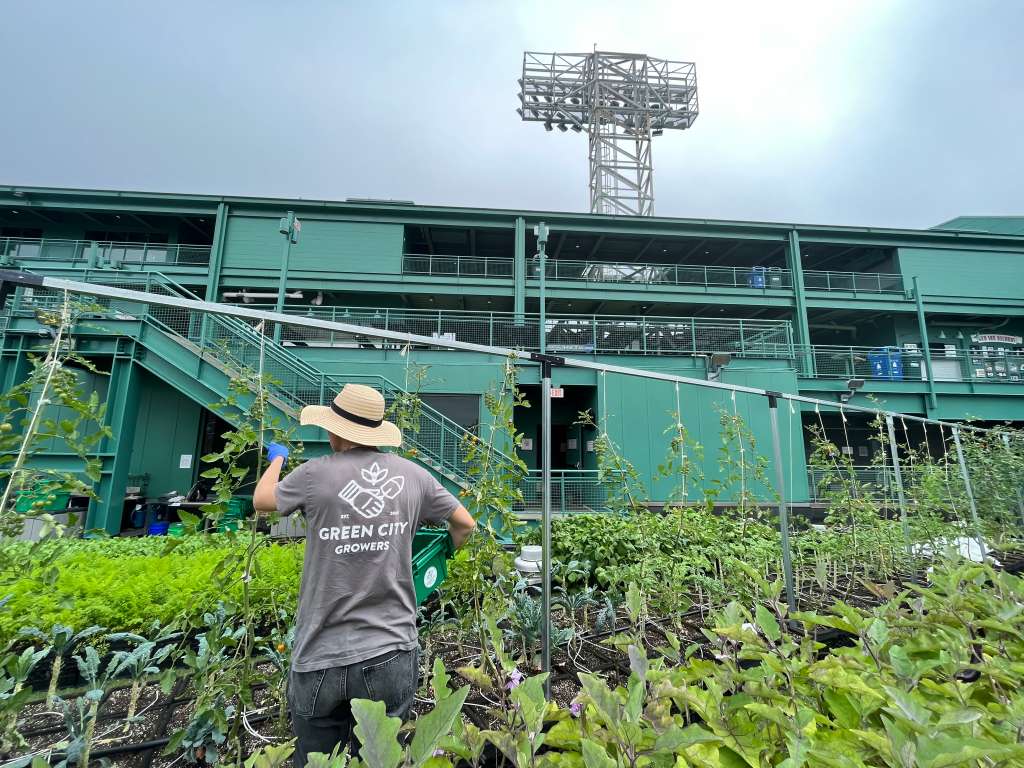 (Copyright (c) 2023 CNN. All Rights Reserved. This material may not be published, broadcast, rewritten, or redistributed.)