I don't know about you, but in the last week or so I really started to notice the longer hours of daylight. For me, it's the morning hours, stepping out the door early and having full on daylight versus dawn and just a hint of light. In fact, we've added almost 2 1/2 hours of daylight from the shortest day of the year back in late December!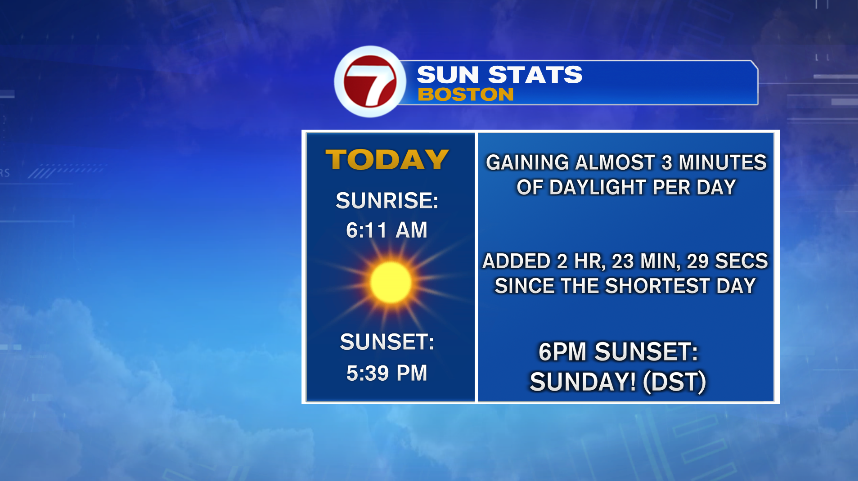 Sunsets are knocking on the door of 6pm but in just six days we'll turn the clocks ahead which means our sunsets will jump from about 5:45 to 6:45! Our first 6pm (or later) sunset occurs this weekend with the time change, and the first 7pm sunset is not too far away — March 24th! We're also at the time of year where we are gaining daylight at the fastest rate, almost 3 minutes each day.
The first day of spring (March 20th) is the point where we have equal day and equal night. A few weeks on either side of that is when we are gaining daylight at the fastest rate. So once we get beyond March 20, we'll actually start adding less minutes per day than now, even though the length of day will continue increase. At least we're still gaining. Once we get past the first day of spring our days will be longer than our nights!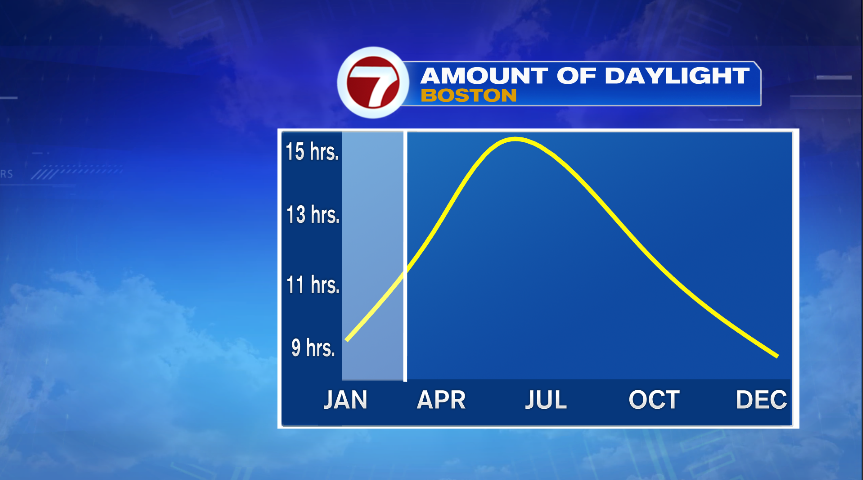 Another sign of spring (at least in New England) is the wind! March and April are statistically the windiest months of the year for us, and today certainly supported that! We had wind gusts over 30mph and for some of us over 40mph today. We'll keep the wind for most of the week, though it'll take baby steps down each day from today through Friday. Friday is by far the nicest day of the week. The wind is lightest, temperatures warmest, and probably will be the sunniest day this week.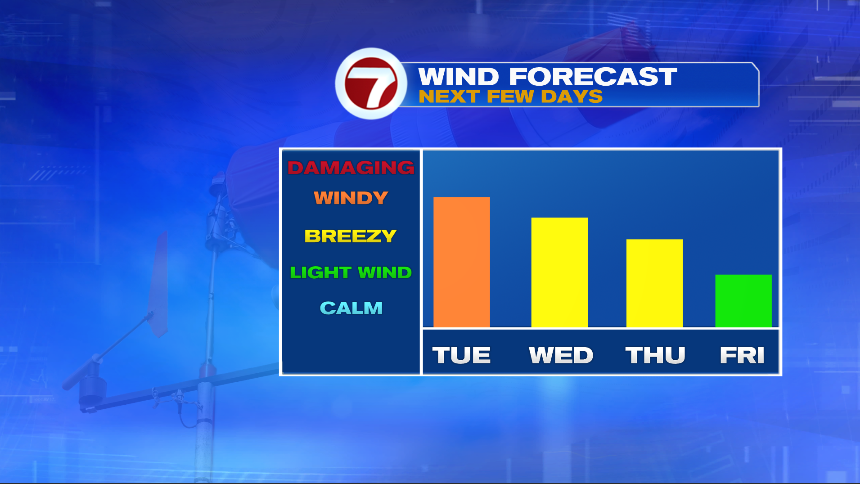 Tomorrow is not only about the wind, but temperatures will take a little bit of a dip. It'll be a chilly day tomorrow for March standards and you'll probably want the winter jacket for your Tuesday, especially for kids at the bus stop tomorrow morning. Wind chills tomorrow morning could dip down into the teens and will likely stay in the 20s for most of the afternoon.
Thankfully this is just one little road bump in the forecast because by Wednesday and the rest of the work week we snap right back to the 40s.