Alright Ma Nature, 3 strikes and you're out!!!!
For the third time in the last 10 days, we track another coastal storm that'll develop off the east coast and pass close enough to throw wind and snow back in across the area Monday night and Tuesday.  While the devil is in the details and some adjustments to wind/snow amount forecasts are likely, it's hard to see this storm as being a complete miss for us at this point. In fact, confidence is growing for a widespread snow of 6″+ as being more likely and now we have winter storm watches posted for Monday night and Tuesday.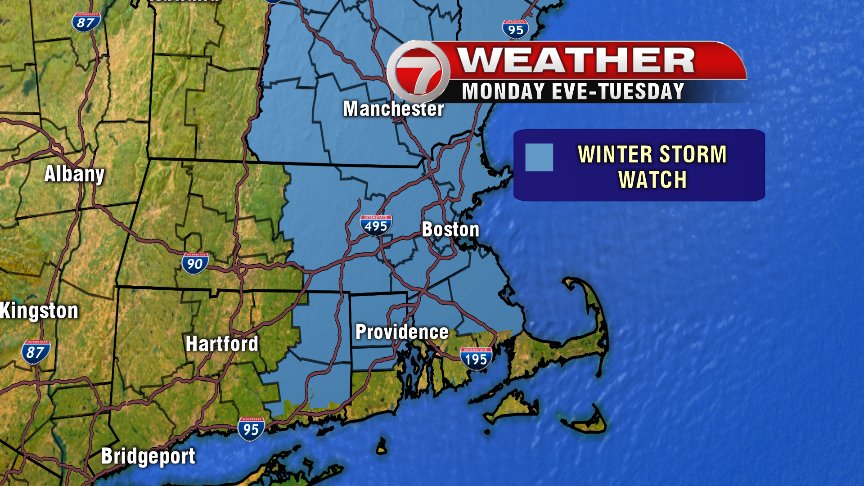 Snow and rain showers start Monday night and flip over to all snow by predawn Tuesday morning and continues as all snow for most of us through the day Tuesday. The Outer Cape and Nantucket may continue with mixing issues for a while Tuesday pending track of storm. The snow will be heaviest Tuesday morning until early Tuesday afternoon. Mid afternoon to early evening, snow intensity tapers to lighter snows from south to north.
Temperatures run near 32 Tuesday, however, the atmosphere above the surface is colder than last storm, and that means the snow that falls, won't be as clingy and as wet as the last storm's. That means trees and powerlines won't be under as much weight/pressure, although, isolated outages and down tree limbs still can happen. As it looks now, the highest risk for tree damage/power outages may be immediate South Shore coast and the Cape where snow is stickier and winds as strongest.  Those winds gust 35-50mph at the coast and even 50-55+mph across the Cape Tuesday. The wind direction is more north than east, and the helps limit coastal flood potential. What will also help greatly with that, is the fact that tides are astronomically low, so while pockets of minor coastal flooding are possible, a major event seems highly unlikely.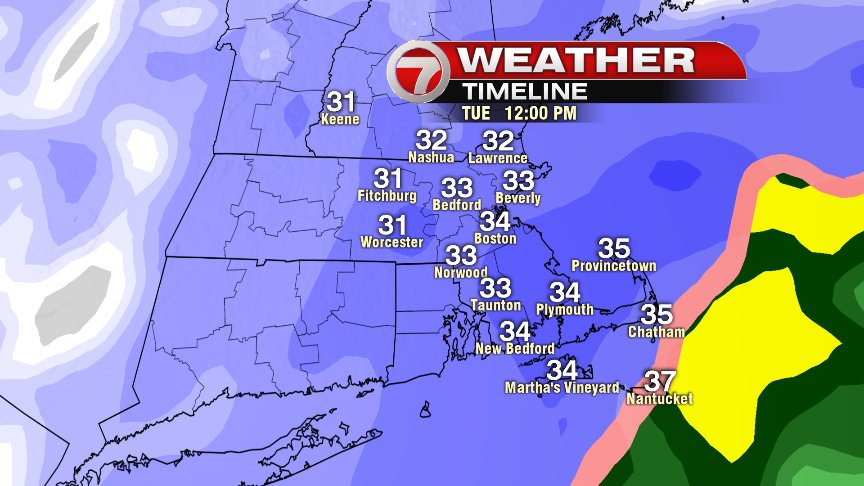 Exact track dictates snow totals, and again, we'll likely fine tune these numbers/maps over the next 24-36hrs, but right now a widespread 6-12″ of snow seems like a reasonable starting point across much of central and eastern New England.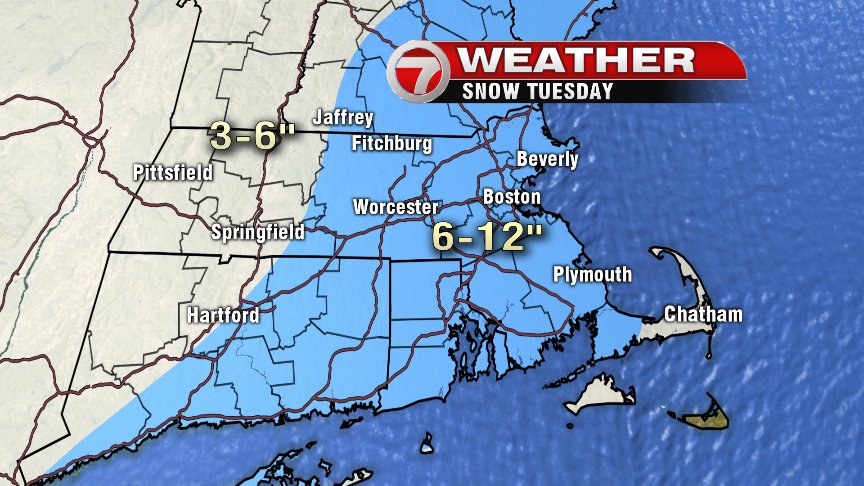 Have a good Sunday and keep checking in with us for latest storm updates!
@clamberton7 – twitter