This evening we are tracking showers and storms moving through New England – as well as the heat and humidity that's still with us.  Feels like summah, eh?  Maybe it's not the news you wanted for softball practice or pool time this evening, but we do need to keep an eye to the sky.  A Severe Thunderstorm Watch is in effect for much of Central New England through 10pm: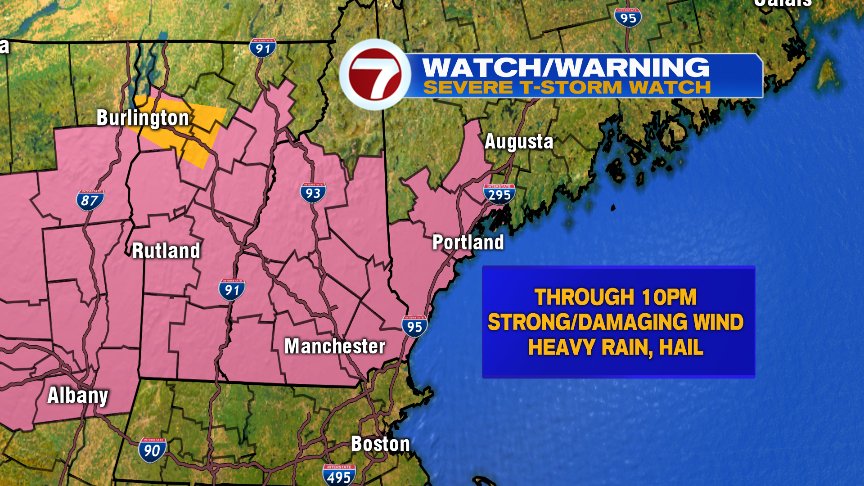 This means that we're "watching out" for the potential for severe weather for the areas shaded in pink, as we have the ingredients in place for severe weather.  When a warning is issued, it means that severe weather is imminent or happening right at that moment.  I like the "cupcake" analogy when trying to differentiate between a watch and a warning:
See the difference?  Watch = "ingredients are there" and Warning = "it's happening now"
With any strong/severe storms this evening, the main threats would be gusty/damaging wind, heavy rain and frequent lightning.  Looks like the storms will move into Worcester County within the next 30-45 min – but closer to Boston, we'll likely wait for any of this action until 6:30-7pm.  As these storms move from NW to SE, they should lose some intensity…  Still a shower, downpour and/or rumble of thunder can't be ruled out into the overnight hours.
Behind these storms will be our relief from the heat and humidity… and while I did hear some barking on Twitter today  that it wasn't "as hot as advertised" (my favorite was the person who told me "Shame! Shame!") I would say that for many throughout our area, it indeed was.  Merrimack Valley, Bedford, Nashua, Jaffery, etc. – all of these towns/cities made into the low 90s.  Add in dewpoints in the low 70s, and you yield a heat index, or a "real feel," of near 100 degrees.  That's plenty, stinkin' hot for around these parts.  So, maybe no records – but there was still plenty of sweating and cursing the heat to go around today, I assure you.
The rest of the week looks dry and quiet and very much like summer at its best here in New England.  Enjoy!  – Breezy