Alright we're about 24 hours out from the bigger impacts developing with this storm. A few rain and snow showers will start this evening, but it's really going to ramp up overnight tonight and it will stay with us through Wednesday morning. It's a long duration, high impact storm setting its eyes on New England. So brew an extra cup of coffee and settle in, we'll go pretty in depth with this blog and try to give you as many details as possible.
Breaking this apart could go many ways. I could break it apart by location, by time of day, or impact. There are so many different things coming our way over different time periods for different locations that it's hard to paint a broad brush picture that applies to everyone here, but I'll try my best! I think the best way is to start is with a broader picture and fine tune it as we go. As I mentioned, this storm is high impact and multifaceted — snow, rain, wind, and coastal flooding. And with that will come the high impact issues of travel disruption and power outages.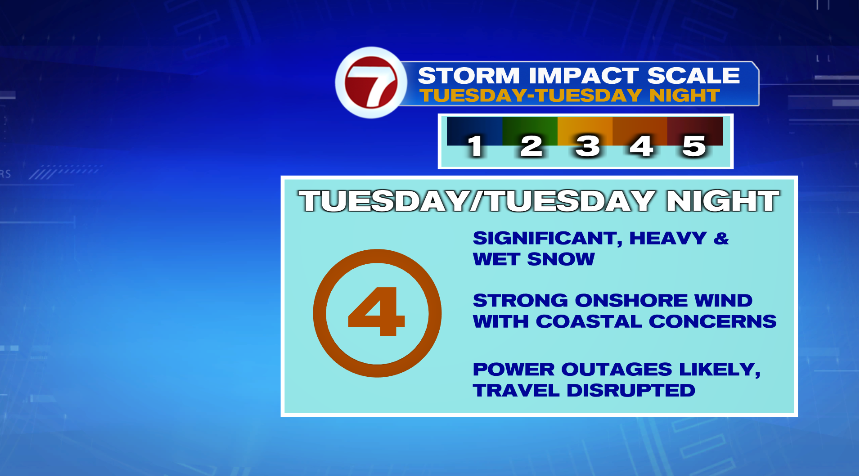 It's even hard to sit here and say what the biggest impact will be because that will even vary by location. On the coastline, especially the immediate coastline, the biggest impact is by far the wind. The wind will ramp up Tuesday and gust to 60 mph on the coast especially tomorrow afternoon and evening. I wouldn't be shocked to even see a few gusts hit 65 mph. As you travel inland, the bigger impact will be the heavy, wet snow. The Worcester Hills and southern New Hampshire could see over a foot of heavy, wet snow, which of course on the tree limbs and power lines is bound to cause issues. Then those in between will experience both wind and snow, but less than the extremes that will be felt in the other places.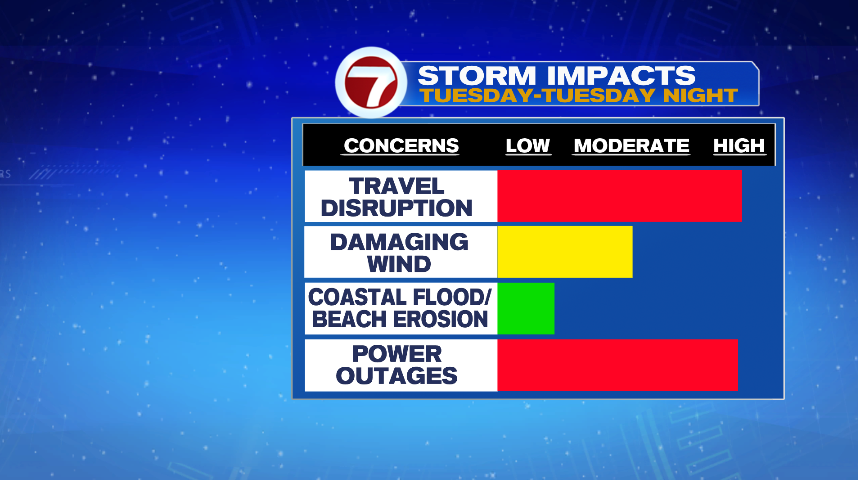 POWER OUTAGES:
Unfortunately, I do think we'll see a fair amount of power disruption with the storm. This would be especially through the day on Tuesday and Tuesday night. I'm not concerned about power issues Monday night. I think the power outage concern is two-fold. If you're on the coast, the risk is more about the wind than anything else. Inland spots it's the weight of the heavy, wet snow that piles up and weighs things down, both power lines themselves and tree limbs. Power outages are possible everywhere, but with the snow forecast (we'll have that in a bit), they're probably more likely north of the Pike than south.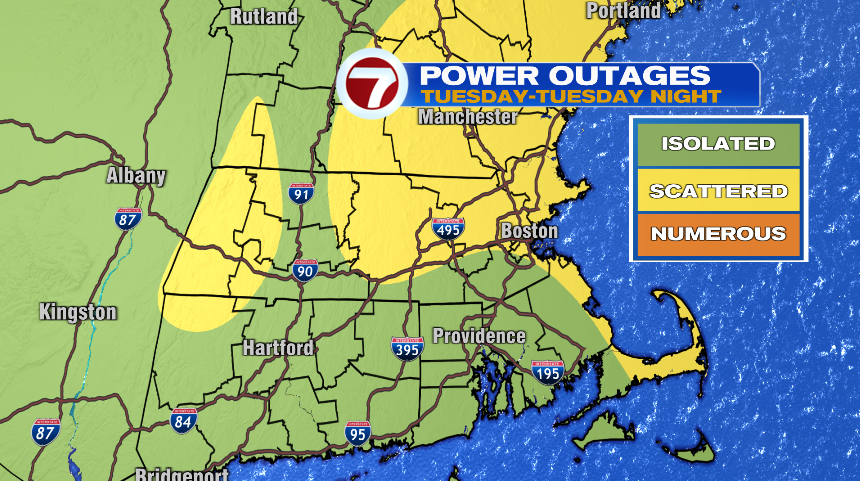 TRAVEL:
Of course, travel will be impacted by this storm too. You'll get a better look at the rain and snow timeline for your specific location in a bit, but it will deteriorate faster in some spots than others. Notice this starts Tuesday morning, so there's no travel issues tonight. Things start to go downhill tomorrow morning in the higher elevations then the rest of us follow suit by tomorrow afternoon.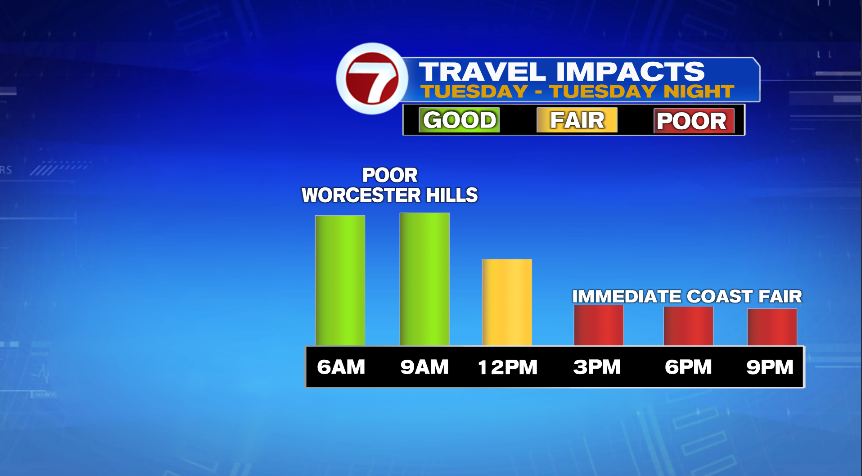 The commute specific breakdown looks something like this: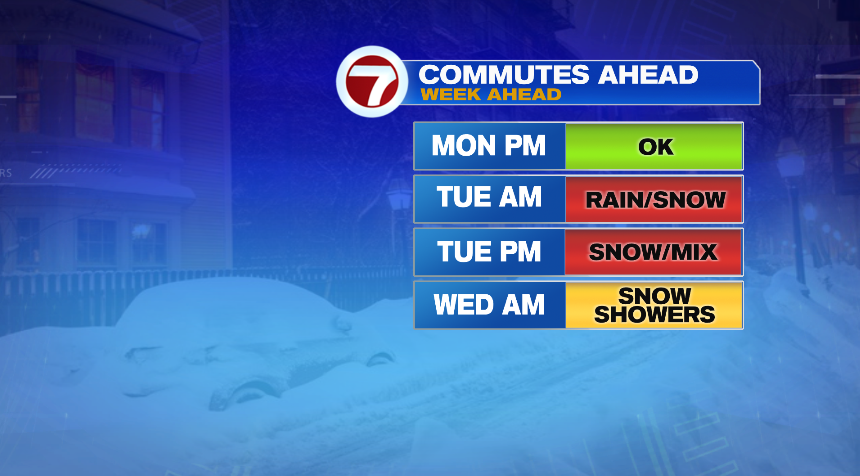 RAIN AND SNOW:
If there's any good news to this storm is that the precipitation is rain and snow. While both forms of precipitation fall, there's not an ice concern to deal with. The precipitation will start as showers this evening, become steady later tonight, but it's after midnight when the storm really gets going.
At 7pm this evening, rain and snow showers arrive. It's actually rain showers for most of us, with the higher elevations seeing snow showers.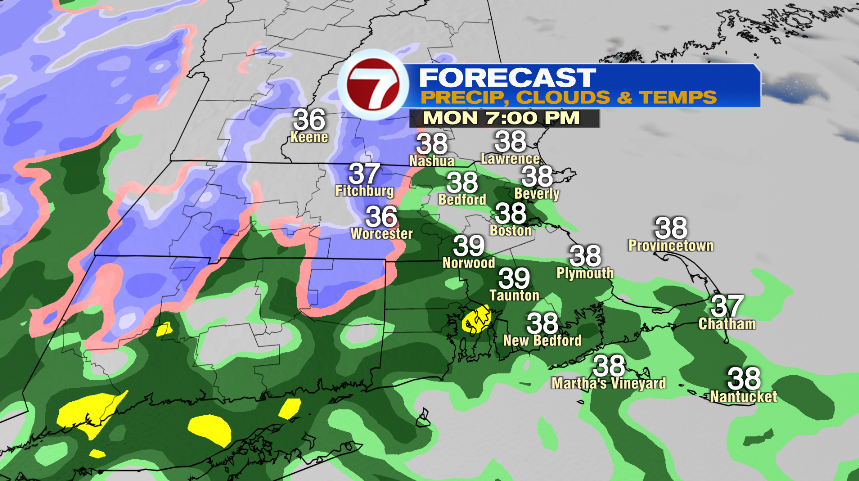 As we head closer to the midnight hour, and most certainly after, the precipitation will really fill in. Notice that rain/snow line pushing pretty far north — basically out to 495. And at this point it will rain or snow pretty good! Heavy and wet snow in the hills with heavy rain and even some downpours for the rest of us.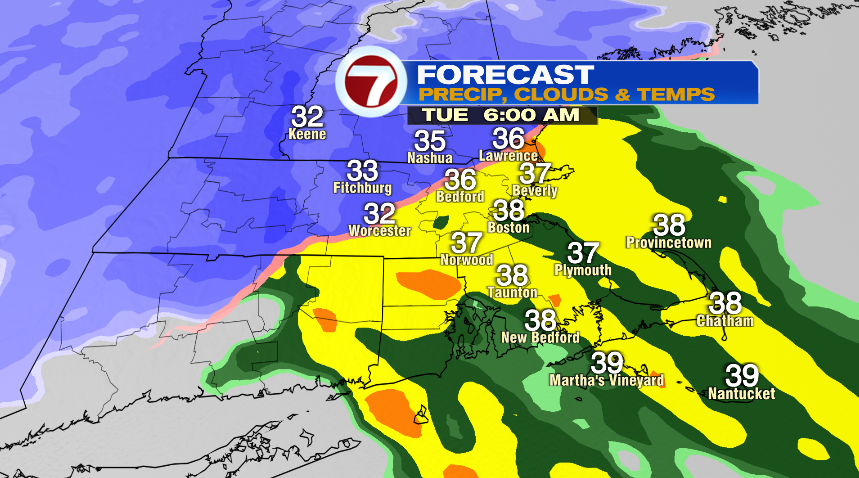 Notice at noon tomorrow, that rain and snow line is holding pretty tight! But around noon is when the rain/snow line will start to collapse southward.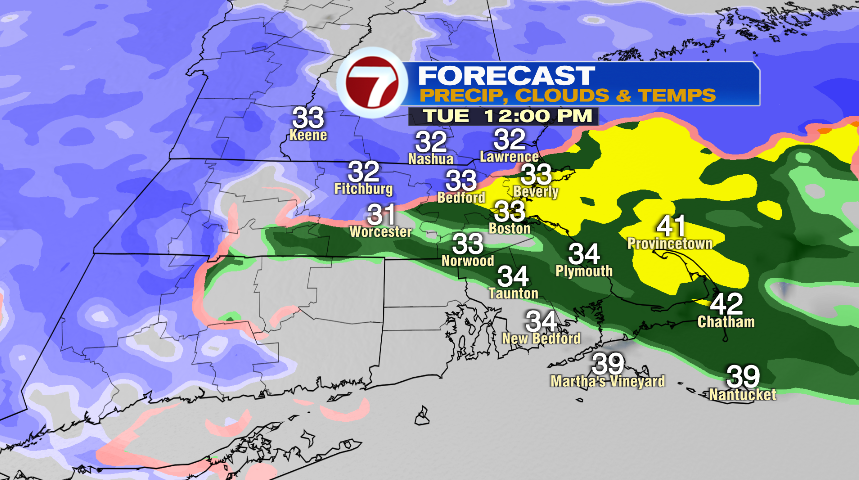 By the afternoon and evening hours tomorrow, everyone flips over to snow. And with the strength of the storm it's still snowing at a good clip! So even those of us at the coast will see accumulation with the storm. It'll take longer for the snow to start, and accumulation amounts will be less, but accumulations nonetheless.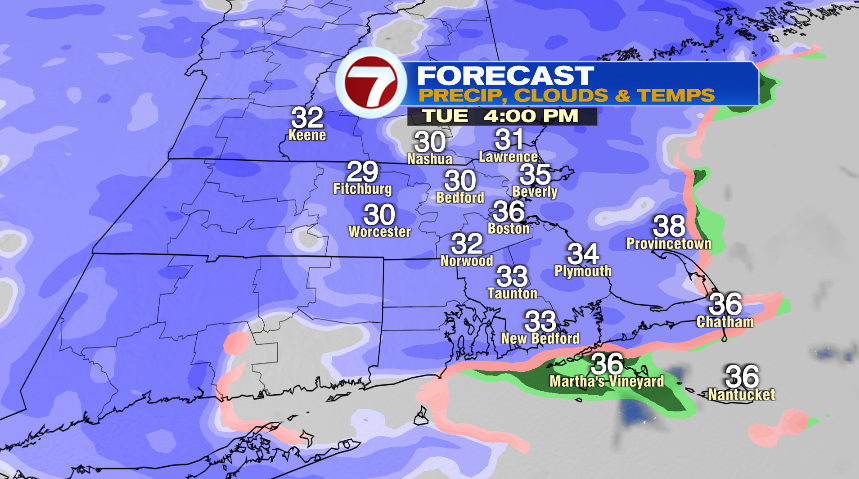 From this point, it'll snow steady and heavy for a few hours. Late in the evening, the low pressure center will start to push away from New England, so the snow will start to become a little more intermittent. Notice, I said intermittent, not necessarily lighter. Late Tuesday evening and Tuesday night, I would think of the storm as on and off bursts of snow. So when it's snowing, it's snowing pretty good. But there will be some dry breaks that start to develop.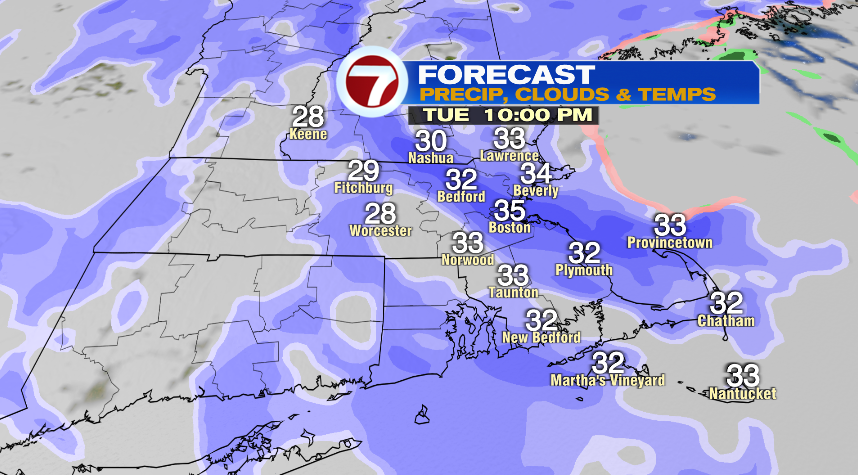 Those bursts will continue into the early overnight before tapering to lighter and intermittent snow showers Wednesday.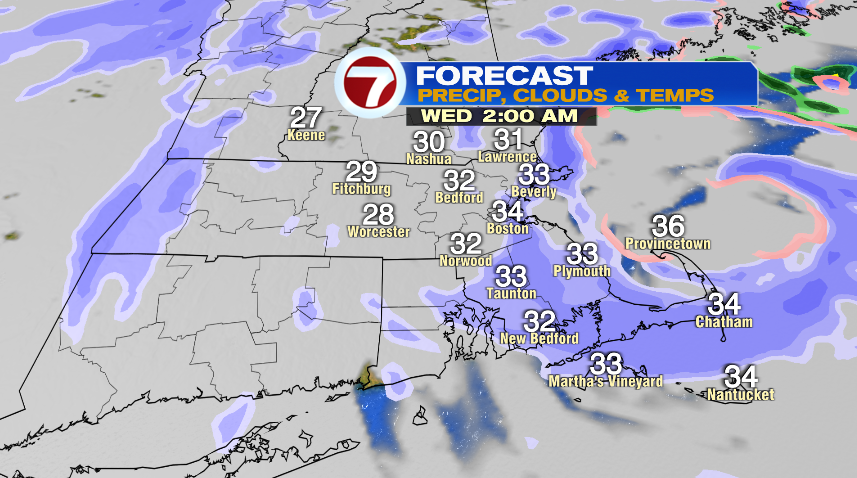 Ok, so the snow map. Aside from the Cape, everyone will see accumulation with this one. It's a pretty significant snow in the Worcester Hills, but even through Metro West and the Merrimack Valley we'll probably see a few foot reports.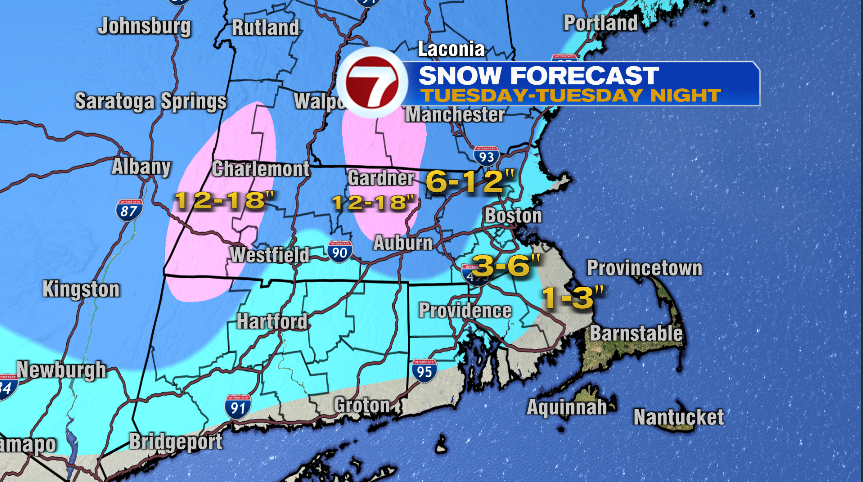 WIND:
Of course what's a Nor'easter without a wind? And we won't be lacking in that department either. Of course the wind will be strongest on the coast and lessen as you travel inland. Lessen is the key word here, not shut off. Wind on the coast will gust 50-60 mph and probably a few gusts here and there to 65 mph. The strongest push of wind will be Tuesday afternoon – Tuesday evening. Inland spots will still see wind gusts 30-40 mph, but with a heavy, wet snow, that's bound to cause power problems there.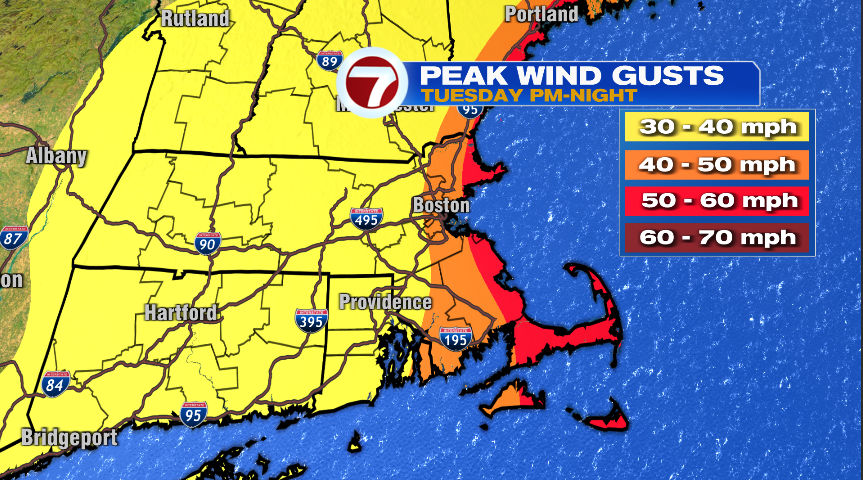 While the peak of the wind will be Tuesday afternoon and evening, it will remain very windy through the overnight and day on Wednesday as the wind flips direction as the storm moves away from us. Those winds will not be as strong but with a heavy, wet snow, it could still be an issue.
Tonight, however, wind is not an issue. It'll get a little breezy with gusts to 20 or 25 mph but that's not a concerning wind. The wind really picks up by tomorrow morning with gusts pushing 40 mph across the board.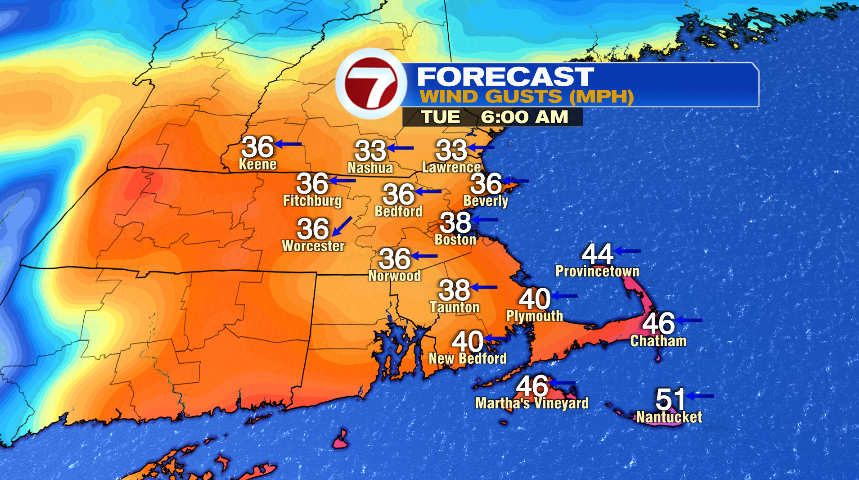 Then, tomorrow afternoon, gusts on the coasts ramp up to the 55-65 mph range and stay there through the evening.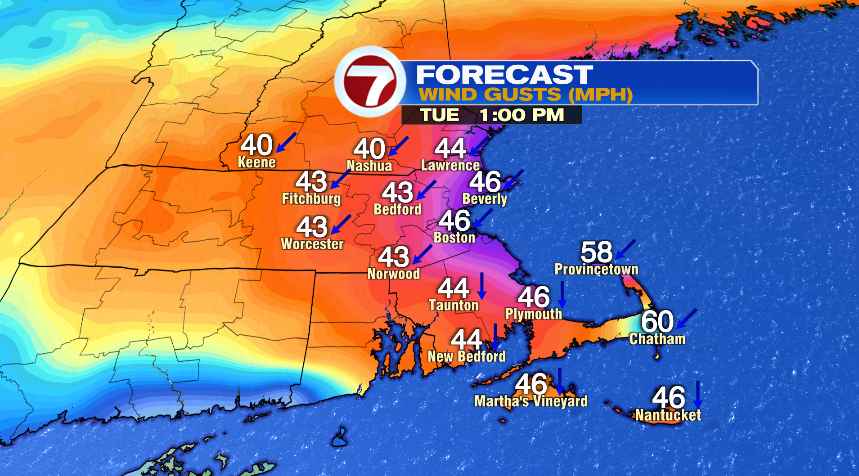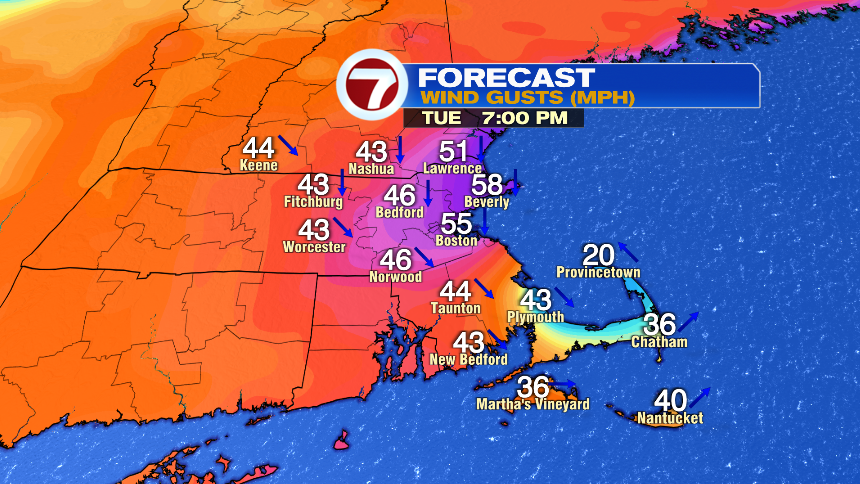 At the 7pm timestamp above, notice the wind starting to shift from the northeast to the northwest. That flip to the northwest is the wind shift as the storm exits out over the water. It will stay very windy overnight and through the day on Wednesday despite the wind shift and storm moving away from us.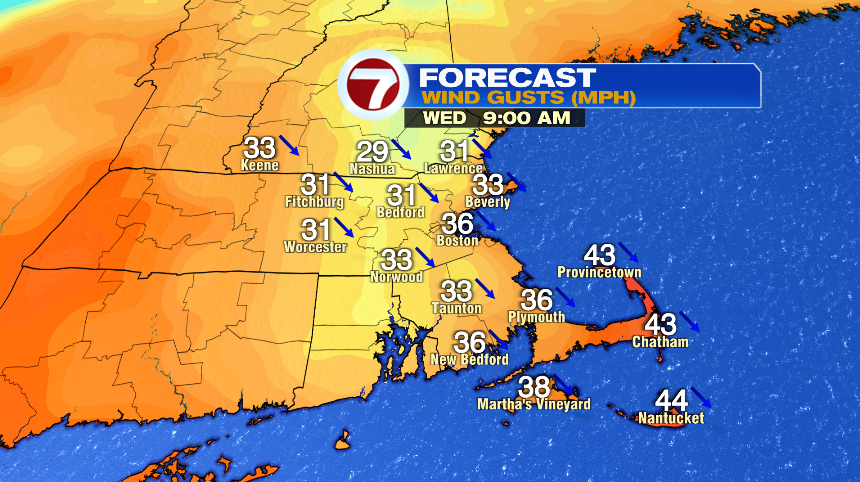 COASTAL FLOODING:
As a population as a whole, coastal flooding impacts fewer people, but for those on the coast it will be an issue. We have a coastal flood watch in effect Tuesday night and Wednesday morning. Thankfully tides are astronomically low for this storm. If you live on the coast, it'll be one of those storms where you'll notice some inundation but also will have seen a lot worse with other storms in the past. We're looking for about 1-2 feet of inundation in susceptible areas with around 1 foot on the shore roads. Either way, seas are going to be very rough tomorrow.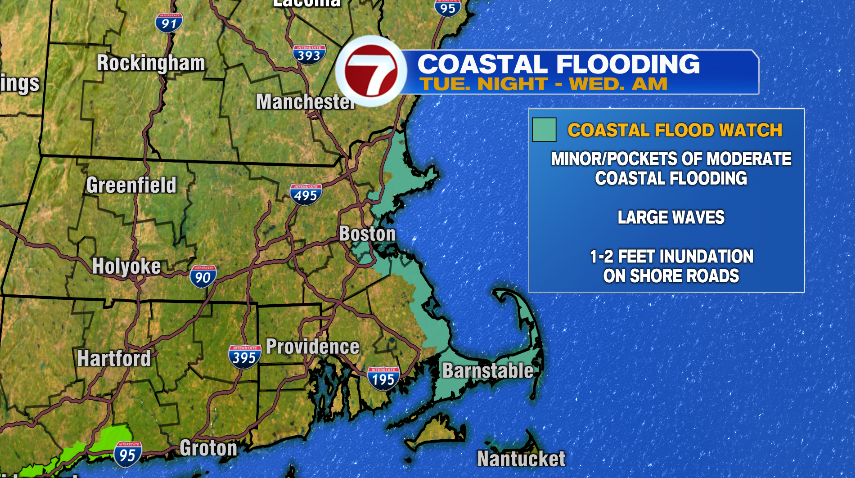 WATCHES AND WARNINGS:
As you would imagine with a storm like this, there are several watches and warnings in effect across New England. Of course these just reiterate all the impacts we went through above but here they are nonetheless.
Winter storm warning (pink): This is issued where at least 6″ of snow is expected and travel will be very difficult Tuesday through early Wednesday. If you have the ability to change travel plans, work from home, etc., this is the storm to do it. If you want to run to the grocery store to grab a few things or grab gas for the generator, this evening is the time to do it.
Winter storm watch (blue): This will get upgraded later today to either a winter storm warning (for reasons mentioned above), or will become a winter weather advisory where travel will still be difficult, roads will still be impacted, but amounts won't be quite as significant as cities and towns north and west of Boston.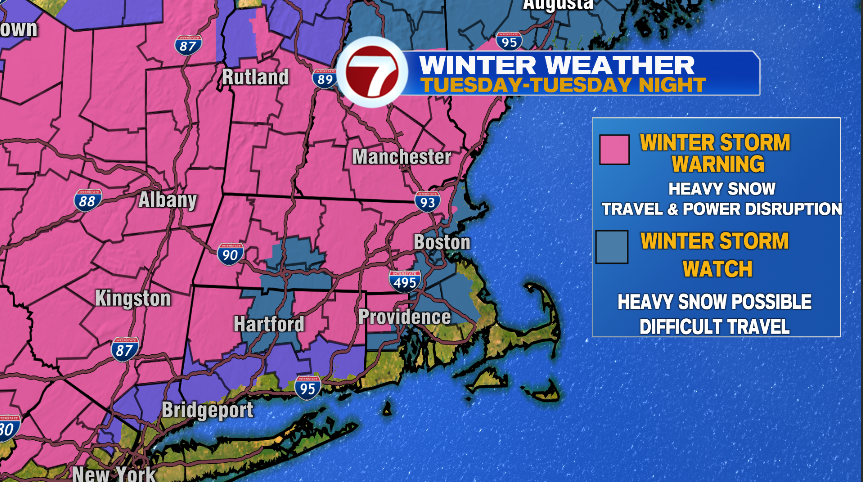 High wind warning (gold): This one is pretty self explanatory. Wind gusts up to 65 mph are possible here with scattered power outages and tree damage likely.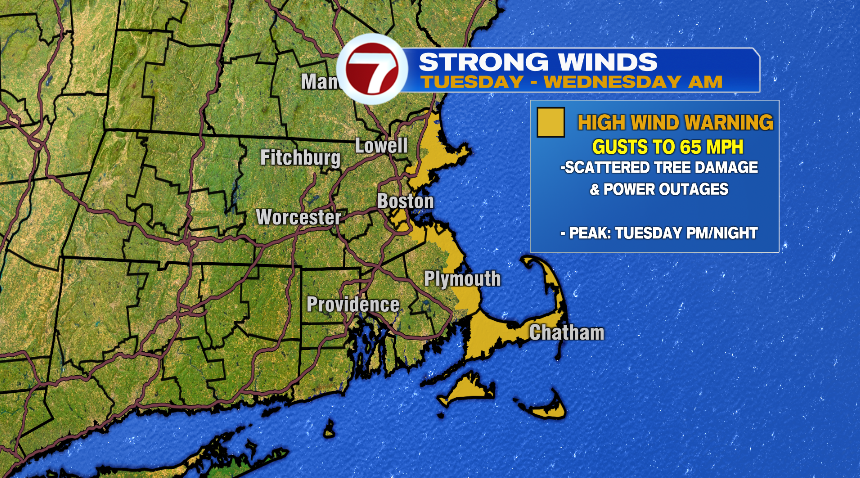 Coastal flood watch (teal): Another self explanatory one. The coast line of Massachusetts is in line for minor to pockets of moderate coastal flooding. Watch for around one foot of inundation on the shore roads with up to two feet in susceptible areas. This is for the Tuesday evening and Wednesday morning high tide.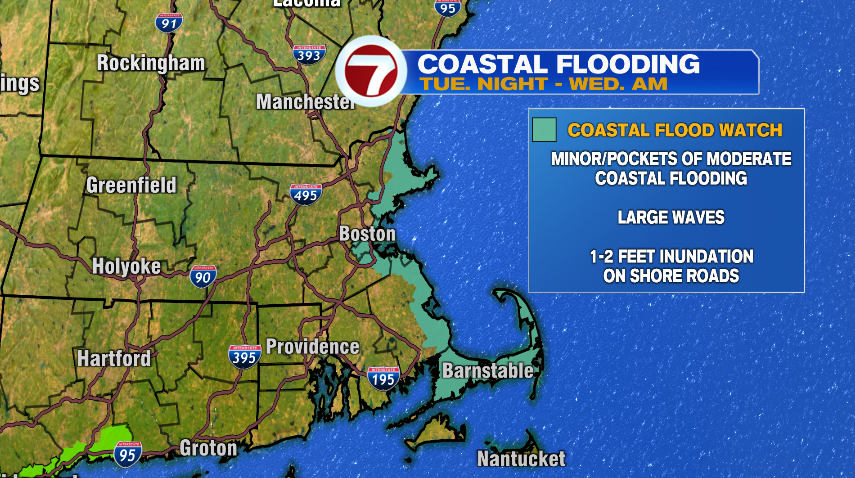 HIGH IMPACT:
So after reading this blog (if you made it this far), it's clear why this is such a high impact event. It's affecting a lot of people and there are a lot of different "threats" with this storm. To wrap things up, I'll leave you with this graphic from the National Weather Service. It basically takes everything we talked about here and sums it up into one graphic — the impacts. Whether that's from heavy (weight) snow, a lot of accumulating snow, power outages, coastal issues, wind damage, or travel concerns, impacts will be felt everywhere. Notice many of us are expecting major impacts with even pockets of extreme. Don't panic, just be prepared. Charge your phones, get your generators ready, make sure you have food in the pantry, grab some jugs of water just in case, and make sure the flashlights have working batteries. That will set you up for success and remember we'll have constant updates on air and online through the duration of this storm. If your power goes out you can always stream us from your (charged) phone and log on and get blog updates twice a day.