Wet weather continues for the rest of this evening.  There have been many reports this afternoon of wet snow, sleet pellets – while this seems like a cold reminder of winter weather, it will not amount to any icing or snow accumulation on paved surfaces.  Our surface temps are in the upper 30s to near 40°, where temps will stay even once the snow goes down.
Eventually the warm front will lift through the area, bringing us warming temps for tomorrow.  What a change from what we've experienced the last couple of days, once our temps make it into the low and mid 60s early tomorrow afternoon!  However, it's not a beautiful spring beach day… as it will be gloomy, foggy to start with areas of drizzle/sprinkles through the morning – and another round of showers expected for the afternoon (even a rumble of thunder or two!).  This comes along the cold front – and that front means business.  Check out the "Next Two Days" graphic at the top of this blog post.  That's a big difference from highs tomorrow to highs on Thursday.  At least the sun will be back in full force for the Home Opener!  Go Red Sox!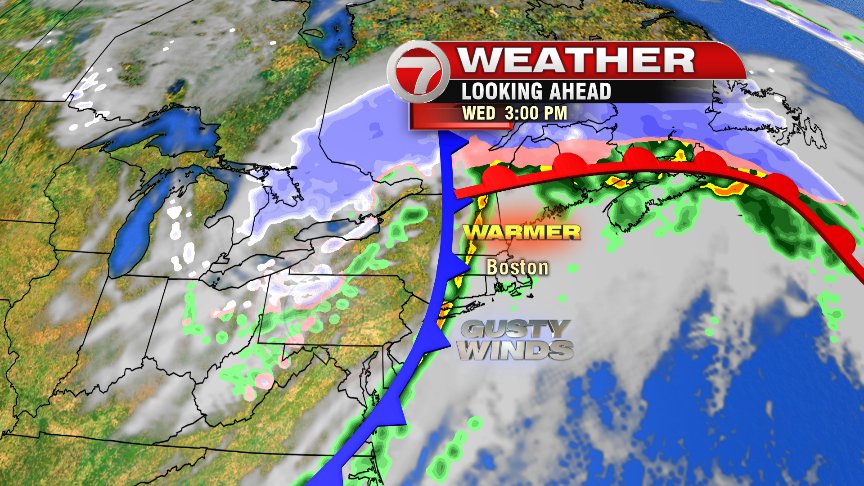 Tomorrow will be very windy as well (hence the title of the blog).  A Wind Advisory has been issued for the afternoon and overnight hours for wind out of the west 15-25mph and gusts up to 50mph possible.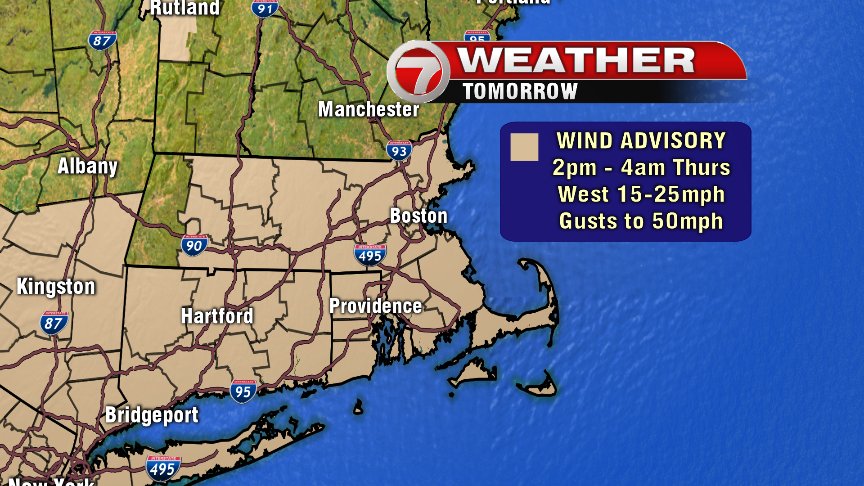 Yes, Thursday may be cooler – and blustery – but it's still OPENING DAY AT FENWAY!!  That means spring is surely on the horizon, right??  Eventually.  It does look like an active pattern is with us for the next week.  We'll start Friday with some snow which changes over to rain.  Saturday may also feature some wet snow to the south early in the day.  There's a storm offshore on Sunday (but will it track closer to home?? We're watching this potential)… and it looks like another storm is on the distant horizon for next Tuesday, bringing a wintry mix.  That's all a very early heads-up on the forecast.  Stay tuned.  – Breezy