Morning rain across the Cape tapers off today, allowing for all of Southern New England to dry out. With returning sunshine and lowering humidity, it'll be a fine September afternoon across Southern New England with highs in 70s. We'll deserved I may add. It'll be cool tonight and dry with lows back into the 50s.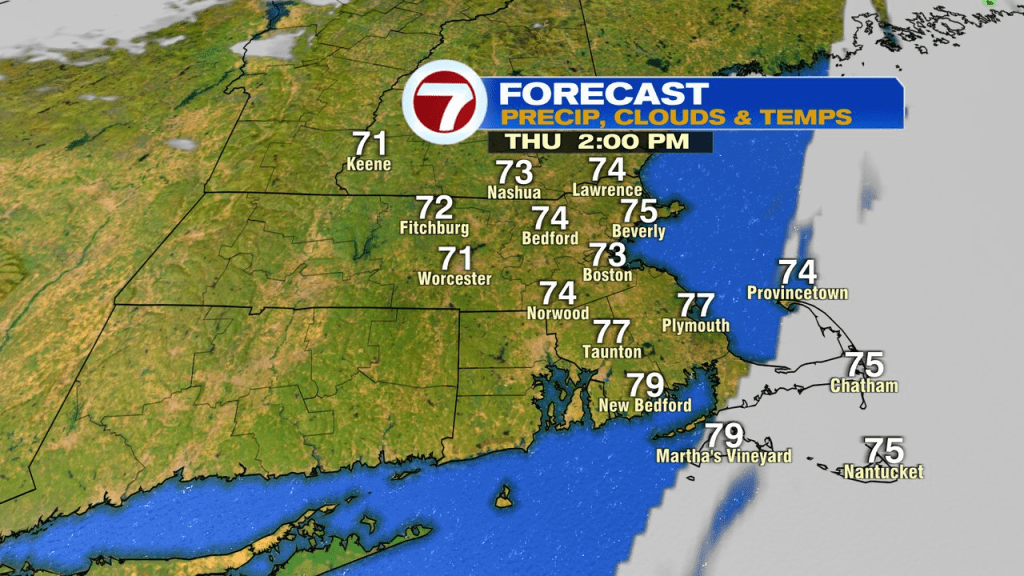 Sunshine fades away tomorrow morning as clouds thicken up as Hurricane Lee makes it's up north in the Atlantic, paralleling the U.S. coast. As it gets closer to our coast, impacts start to increase Friday night into Saturday morning.

Hurricane Lee…

The latest on hurricane Lee this morning has a category 2 hurricane moving north, passing west of Bermuda tonight. As it tracks north, max sustained winds will decrease over the next couple of days while it's overall wind field continues to expand. Even with a track 100-200miles offshore, expect strong wind gusts near the coast, most prone to it will be across the Cape, where gusts 50-60mph are likely. A few gusts 60+ are possible from Provincetown, to Chatham to Nantucket. The strongest winds occur Saturday morning. A tropical storm watch is up for eastern Mass and a storm surge watch up for the Cape and Nantucket.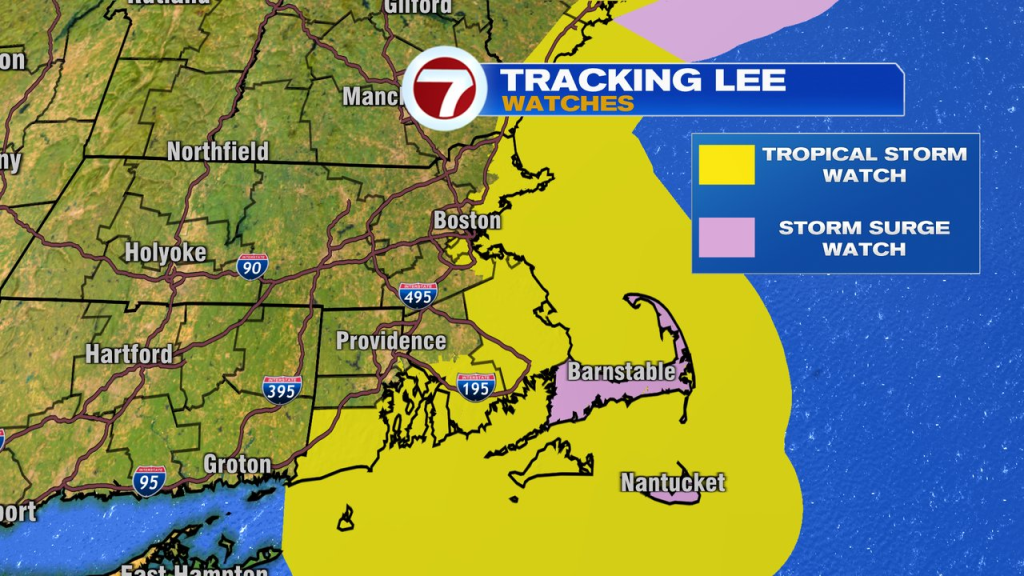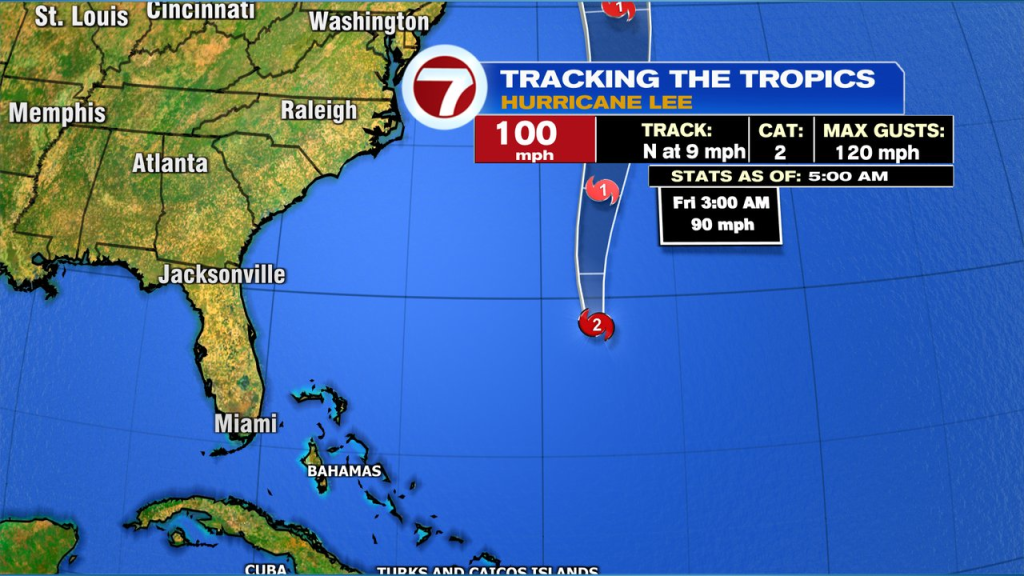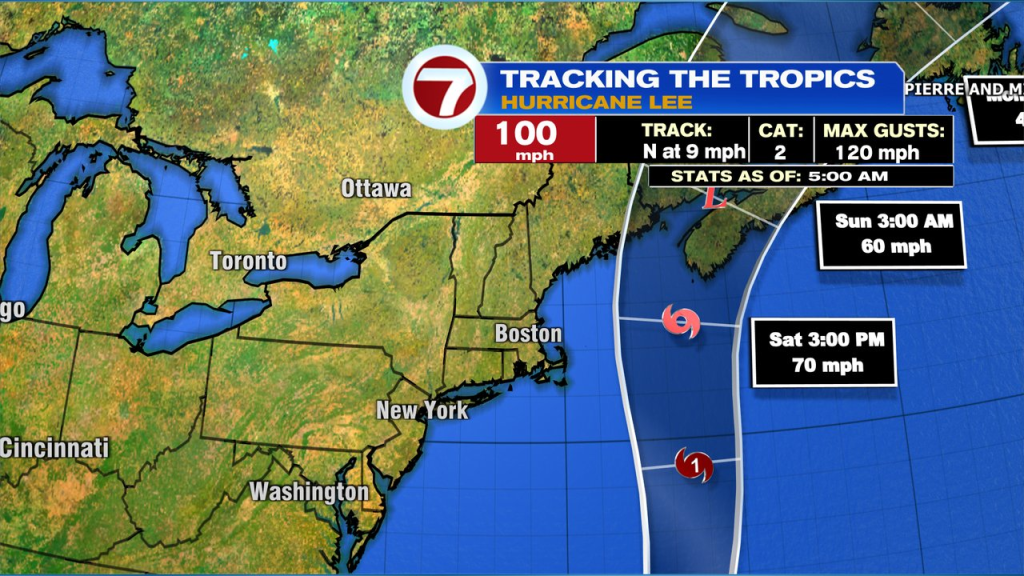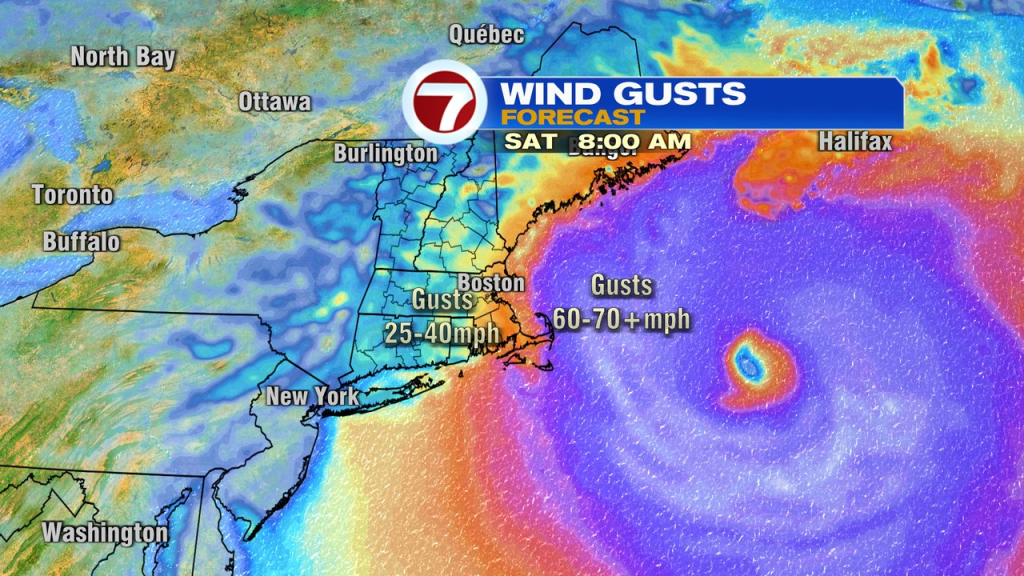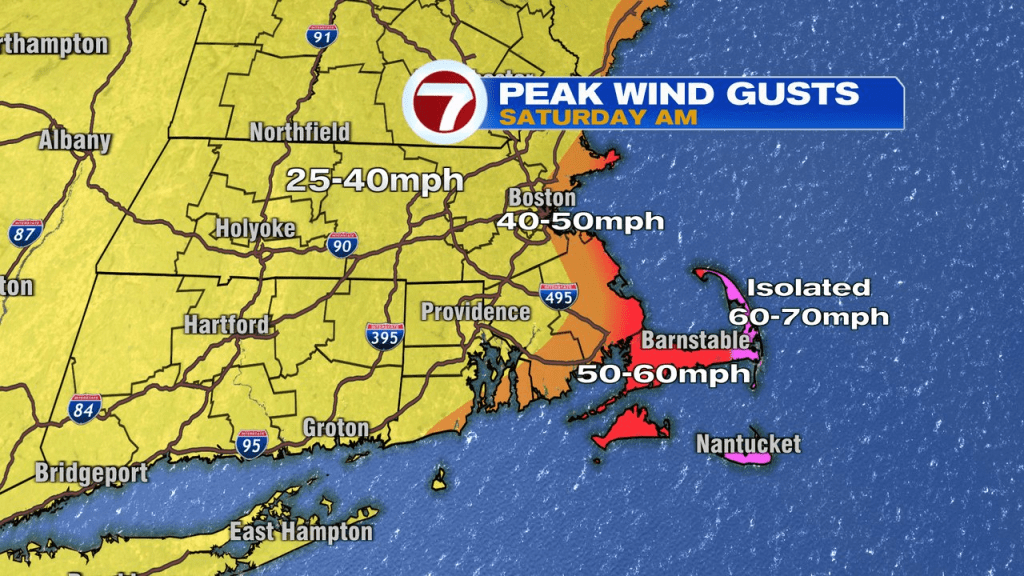 Along the coast, a 1-3 foot storm surge is possible across the South Shore, North Shore and around Boston. A 2-4 foot storm surge is possible across the Cape and Nantucket, especially north facing beaches where a north to northwest wind pushes the water toward. The peak surge may line up before the 1pm high tide as well as the strongest winds being in the morning, before the high tide. Additionally, astronomical tides aren't all that high, so that works in our favor. Bottom line, it looks like minor coastal flooding for many from the South Shore, north, with some beach erosion also likely due to pounding surf and big waves. The highest risk for moderate coastal flooding and more inundation with be for parts of the Cape and Nantucket, where the storm surge is higher. We'll continue to nail down these details over the next 24hrs.
The highest chance for a couple inches of rain or more is across the Cape. West of the coast, rain totals are under 1″ and it's possible to catch quite a few dry hours inland, especially in the afternoon. Exact track will allow for adjustments east/west over the next 24-36hrs in the forecast, but it's unlikely that many of us will see excessive rain. We've had enough of that!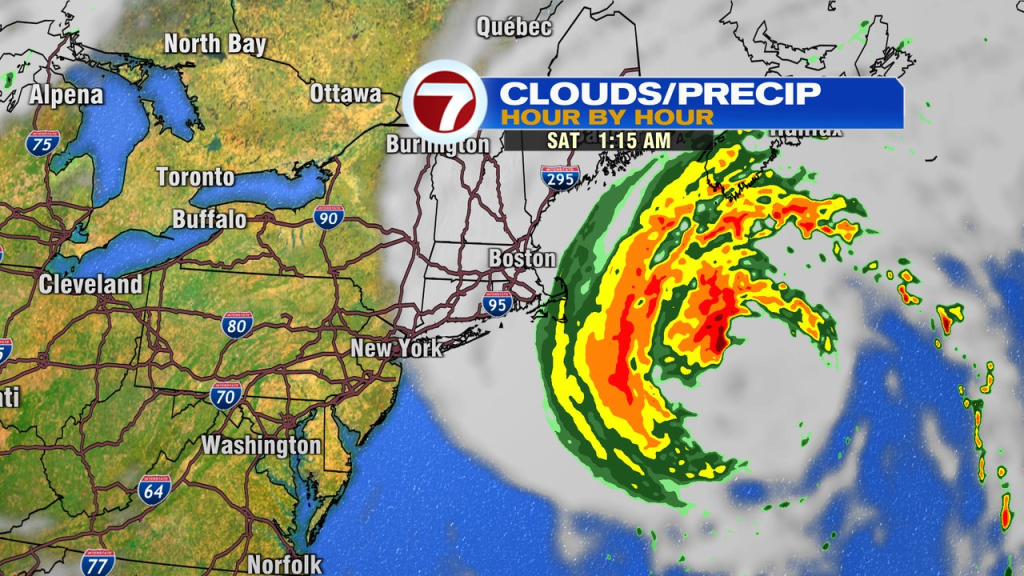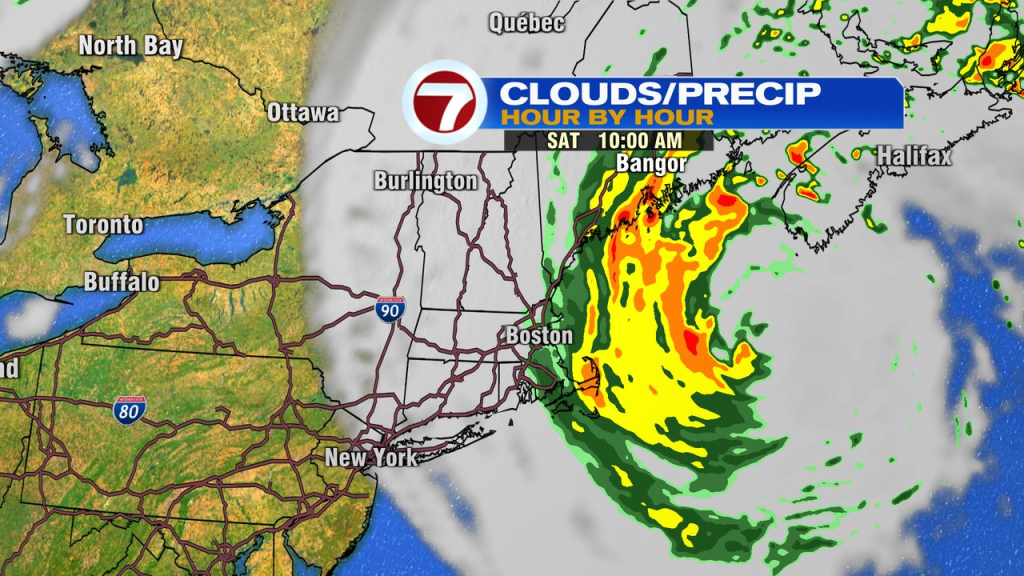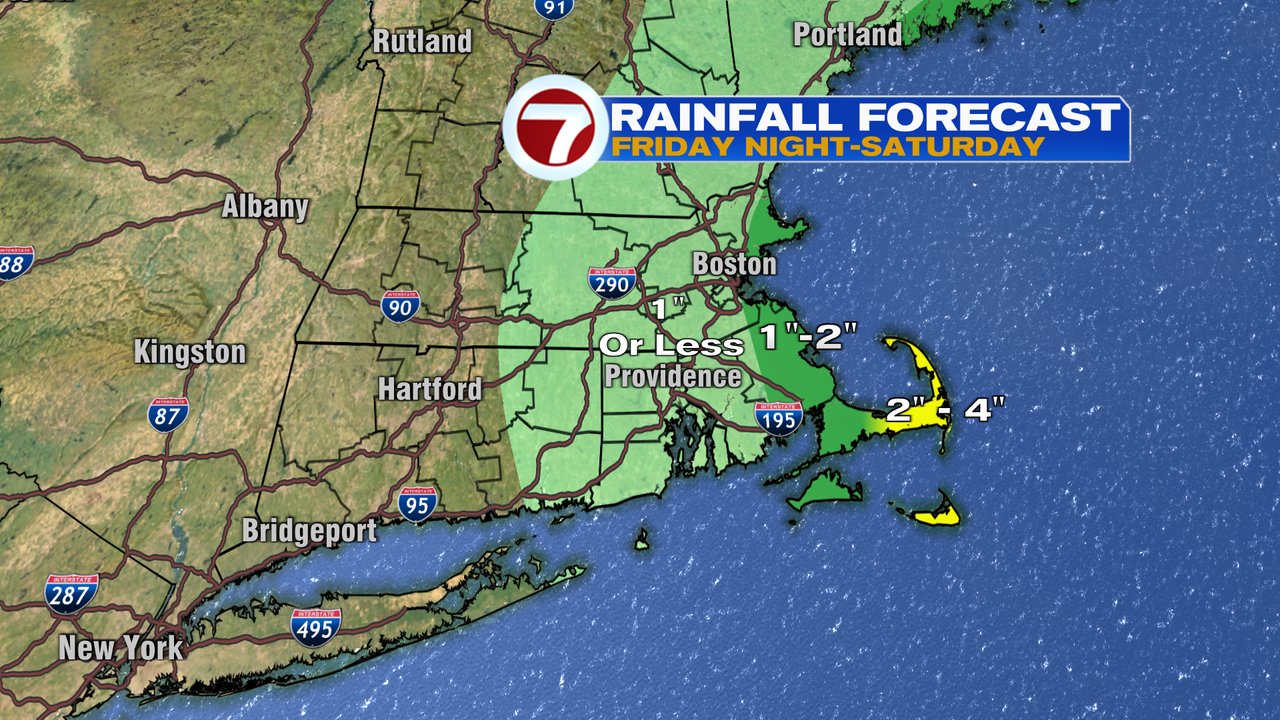 Sunday looks great and other than a few spot showers Sunday night/Monday, much of the early to mid week period next week looks quiet too.